What are paid online surveys?
Paid surveys offer individuals the opportunity to get paid with either cash or rewards for answering questions or offering their honest opinions on a whole range of subjects.
How do paid surveys work?
People can sign up online to take part in paid surveys that are conducted by companies, marketing agencies, government bodies, or other organizations. There are literally hundreds of online survey sites available for individuals to choose from.
The reason behind online surveys is primarily to gather information on a particular subject from individuals that are selected by age, race, location, or some other demographic criteria.
Once a consumer has signed up to an online survey site, the surveys – which come in a variety of formats – can be taken on a computer, tablet, or smartphone. Some surveys are one-off and can take anything from 5 minutes to an hour, while others might involve the consumer's participation over a selected period of time and involve multiple actions.
Take surveys for gift cards!
Share your valuable opinions and get any of 5,000 gift cards from top brands.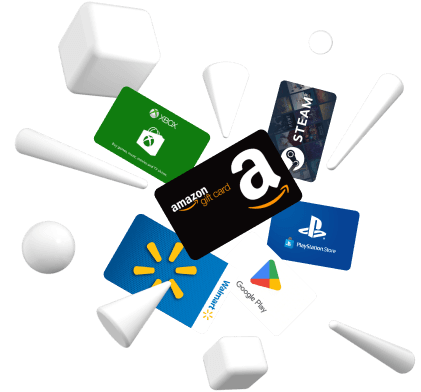 Why do companies pay consumers for their opinions?
In the world of business, knowledge is king.
Knowing what a company's customers, or prospective customers think about products, services, new developments, shopping habits, or any other behavior can be vital to the company's success. They need to be aware of current trends, tastes, and preferences in order to stay ahead of their competitors.
Usually, the company will hire a marketing company, or an online survey site, to conduct the survey on their behalf. In order to encourage consumers to part with their opinions and personal information, the consumer is offered cash or rewards in return for completing the survey.
For example, before a company launches a new product, or makes changes to an existing product or service, it's important for them to understand their customer's thoughts on the subject. Online surveys are the perfect way of gathering this information and helping them avoid making costly mistakes.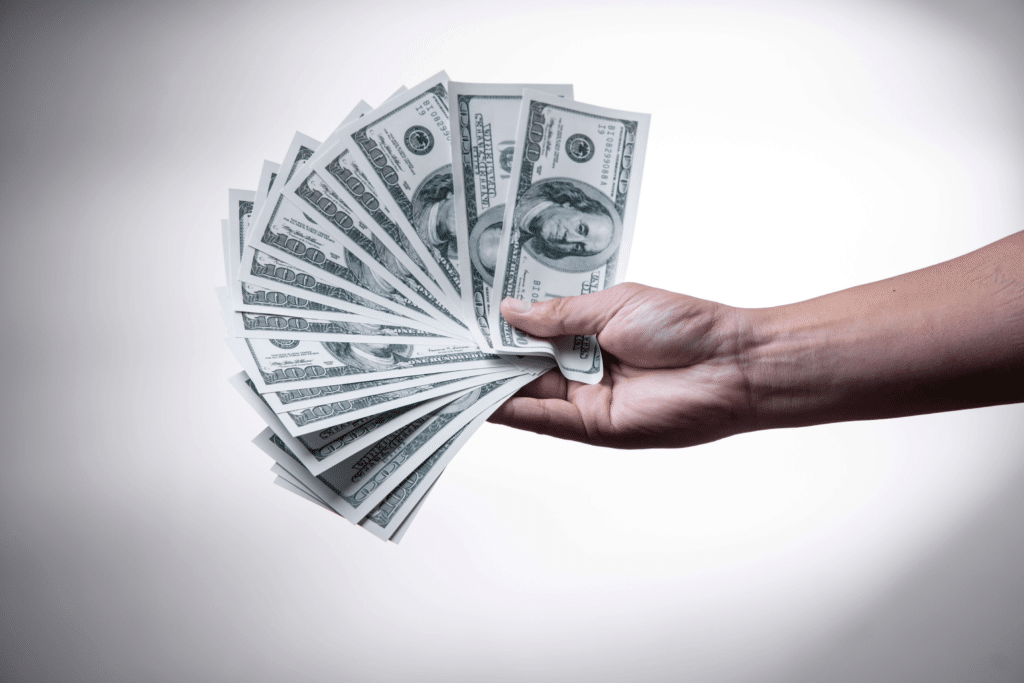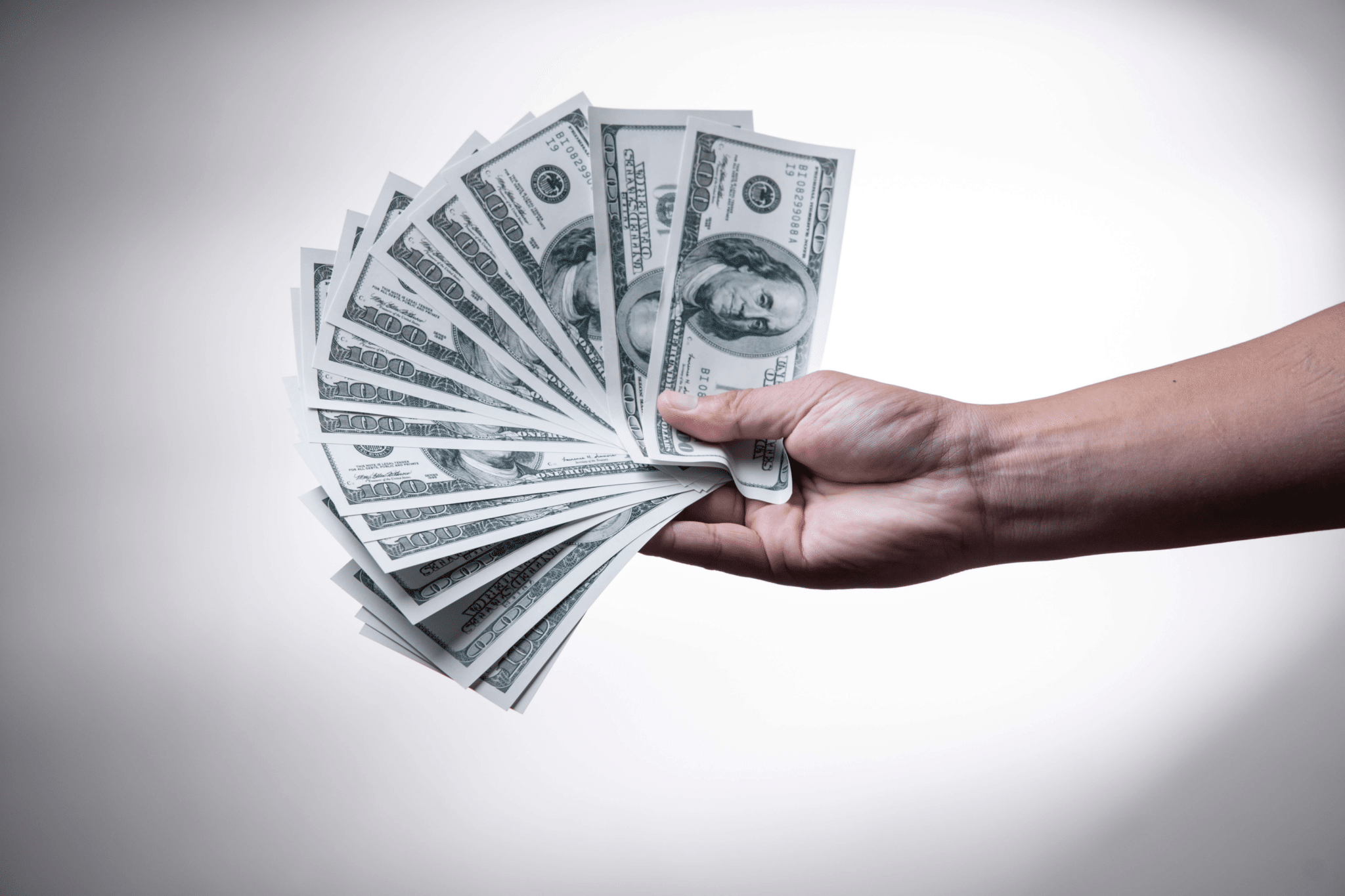 The truth about paid online survey sites: Do they really pay out?
Imagine being able to live a luxury lifestyle just by doing a couple of online surveys per week. Now imagine again because that's never going to happen.
Let's be honest, you're not going to get rich by taking paid online surveys. The best you can hope for is that you earn a little pocket money or score some neat gifts every month from online surveys.
What if you could shop as usual or take surveys and get free Amazon gift cards as a bonus? Say no more!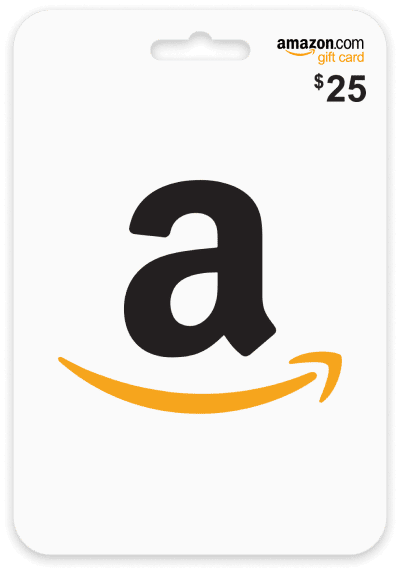 If you've got some spare time while waiting for a friend, commuting to work, sunbathing, or even instead of all those hours you spend scrolling through the pages of Facebook or Instagram, reliable online paid surveys might be worth a try.
But remember, while there are many reputable survey sites out there that have been rewarding users for years, there are also many scammers waiting to empty the bank accounts of gullible people. These scam sites usually attract their prey with promises of huge earnings for doing little or nothing. Remember, if it sounds too good to be true, it probably is.
Before you commit to anything, or part with any personal information, do your research first.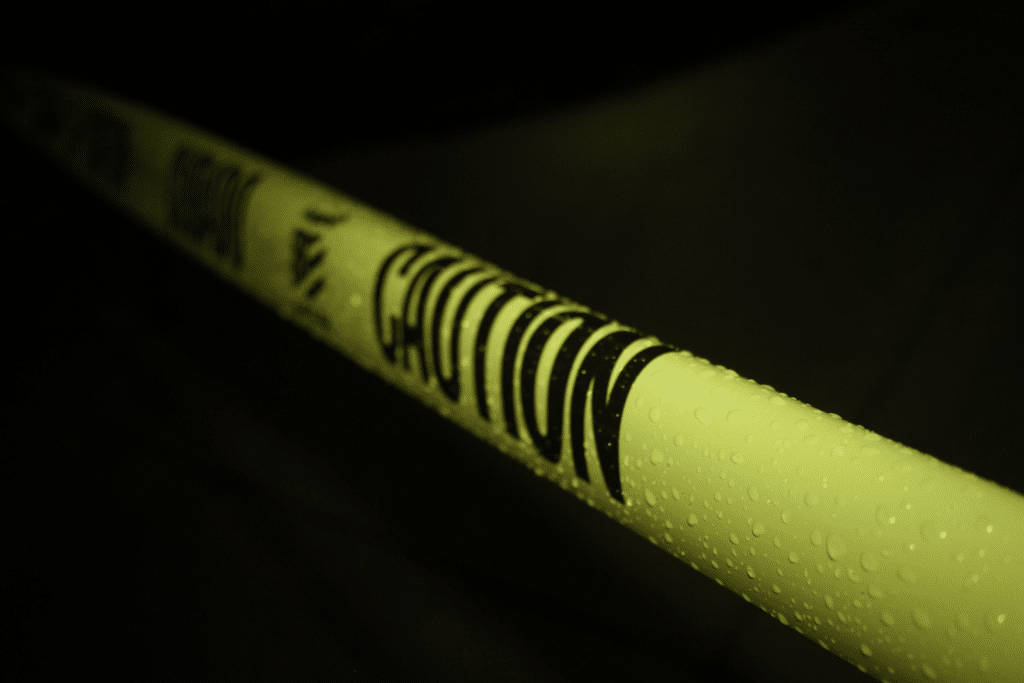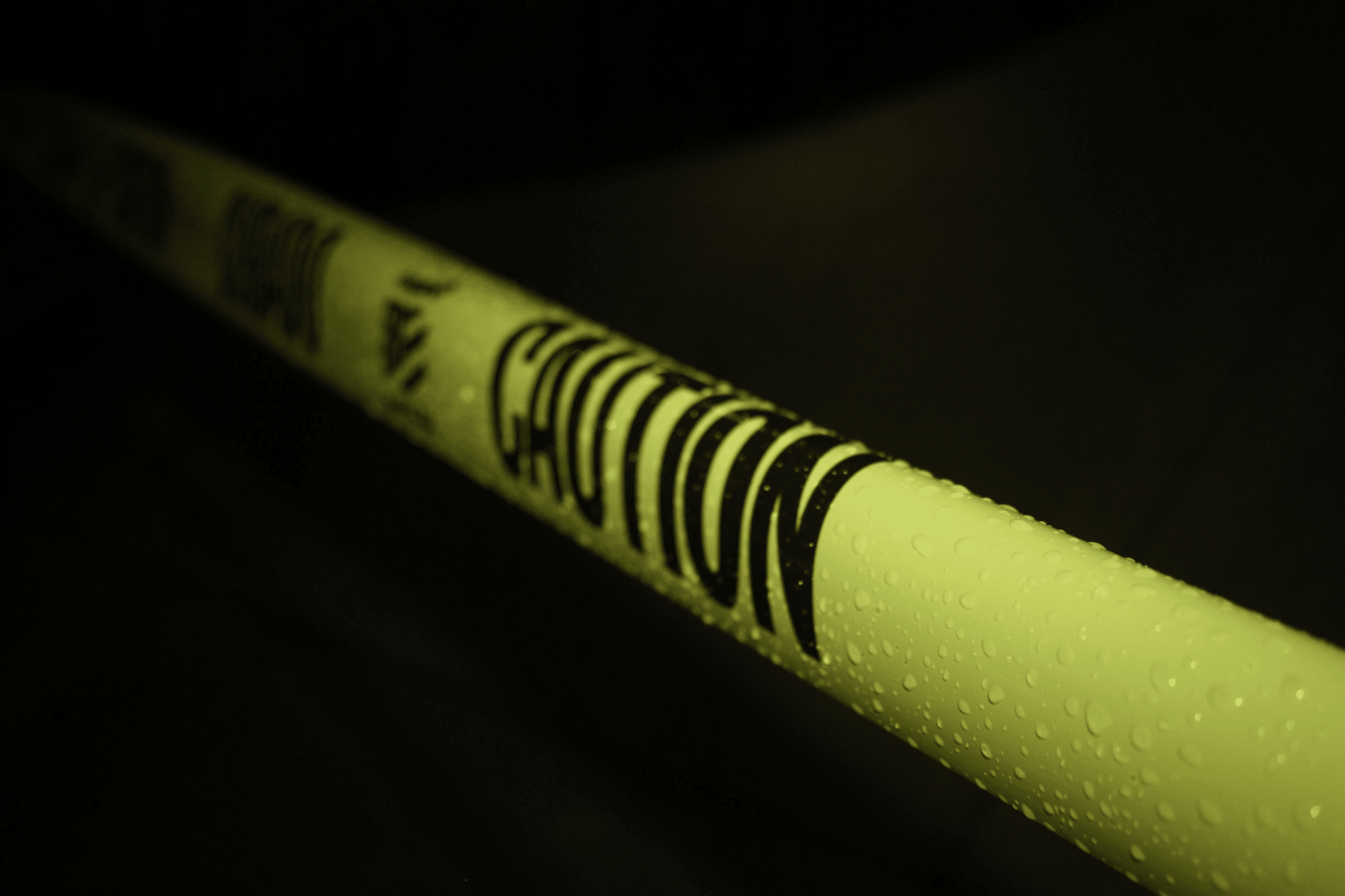 9 ways to spot scam survey sites
If you want to use online survey sites to earn a little extra money or get some neat rewards, you'll need to watch out for the scammers. The advertisements might look tempting, but how do you know if they're trustworthy or not?
By not taking time to run a background check on the company in question, you could be putting your personal information, online account, and even your bank account information up for sale to the highest bidder. In fact, you might even be leaving yourself wide open for identity theft.
So, what can you do?
Here's 9 surefire ways to recognize scam survey sites
If you see offers of holidays, expensive gifts, or large amounts of cash in return for completing online surveys, it's most likely to be a scam, so steer clear.
Legitimate survey companies will never ask you to pay a fee to join.
Genuine survey sites will provide contact information and/or a support network where you can address your concerns.
If you're thinking of signing up to a paid survey site, always check online reviews and forums for other user's experiences. Don't just conduct a quick search in your browser, use professional review sites like TrustPilot, Whois, and Google Safe Browser. If you suspect that site may be a scam, walk away.
Legitimate survey companies will have a clear and understandable privacy policy regarding user information privacy.
Some real red flag warnings are unsolicited emails or requests to click on suspicious links. If in doubt, leave the site.
Look for sites that provide proof of payment testimonials from satisfied users – then check some more.
If a paid survey site asks for your bank details to ensure payment, run away.
Unscrupulous survey sites might try to get their claws into you – and your information – by claiming you can quit your regular job and make a steady income for a couple of hours work per week.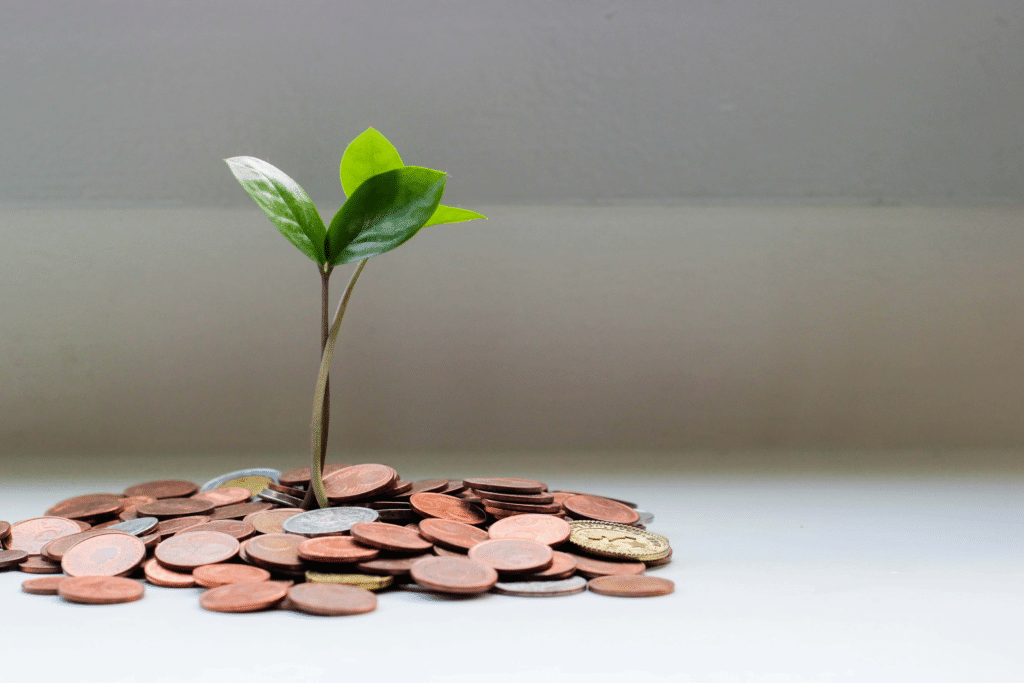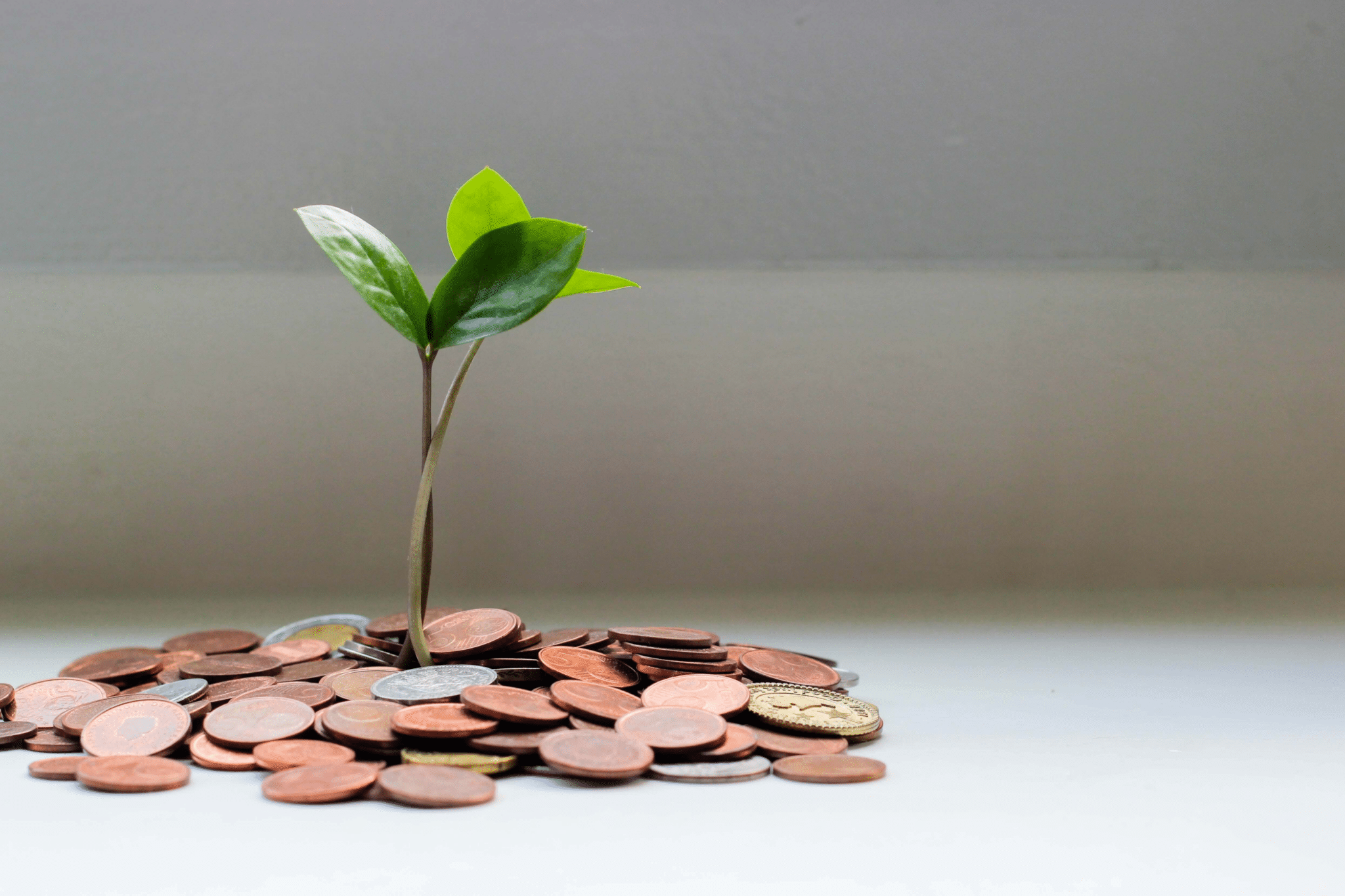 How much money can you earn with online surveys?
How much you can earn depends on the survey site you've signed up, along with the uniqueness of your individual characteristics. Typically, payments for taking surveys range from just a few cents to a few dollars per survey. Additionally, site may off an in-app currency that can be exchanged for gift cards, crypto currencies, or other nice things.
It's true that some paid survey sites offer better rewards than others, however, don't expect to get rich quick and retire in luxury from your earnings. Your earnings, or rewards, will depend on how many surveys you take, the time you invest, and your unique value to the survey sites.
Unique value could mean your age group, your location, your past purchasing record, or even your ethnicity. Some paid survey sites will offer more opportunities to people with unique characteristics that are highly valued by marketing agencies and survey companies.
Surveys that pay more are usually designed for a targeted audience. For example, the marketing company may be looking for people who have undergone surgery in the past year, or a family with a particular number of children within a particular age group, or someone who owns two dogs of a particular breed. Surveys of such a targeted nature can pay up to $25 dollars or even more, but they are few and far between.
Another factor that will make you more valuable to survey sites is honesty. If you are totally honest and factual when completing surveys, you'll prove more appealing to marketers and are likely to be offered more surveys to complete.
However, and as we said earlier, survey respondents shouldn't expect to make it their primary source of income.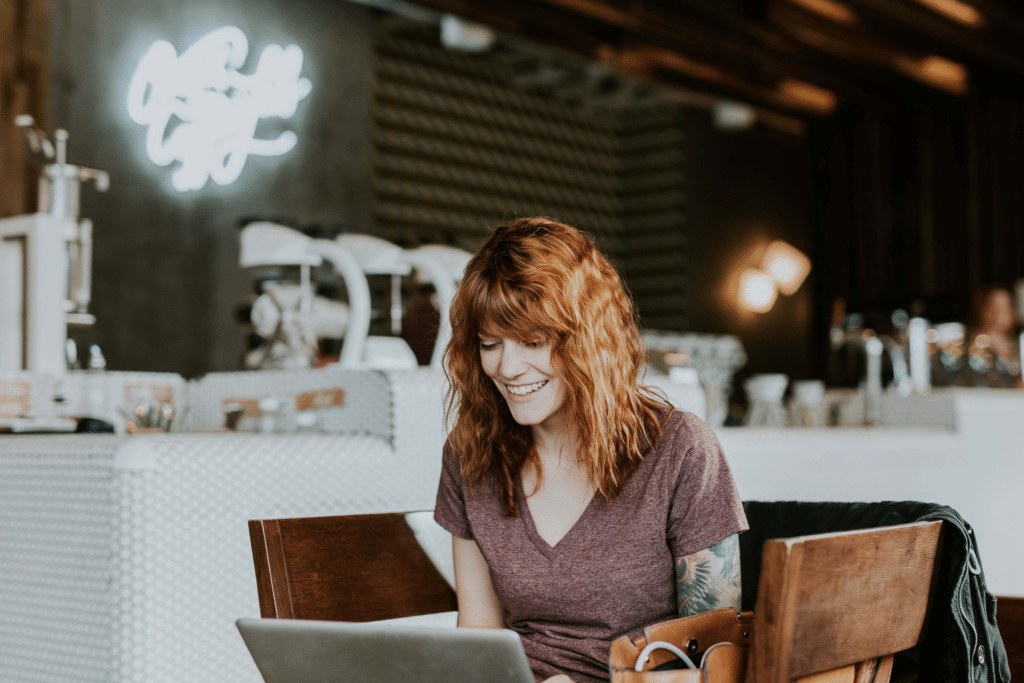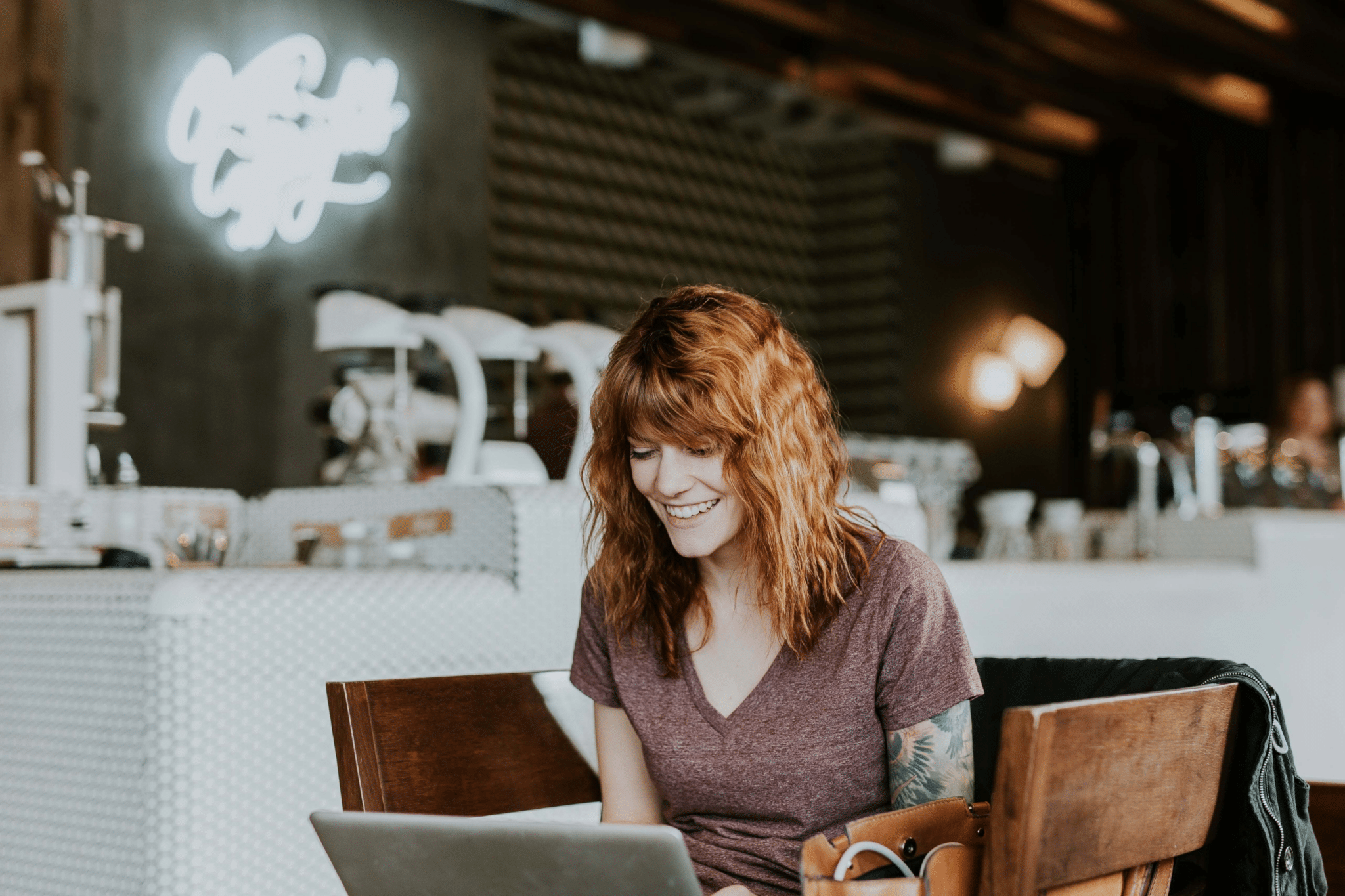 Examples: This is how much you can make on survey sites
You've decided, from now on you're going to reduce the time you spend on social media and use that time better. Instead of spending hours watching the one-thousand funniest cat moments on Facebook, wouldn't it be better to make some extra cash or earn some great rewards using paid survey sites?
With a multitude of survey companies crying out for new members, how much do you think you can earn in a year of free time moments – $50, $100, or even $500? It all depends on how much time you want to put in, and the survey sites you sign up for.
Let's look at some of the survey companies and agencies where you can earn rewards and cash and try to gauge how much you could possibly earn.
One opinion – approx. $2.03 per hour
Swagbucks – up to $5 per hour (plus signup bonus)
Toluna – up to $4 per hour
Monetha – earn between $40 and $300 per month in gift card and crypto payments
Survey Junkie – average earnings of $1.50 per hour
IPSOS – $1.05 per hour
One Poll – Surveys take approx. 3 minutes each for earnings of 22 cents per survey. Approx $4.40 per hour
Life Points – make up to $6 per hour
InboxPounds – Get paid to play games 22 cents – $1.10 per survey
Valued opinions – Earn between £1 and £5 per survey
YouGov – social issues and general interest surveys paying 60 cents per survey
Of course, there are many other survey sites to choose from, but before you sign up to any of them, be sure to discover their check out frequency policies (how often you can redeem your rewards). Some companies have check policies as low as $5 while others may be as much as $20.
Not every paid survey company offers cash in return for your time and effort. Some companies reward survey takers with points that can then be exchanged for gift cards or other bonuses, one of those companies is Monetha.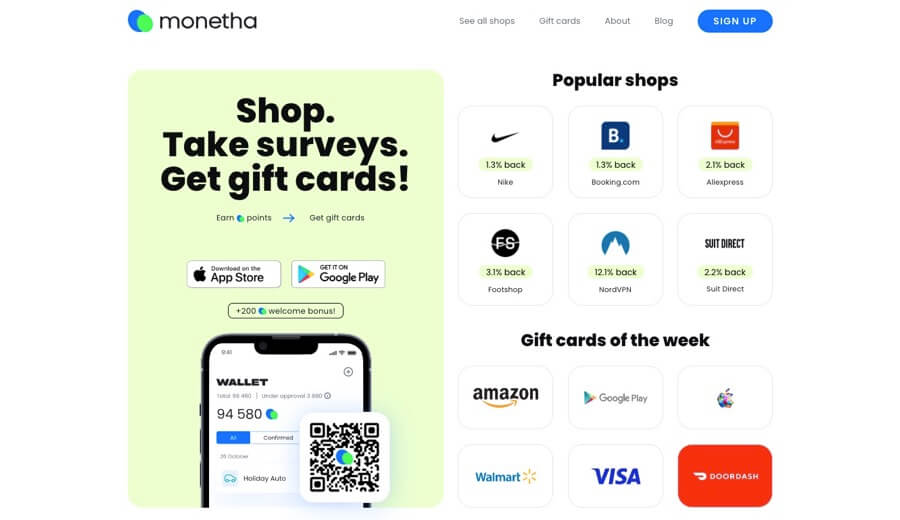 How to earn rewards with Monetha surveys
Monetha is a popular paid survey platform that offers users the opportunity to earn rewards by completing surveys. To start earning with a legitimate survey site like Monetha, follow these 6 easy steps:
Sign up for a free account on the Monetha app – download the app here.
Complete your profile with accurate and up-to-date information.
Regularly check the Deals section for new and updated surveys.
Complete surveys thoroughly and honestly.
Accumulate points by completing surveys and participating in other activities.
Redeem your points for gift cards or cryptocurrencies (BTC, ETH, USDT, BNB)
What if you could shop as usual or take surveys and get free Amazon gift cards as a bonus? Say no more!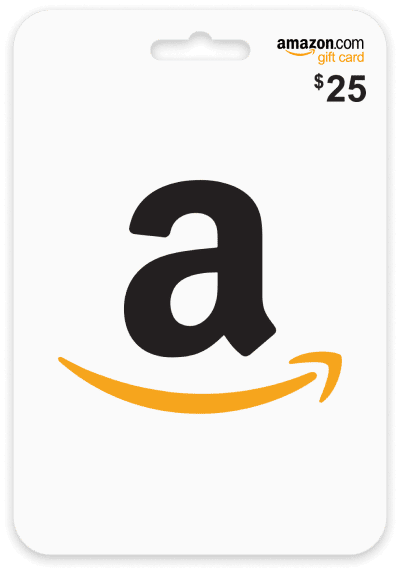 Best practices to earn more rewards with paid surveys
Sign up for multiple survey sites to increase your earning opportunities.
Keep your profile up to date to receive relevant survey invitations.
Be honest and consistent in your responses.
Set aside dedicated time to complete surveys.
Use a separate email account for survey-related communications.
Be patient and persistent, as survey earnings accumulate gradually.
Redeem your rewards regularly to avoid expiration or changes to reward policies.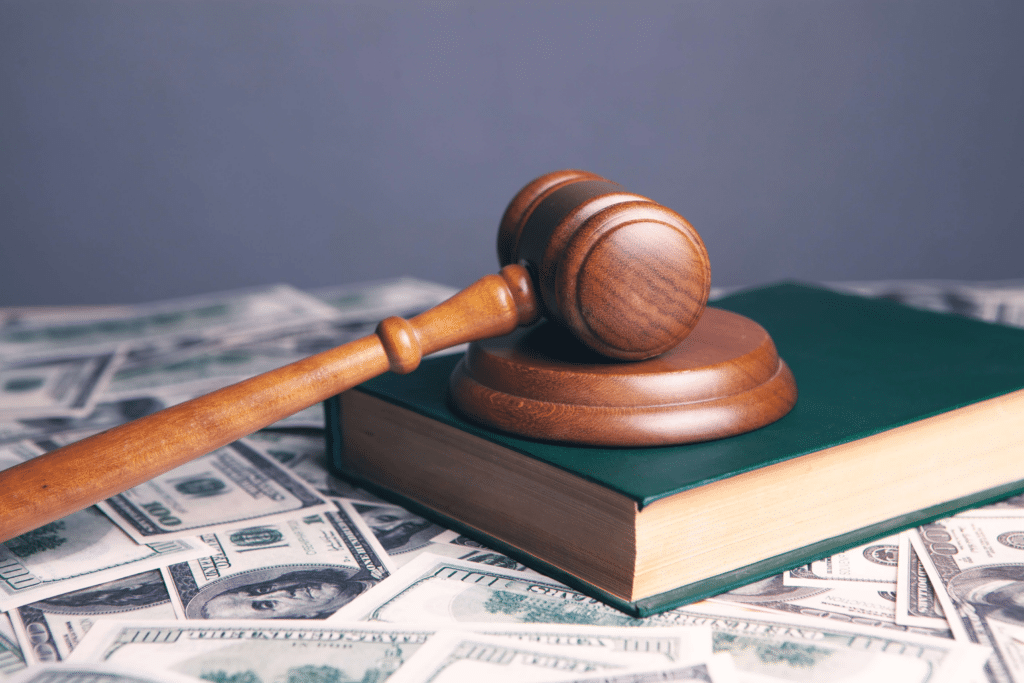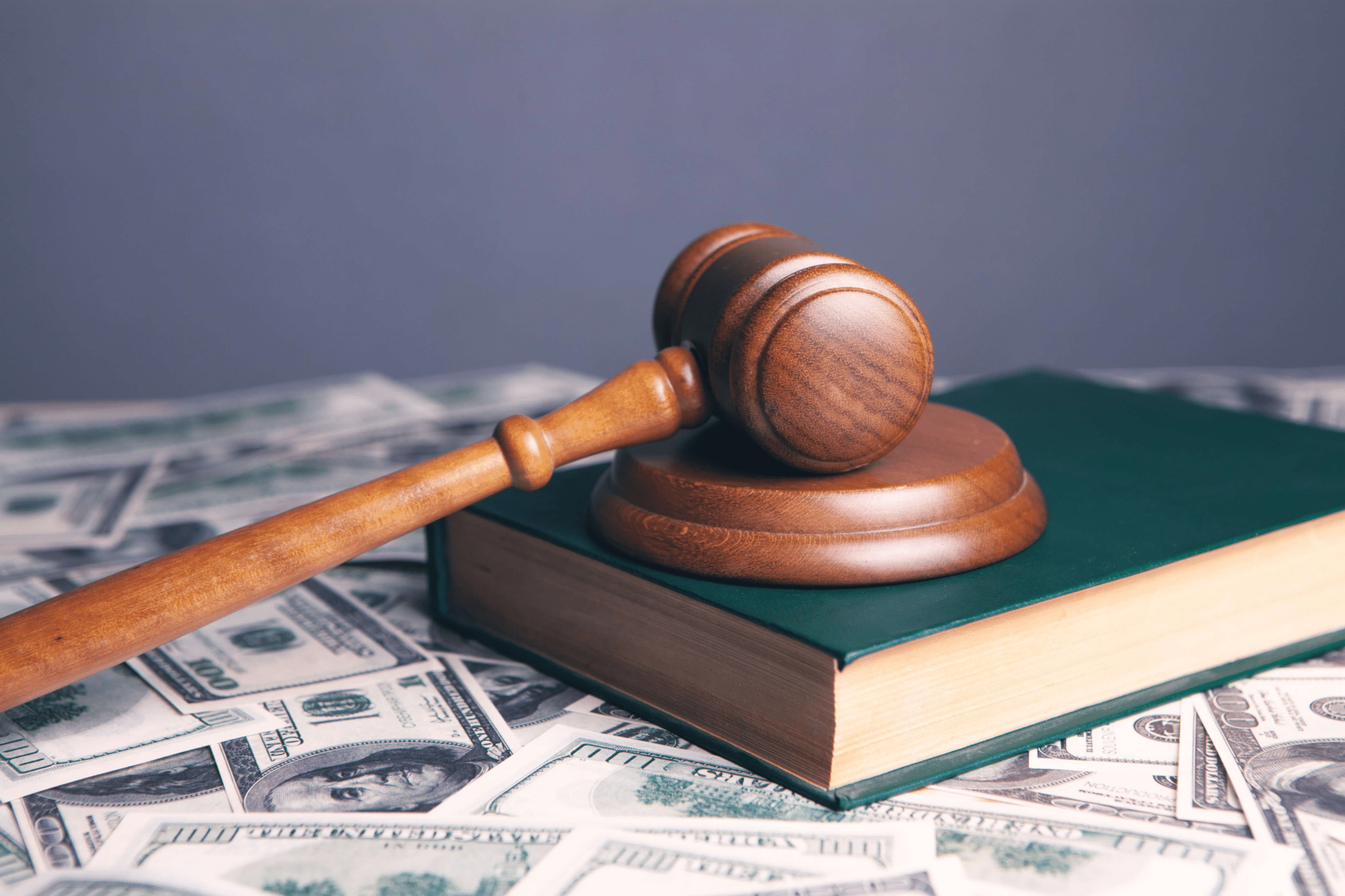 7 legit paid survey sites
If you want to make a little extra cash or get some great rewards by taking legitimate surveys, we've compiled a list of 7 of the very best survey websites that you can trust.
LifePoints
LifePoints is a global survey site that rewards users for participating in surveys and occasional mini-polls. Users can redeem points for cash via PayPal or gift cards from Amazon and a range of high street stores. On average, LifePoints surveys take approximately 15 minutes and reward you with 100 points, meaning you can earn up to $6 per hour depending on the current points exchange rate.
Take surveys for gift cards!
Share your valuable opinions and get any of 5,000 gift cards from top brands.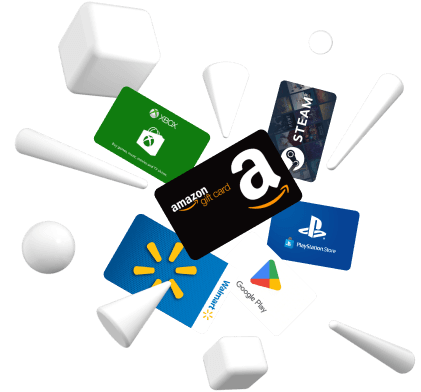 Monetha
Monetha is a well-known paid survey platform and app that offers a variety of surveys and activities for users to earn points. Along with surveys, users can earn points every time they shop with hundreds of great online retail partners, for completing a range of different tasks, and even for completing the sign up process. The points can then be redeemed for gift cards from hundreds of global stores, or used to invest in cryptocurrencies, or even to donate to charity. Monetha is one of the top survey sites out there.
Ipsos iSay
Ipsos iSay is a popular survey site operated by Ipsos, a reputable market research company. Users can earn points by completing surveys and participating in polls, which can be redeemed for cash, gift cards, or charitable donations. However, Ipsos iSay has a high survey disqualification rate without giving reasons to the user.
InboxDollars
InboxDollars is a rewards site that not only offers paid surveys but also pays users for watching videos, playing games, and shopping online. Users can earn cash through various activities, plus the platform features a $5 sign-up bonus and a $10 referral bonus.
Toluna
Toluna allows users to take multiple surveys every day on their site or through their downloadable app. The surveys take approximately 15 minutes to complete, meaning it will take approximately 4 hours to earn a £15 gift voucher. The site has also introduced a games section where users can play games and offer their opinions to earn extra rewards.
Swagbucks
Swagbucks is a popular rewards site that offers paid surveys along with a range of other activities, like watching videos, searching the web, and shopping online. Users can earn 'Swagbucks' (SB) points, which can be redeemed for cash or gift cards. And, Swagbucks offer a great sign-up bonus of $20.
Survey Junkie
Survey Junkie is a well-established online survey site that focuses on providing users with a variety of surveys to complete. Users can earn points by participating in surveys and redeem them for cash or gift cards. With surveys paying between 10p and £3, and has a low reward threshold of only £5.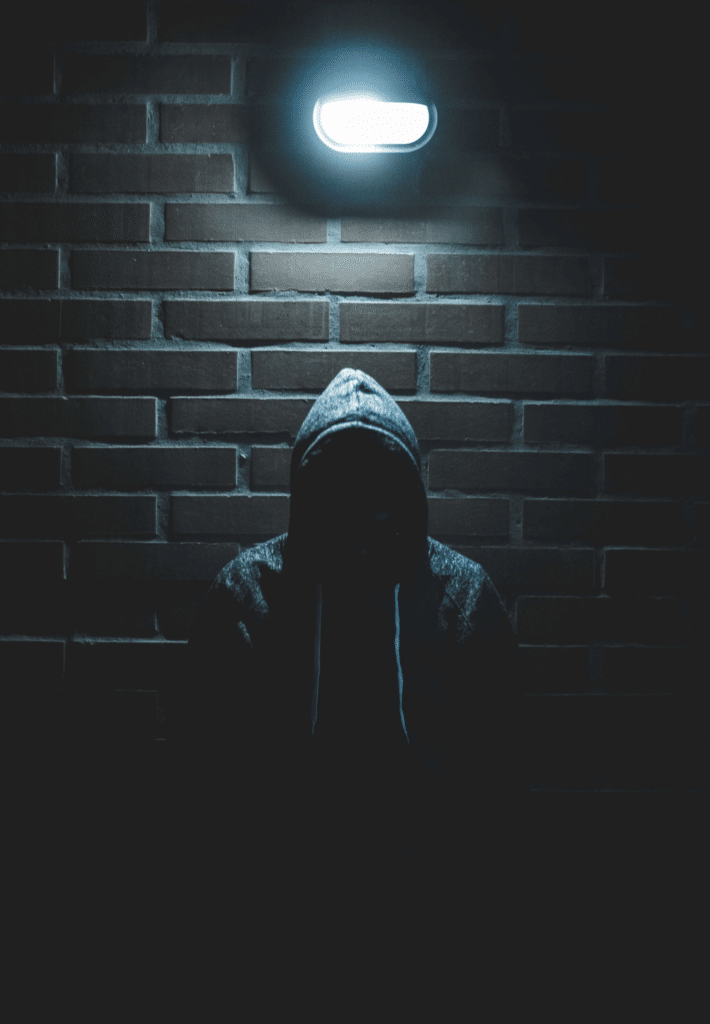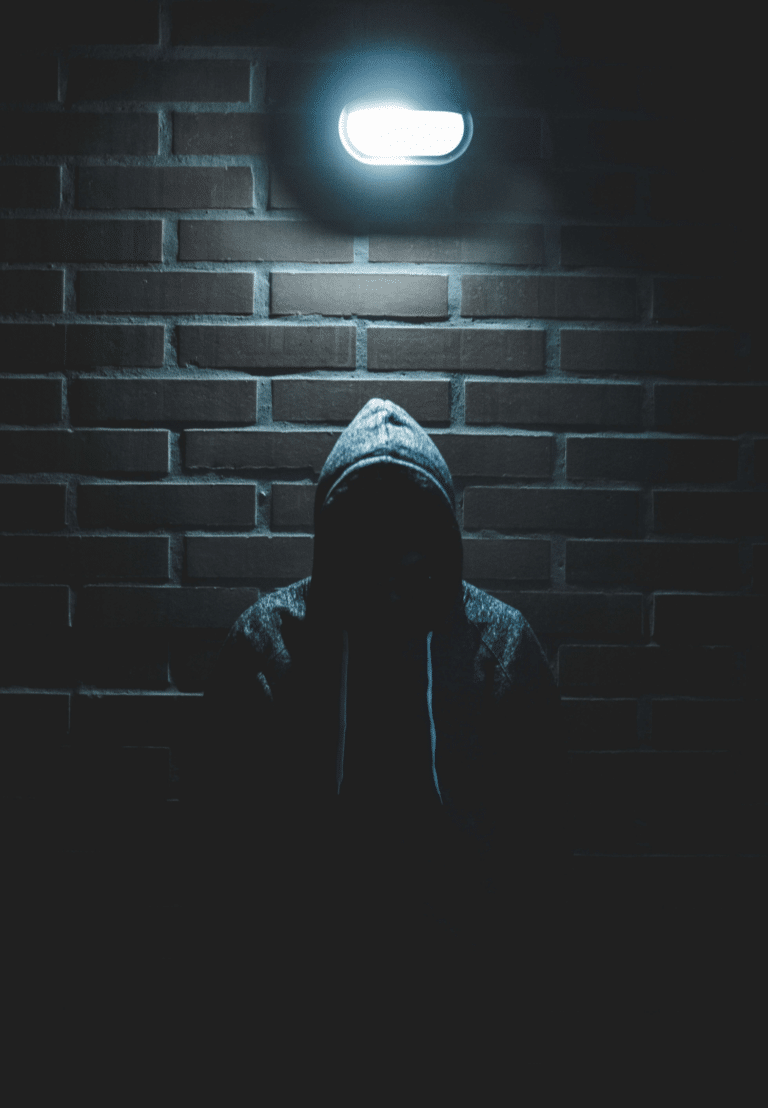 Beware of scams: Survey sites to steer clear of
While there are many legitimate survey sites, it's important to be cautious and to avoid scams.
Survey sites are a favorite way for cybercriminals to get access to your personal information, but there are ways not to become a victim.
Research and verify the legitimacy of a survey site before signing up. Check for red flags such as unrealistic earnings claims, upfront fees, or lack of contact information. Make sure to read reviews and check user feedback to learn about other users' experiences.
Here are some of the most common types of scams you need to be aware of.
Watch out for the spammers
Spam scams refer to fraudulent or deceptive emails, messages, or other types of communication that are sent in bulk to a large number of people simultaneously. These emails are sent with the intention of tricking them into providing personal information or money. They often use a variety of tactics to convince recipients to act, such as offering a reward or prize for filling out a survey, while also exposing their personal information.
Gone phishing
Phishing scams are a type of online scam in which fraudsters attempt to trick people into revealing sensitive information, such as login credentials, credit card numbers, social security numbers, or other personal details. Typically, these scams are carried out via email, social media, or instant messaging, and they often involve a fraudulent website that looks like a legitimate one, such as a bank or an online store. Sometimes the imitation sites will resemble the original sites down to colors, logos, typefaces, and even official-looking government stamps and certificates.
Phishing scams typically use a variety of techniques to lure victims into clicking on a link or downloading an attachment that appears to be legitimate but is in fact malicious. These techniques may include using urgent or threatening language, creating a sense of urgency or scarcity, or impersonating a trusted person or institution.
What are the main scam sites to watch out for?
One thing about scam survey site owners is that they know how to cover their tracks once they've been rumbled.

If you search for a list of scam online survey sites, it's highly unlikely that you'll find one. However, so that you don't fall foul of such scammers, this article includes a list of tips on how to recognize scam sites.

Once you find a survey site or are contacted by one (that's definitely a red flag), there are sites that can help you identify whether the site in question is a scam, or a legitimate business entity. We've also included a list of 7 reputable online survey platforms that have trustworthy reviews on sites like Trust Pilot and Google Online Reviews.

The golden rule for discovering if a site is a scam or not is to conduct your own research and read reviews wherever possible.
Content locker scams
Content locker scams create fake websites or social media pages that offer access to content you might be looking for, such as exclusive videos, software downloads, or other types of digital content. The scammers then require the user to complete a certain action, such as completing a survey or downloading an app, before they can access the promised content.
In most cases, the promised content either doesn't exist and the user may end up exposing themselves to malware or other security risks by downloading or installing unknown software.
Paid survey scams
While there are some really great paid online survey sites out there, there's also a lot of scammers trying to take advantage of that. Typically, scam survey sites will require the user to pay a fee (NEVER pay a fee) or provide personal information to gain access to a list of paid survey opportunities. In fact, most of the survey opportunities they'll provide don't even exist, and if they do, they're not legitimate. The scammers can then use the personal information you've provided to commit fraud or engage in identity theft.
In some cases, the scammers may also require the user to complete additional tasks, such as signing up for trial offers or purchasing products before they can receive their payment.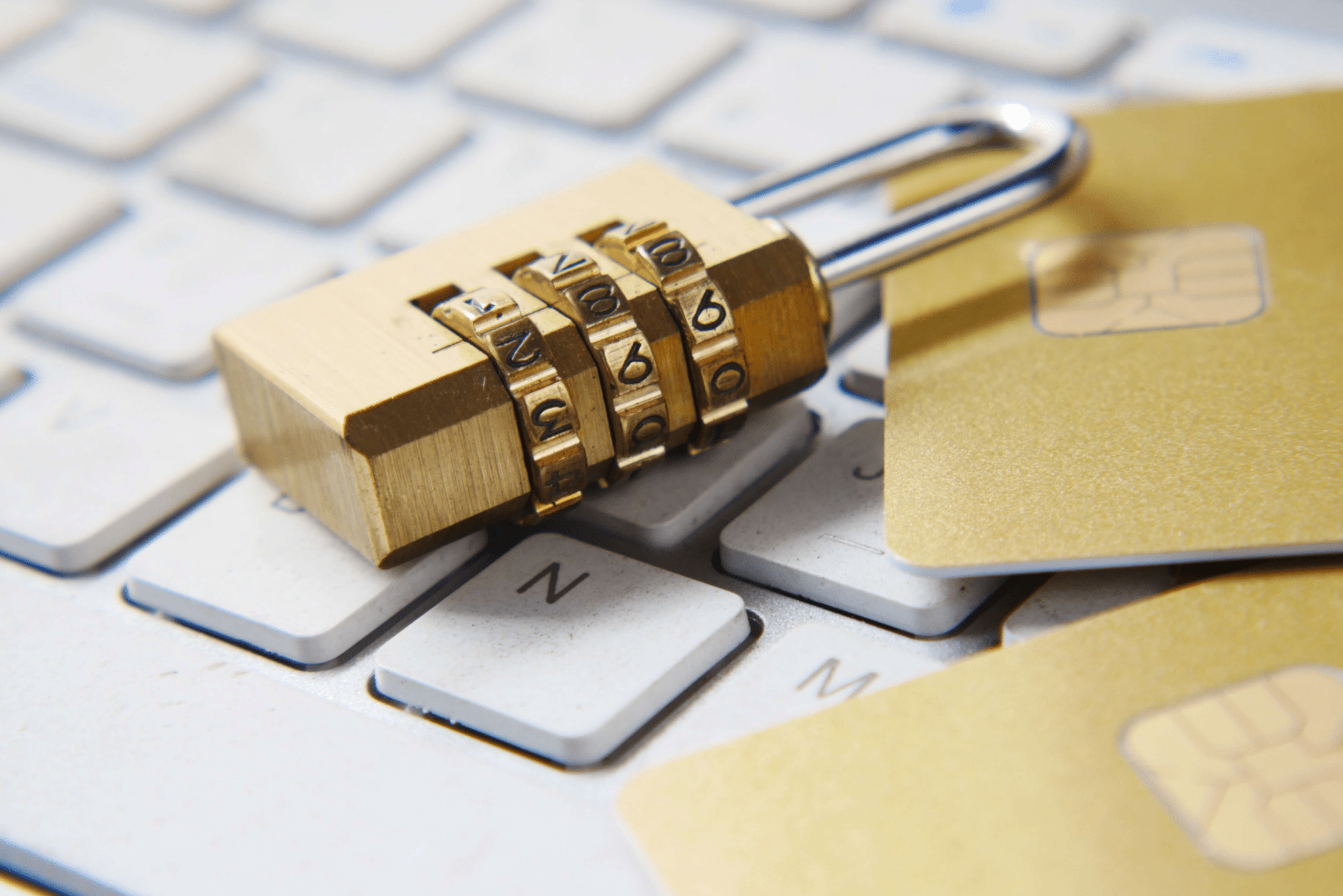 7 quick tips to protect yourself from paid survey scammers
If a survey site promises that you can earn large amounts of money for participating in surveys, it's most likely a scam. Legitimate survey sites typically only offer small rewards or compensation for completing surveys.
Trustworthy survey sites never ask you to pay a fee or provide intimate personal information in order to participate in surveys. Make sure to conduct some research on the survey site before signing up or providing any personal information. Look for reviews and feedback from other users.
If a survey site promises that you can make a lot of money quickly or easily, it's likely to be a scam. Real survey sites typically require some effort and time to complete surveys.
Sites should have clear contact information, such as an email address or phone number, for customer support. If the site doesn't provide any contact information, proceed with caution.
Reliable survey sites will have clear privacy policies and terms of service that explain how your information will be used and protected. If the site doesn't provide this information, the information you provide is in danger.
Install anti-malware software to help protect your personal data in case you do sign up to a scam site by accident.
Always create a separate email address for working with survey sites to add a further layer of protection.
And remember, it's vitally important to be cautious and do your research before providing any personal information or participating in surveys on a paid survey site (or life in general).