Hi, and welcome to Monetha!
Your first Rewards campaign is just several minutes away. This short article will guide you through two principal things:
how to show loyalty rewards in your store
how to reward customers with loyalty points for purchases.
Make rewards visible to customers
Your customers will not know about your loyalty program unless you tell them. For that purpose, Monetha plugin includes a small block that indicates how many loyalty points your customer will get with a particular product and their current cart.
To display rewards on your theme, go to your Online Store "Theme" section and click "Customize"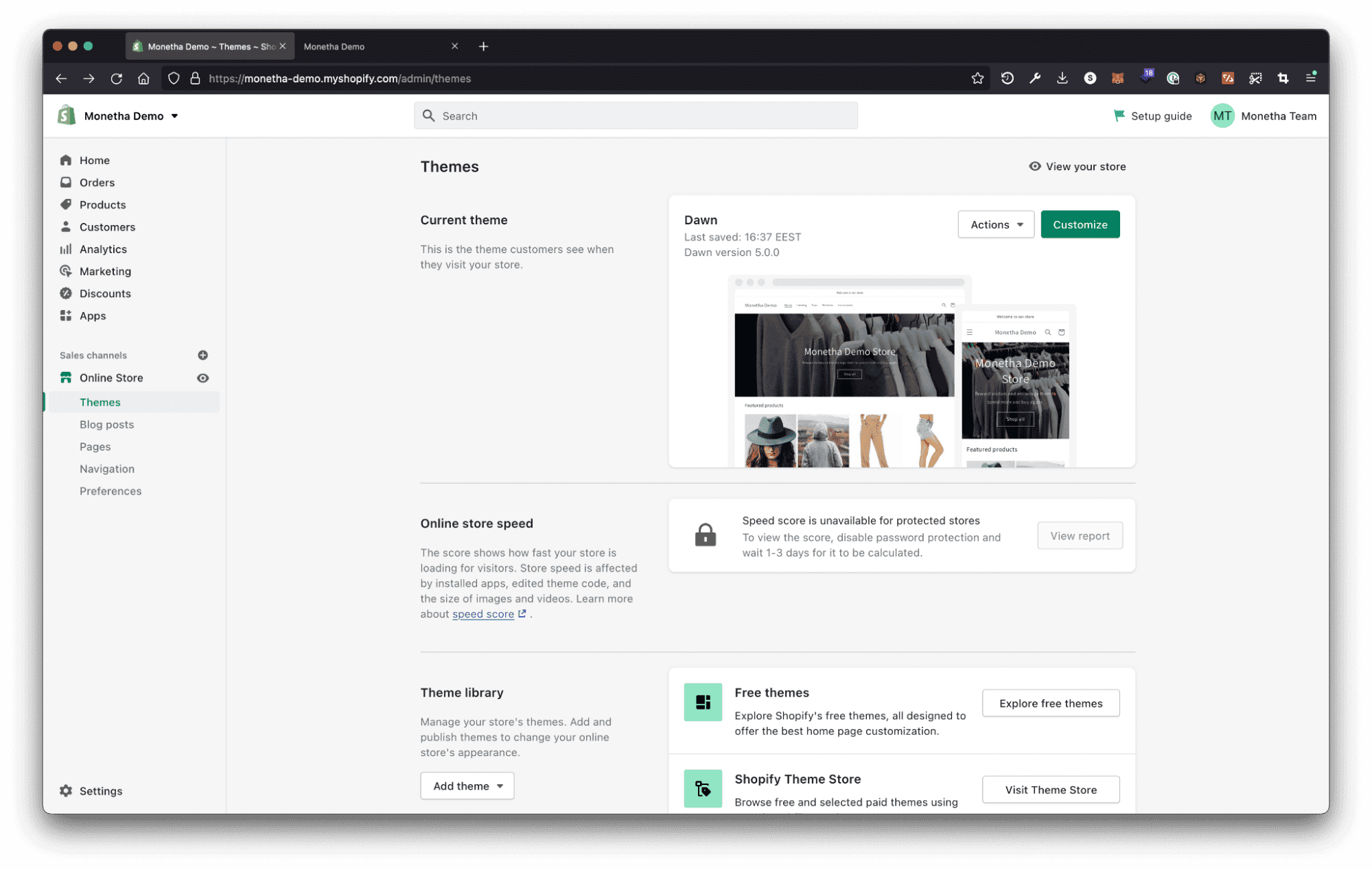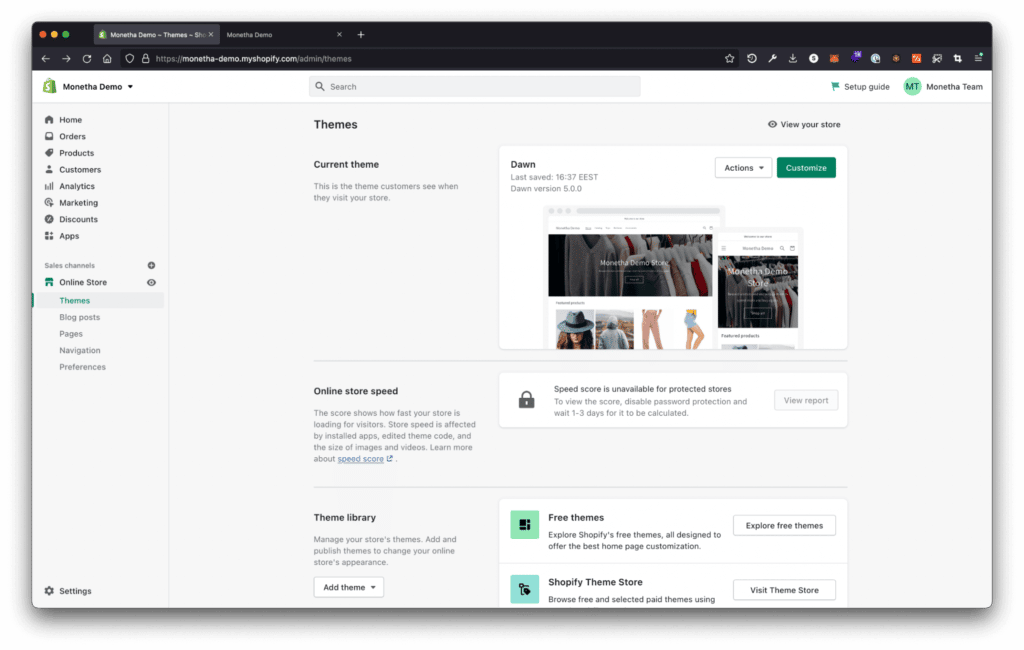 Go to your Product page template.
On the left, select the area where you want to add the Monetha block and click "Add block" then select "Rewards". 
We suggest to add the block below the "Add to cart" or "Buy" call-to-action buttons.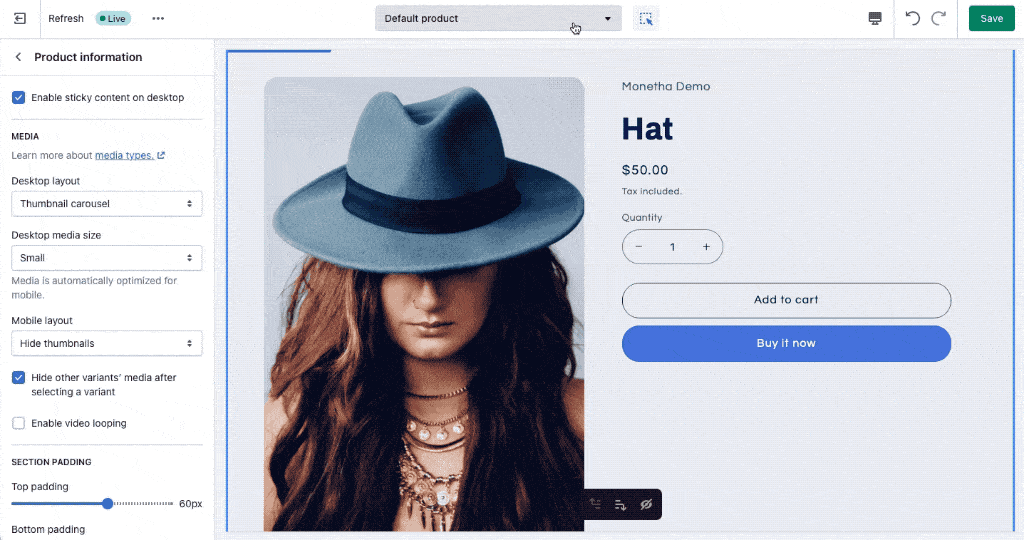 Go to your Cart page template.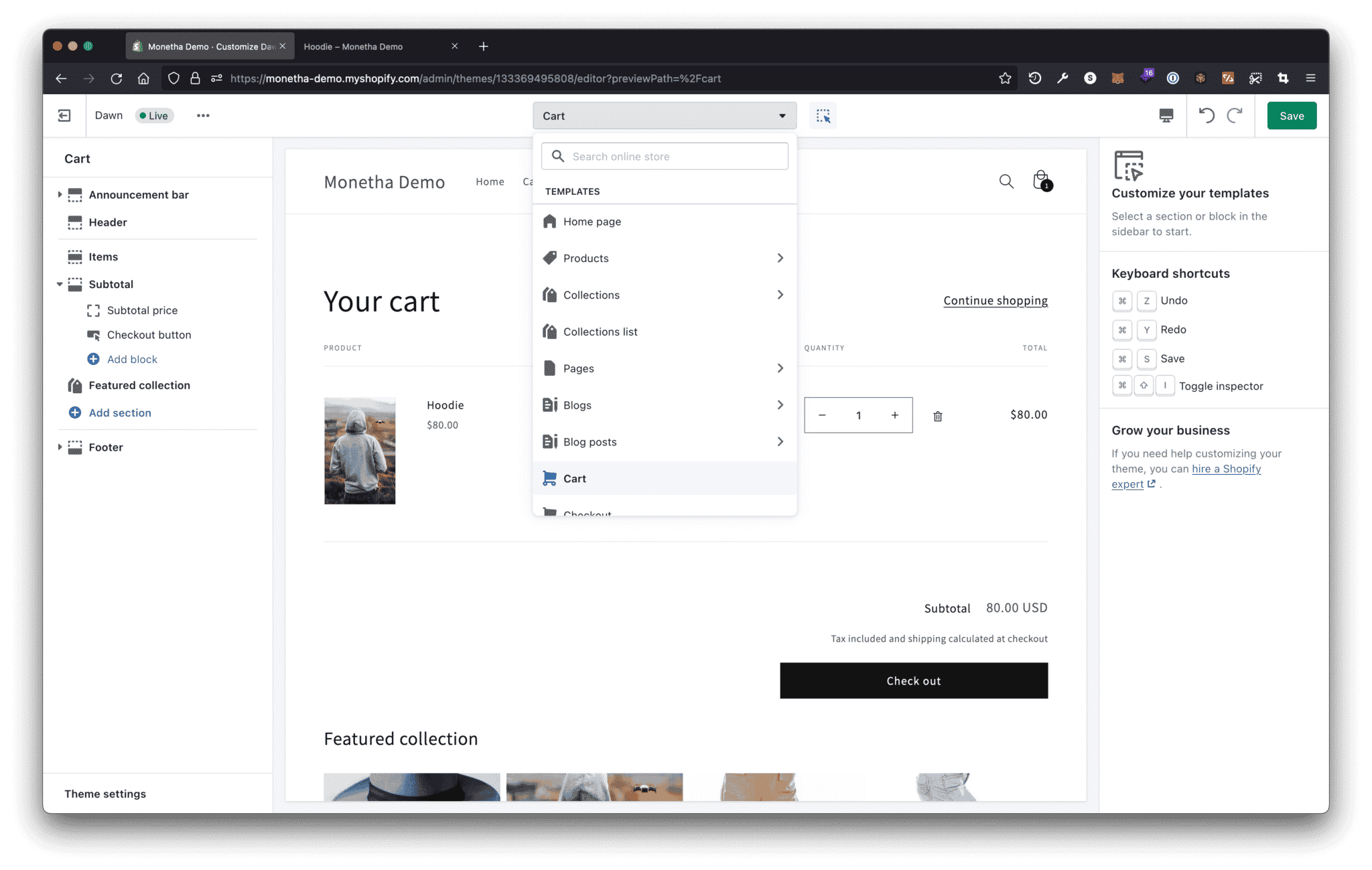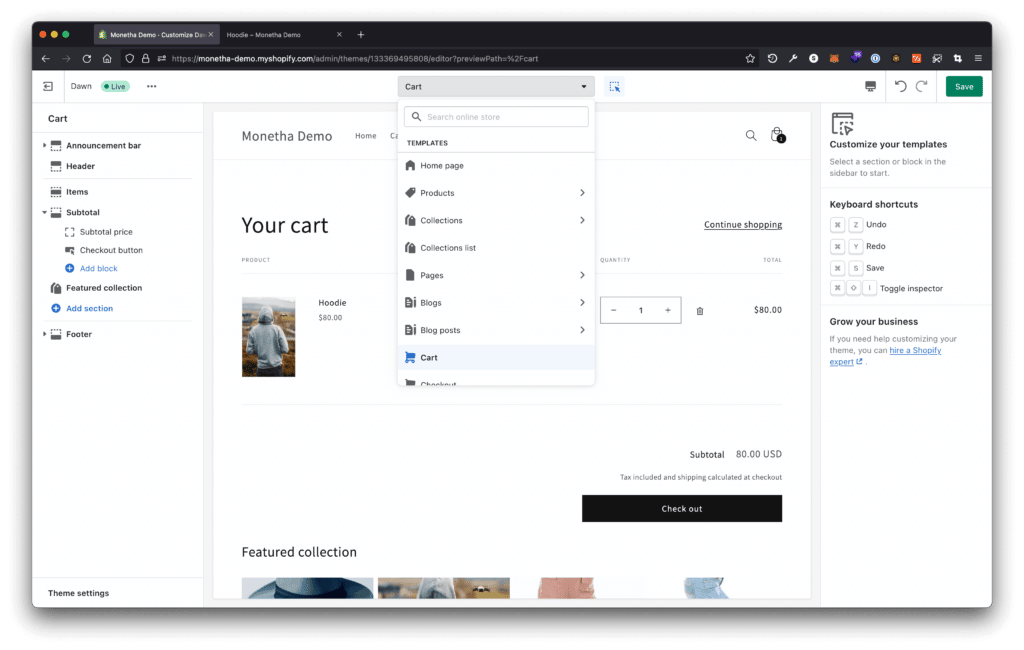 On the left, select the area where you want to add the Monetha block and click "Add block" then select "Rewards". 
We suggest to add the block below the "Check out" call-to-action buttons.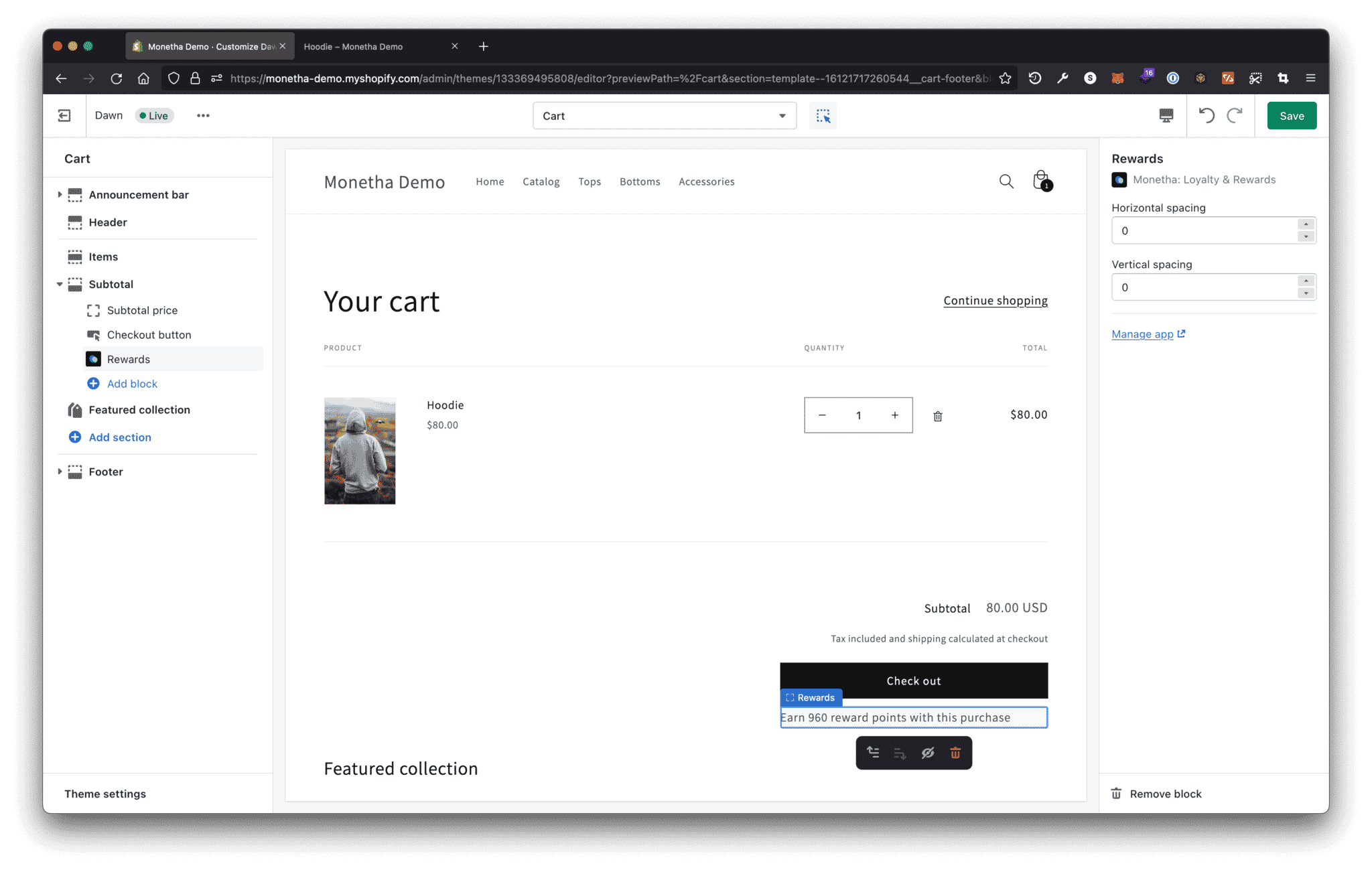 We intentionally keep the design of the block discreet and we allow you some simple options to fit your theme best. Changing those value will add padding in pixel to the block.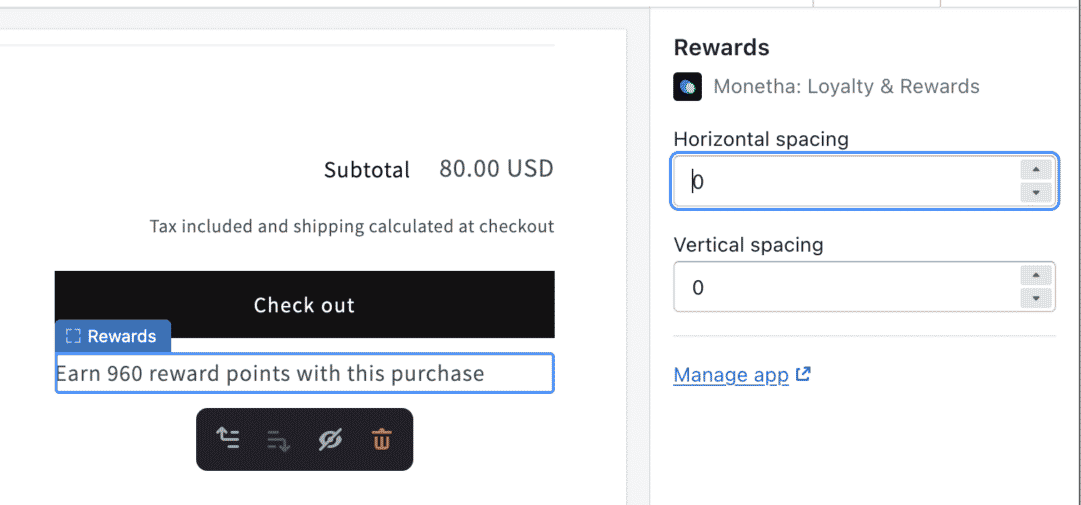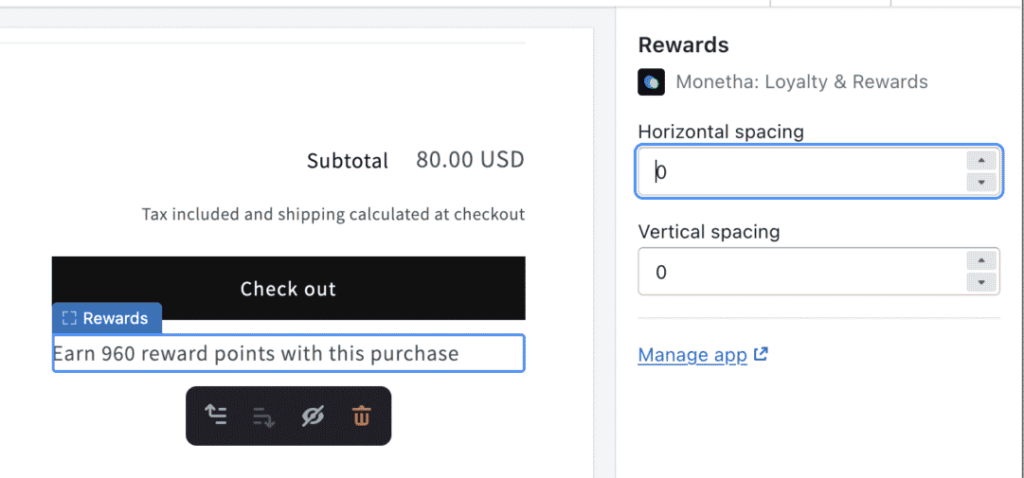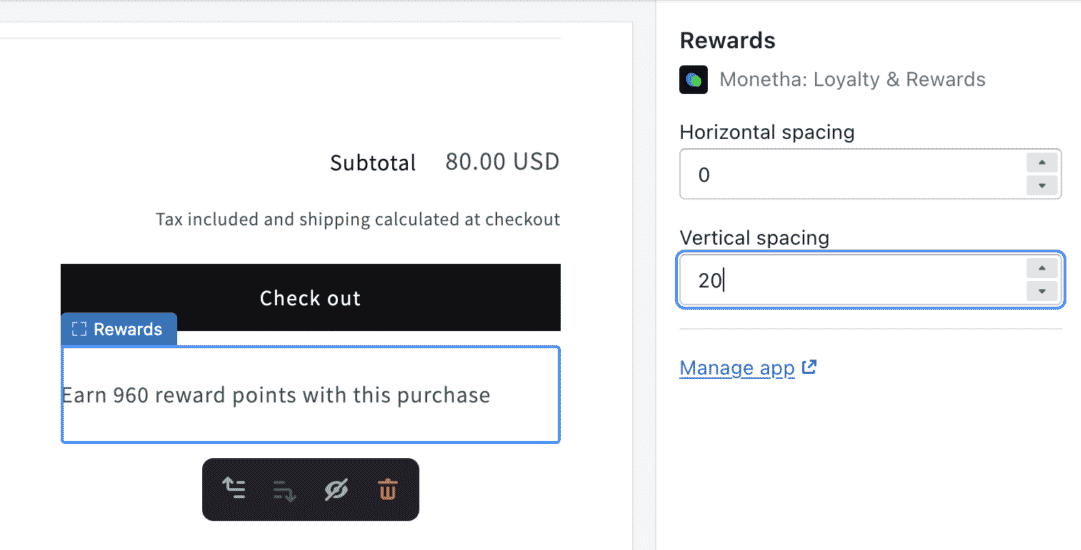 Configure rewards for your online store
Now, when the visual part is set up, let's configure how loyalty points shall be rewarded. First, we need to get to the plugin's dashboard.
Go to Admin Panel > Apps > click Monetha: Loyalty & Rewards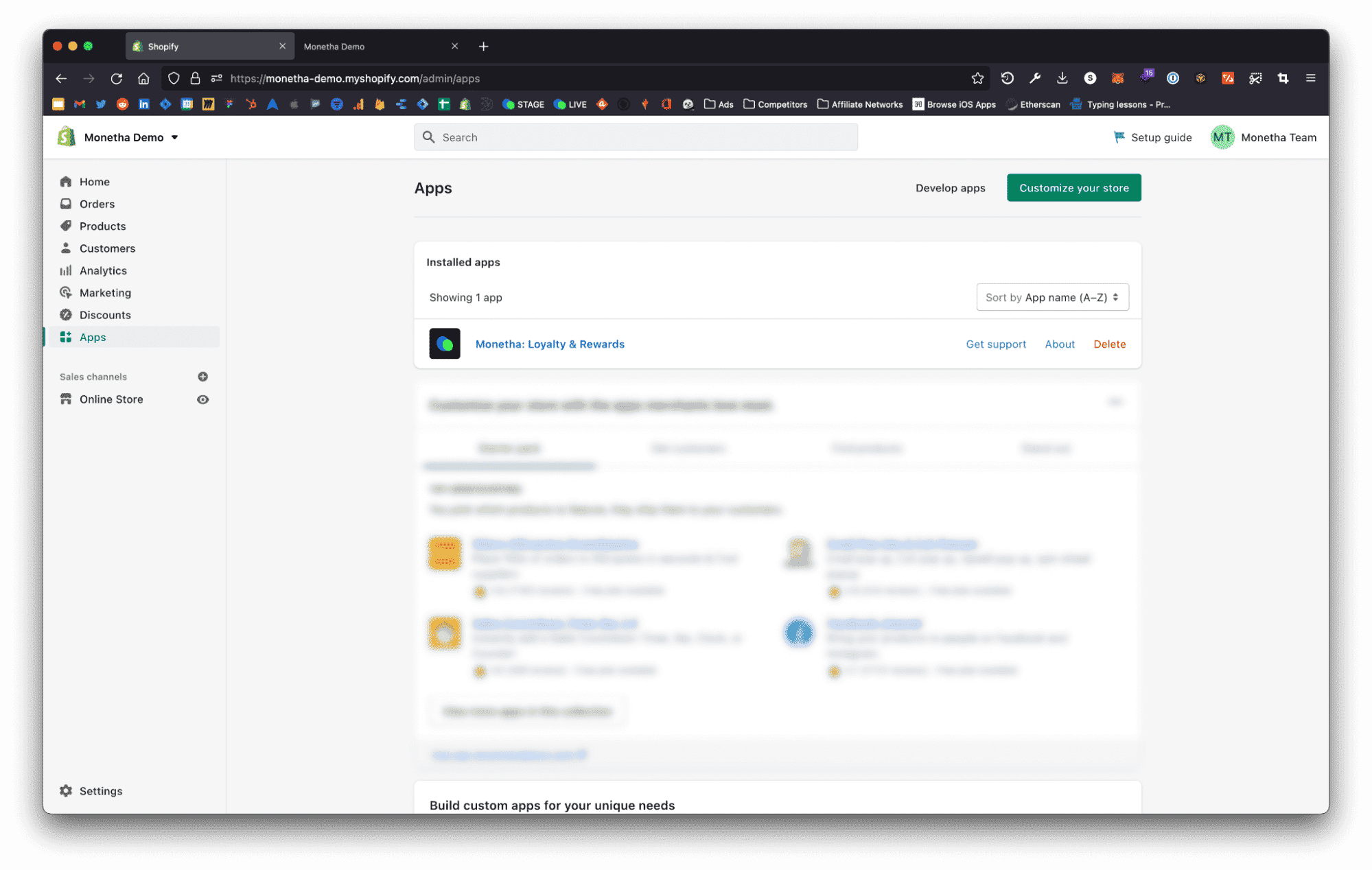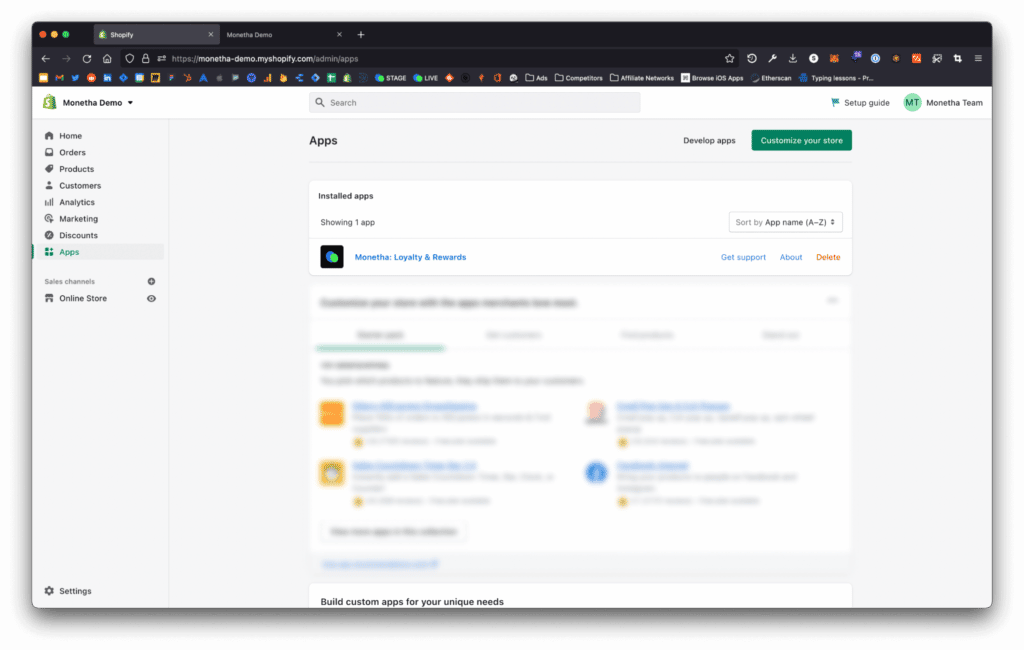 This is where you can oversee the status and performance of your Rewards program. Let's quickly check what's in here.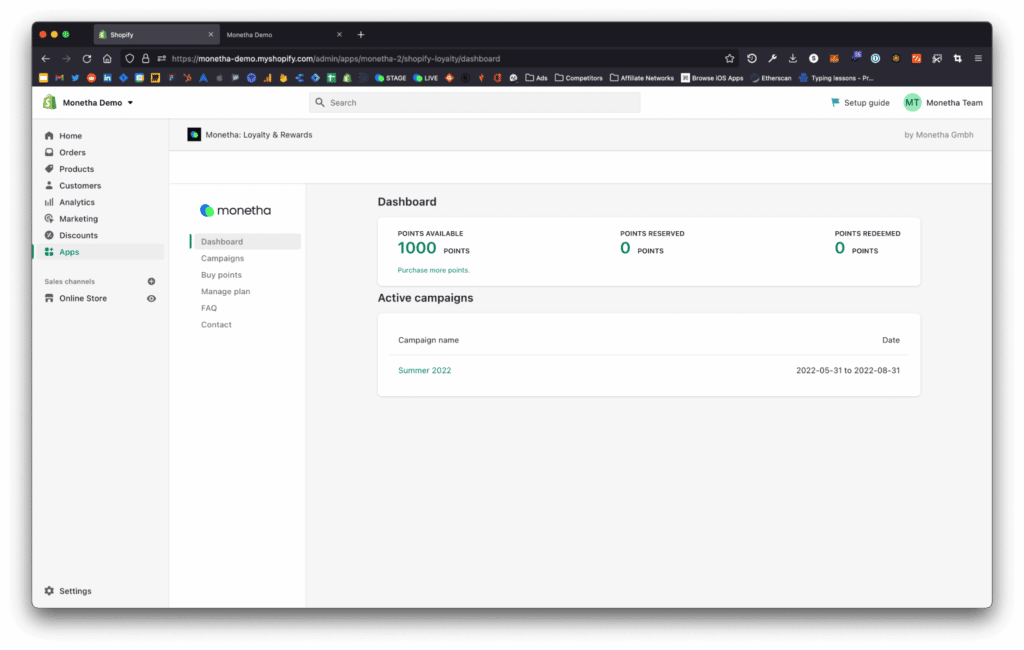 Points available are points that you have in your balance, ready to distribute to your customers. In the free plan, you will start with 1000 points. If you run out of them you can always purchase more (See "Buy Points") or Upgrade your plan to have more points included every month (See "Manage Plan").
Points reserved are points that are rewarded to customers after they purchased in your store but aren't claimed yet. Customers have 30 days to claim their points in the Monetha mobile application (available both on iOS & Android).
Unclaimed points will be credited back to your Points available balance after 30 days.
Points redeemed are points that have been claimed by your customers in the Monetha app.
This section lists the Rewards campaigns currently running on your online store. You can click on any of them to see their Details.
This section will give you a more detailed view of your campaigns Ongoing, Planned, or Finished. 
This is also the place where you start new campaigns. Time to create one!
Click "+ Start new campaign" button.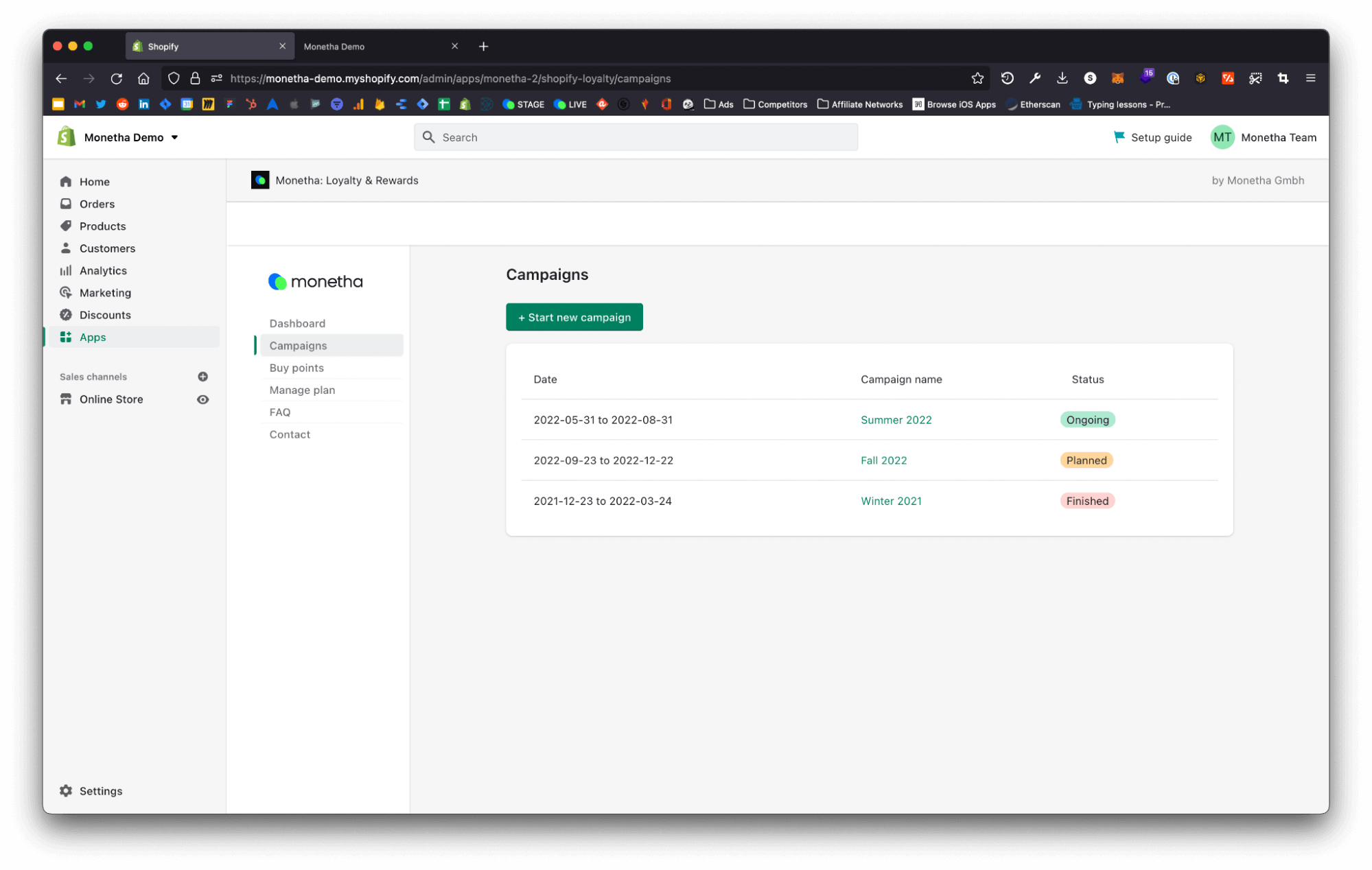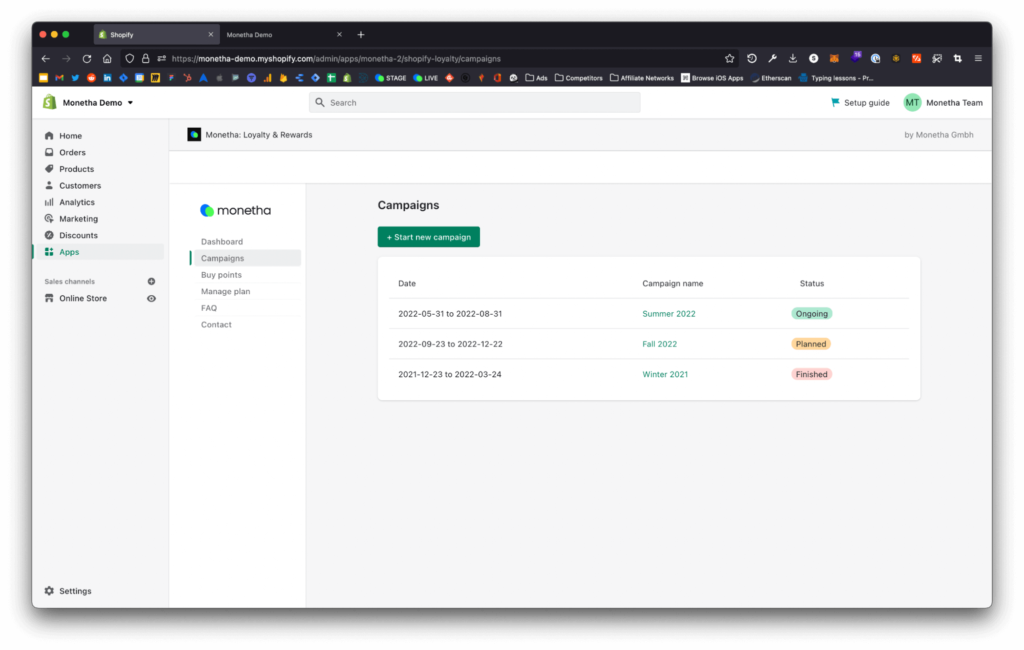 We are at the final step. Now you only need to come up with the name for your campaign, set up timeframe for it, and set rules for points attribution.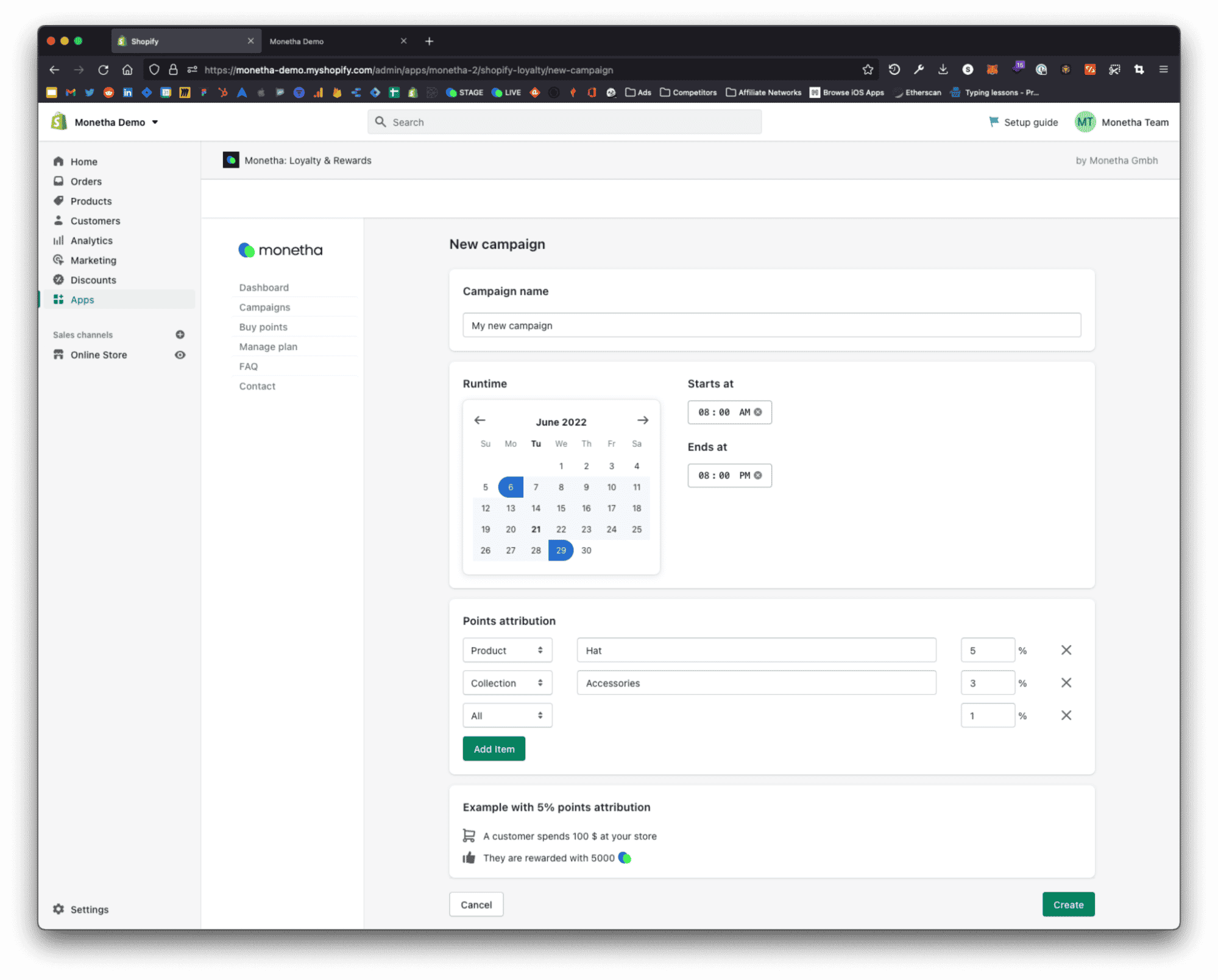 The campaign can run as long as you want, from minutes (weird decision but possible) to years.
In the date picker, click a date to select as your Start date, then click a second date to select as your End date. 
In the Start at and End at fields, you can pick the exact time the campaign will launch on the Start date and Finish on the End date.
Here you can adjust how many rewards you will be giving and for what kind of purchases.
You can reward customers for every purchase or specific products/categories only and set up a rewards level for each independently.
For example, you choose 1% as a base reward level — 1% of any purchase will be rewarded in loyalty points. But you also want to give 3% for a slow-moving category and 5% for a high-margin product. Easy!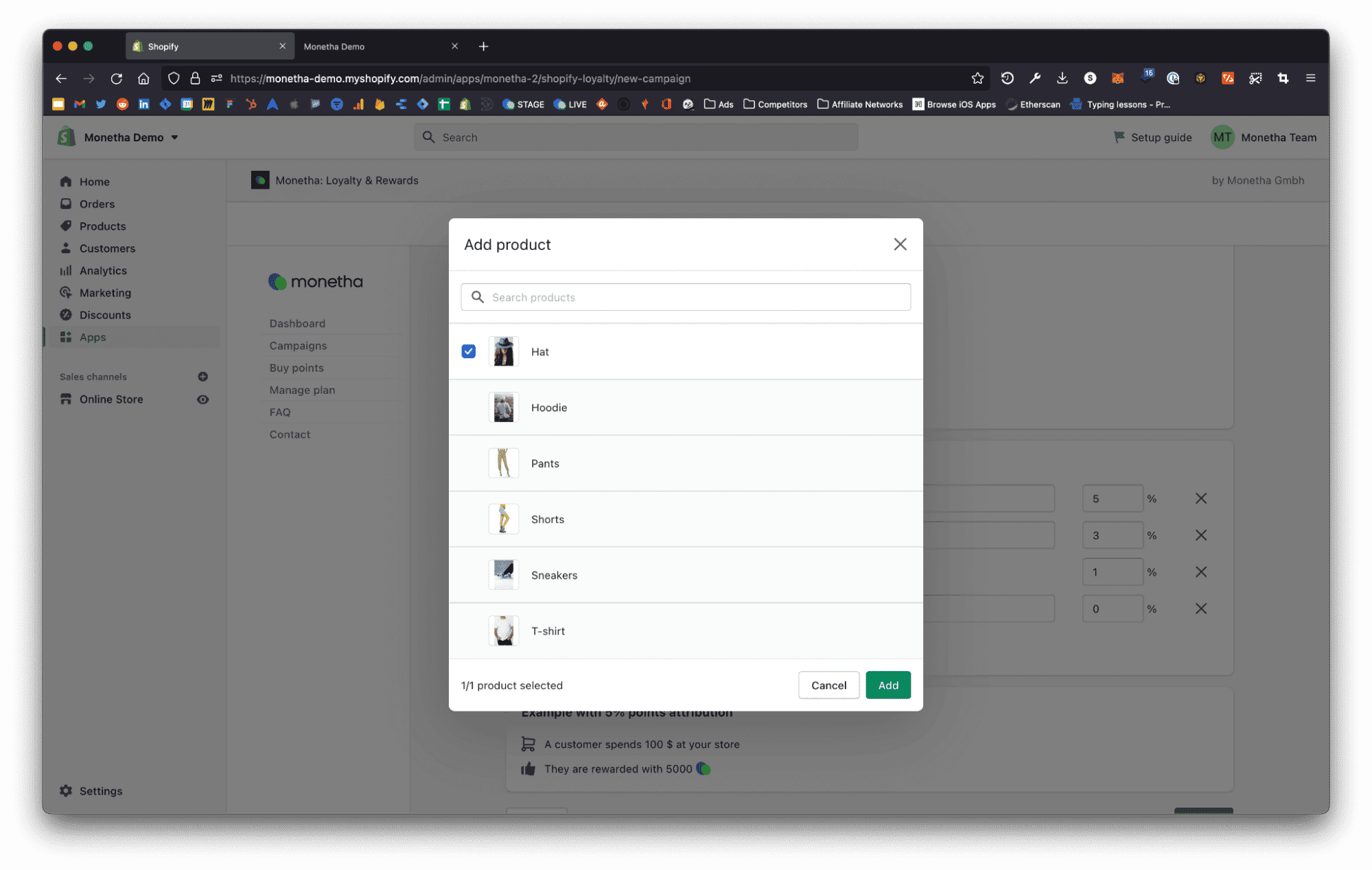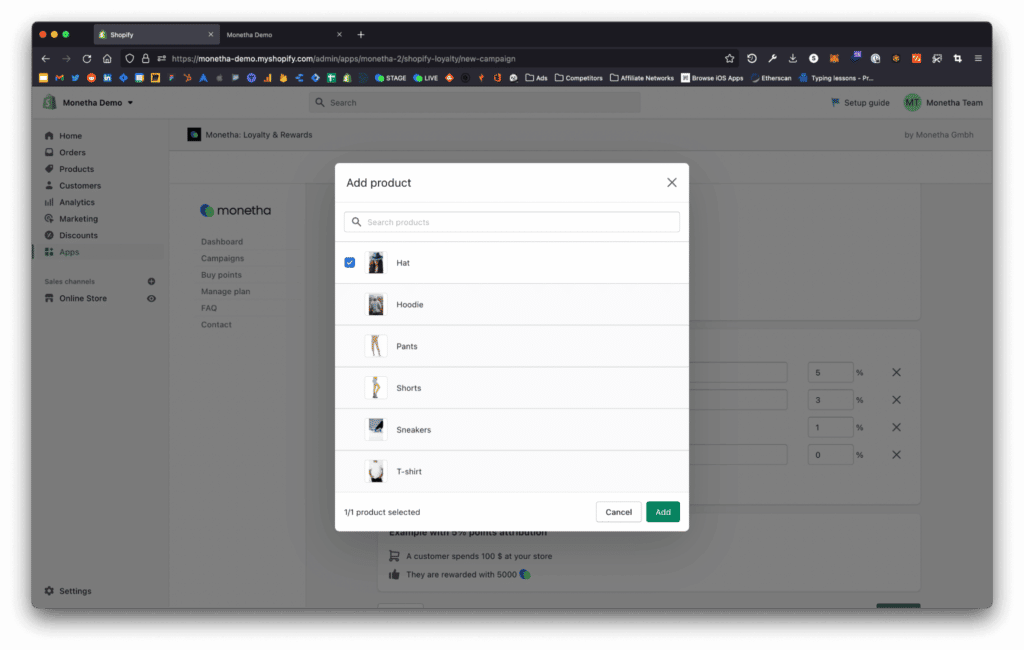 To attribute Points to a Product, Collection, or All, select the option from the dropdown and then Click to Select. A popup will appear where you can choose the element you want and Add to your campaign. Then simply pick a percentage of rewards.
A few nuances
If a Product is targeted by several different Point attributions, the one most precisely targeting the item will be picked. 
If a Product is targeted by several different campaigns, the one with the earlier expiration will be applied. 
Understanding percentages
Consider that 1000 Points is equal to 1 USD. By attributing 7% to a product, we will convert the price of the item from your currency to USD and then apply the relevant Attribution percentage. 
"Price of the item in your currency" x "Exchange rate to USD" x "Attribution percentage" x 1000
Example:
With a 7% points attribution, on a product that cost 50 USD
"50 USD" x "7%" x 1000 = 3500 Points
If you have any questions or need any support, please feel free to contact us at [email protected].
Questions?
If you have any questions or need any support, please feel free to contact us at
[email protected]