Eyebrows are one of nature's ways of protecting your eyes from the sun's harmful UVA and UVB rays.
However, raising your eyebrows, squinting, blinking, and shading your eyes with your hands are nowhere near as good at protecting your eyes as using good-quality sunglasses with polarised lenses.
But don't worry, good sunglasses don't have to cost you a fortune. Even cheap sunglasses with UV protection can protect your eyes sufficiently.
To save you money and protect your vision, we'll look at some of the best sunglasses deals available online.
Rewards galore using monetha app
No matter what you buy from any Monetha merchants, you get rewards with every purchase. Redeem your rewards to gift cards, cryptocurrency, or donate to charity!
Geekbuying – Smart Bluetooth Sunglasses


Not just sunglasses but shades that let you listen to music, make hands-free calls and get directions as you drive. The glasses are fully compatible with any Bluetooth-enabled device, Android or iOS.
The speakers are located just above the ear and will provide you with high-quality audio on the beach, in the car, as you ski, or even hiking in the woods. But, most importantly the polarised lenses are 100% UV-protected.
Wireless bluetooth sunglasses
Android and iOS compatible
2 high-quality audio speakers
Polarised lenses
100% UV-protected
Stylish design
Price: – €26,70 – Save 28%
Visual Click – Ray-Ban Original Wayfarer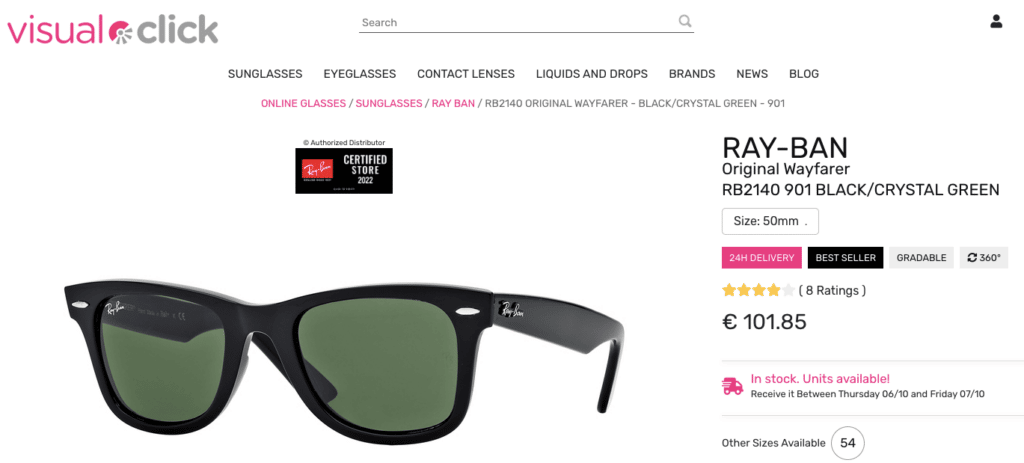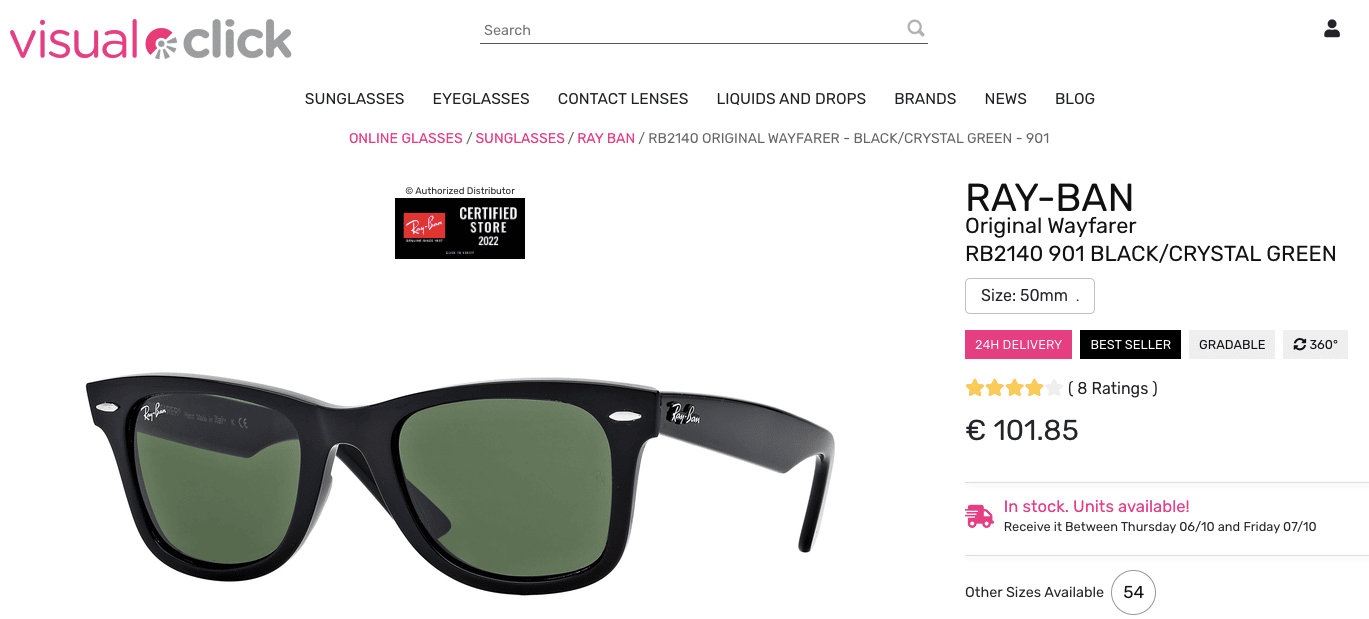 The Ray-Ban Original Wayfarer sunglasses come with chic black frames and crystal green lenses to create a timeless classic look. Although the lenses are not polarised, they still offer full UV protection.
The glasses also come with a 2-year warranty and a free eyewear care kit that includes all you'll need for keeping your sunnies clean and in great shape. These stylish sunglasses have been the go-to favorites for celebrities, music stars, actors, and style gurus since their introduction in 1952
Stylish black frames
Crystal green lenses
Free eye car kit
Spray bottle, mirror, screwdriver, folded microfiber cloth
Safe carry case
2-year warranty
Price: – €101,85
321 Linsen – Gucci GG0327S 001 52

The very name GUCCI conjures up an image of elegance and style along with the guarantees of excellence that come with it. These classic cat eye sunglasses are the perfect fit for people with oval, heart, or diamond-shaped faces and perfectly match those with a cool skin tone and all shades of hair from light blonde and brown to black.
The glasses have gradient lenses with the darkest tint at the top for the best sun protection. They also have UV 400 protection which protects 100% from strong sunlight on the beach or in the city.
Stylishly crafted fashion accessories
Gray lenses reduce light intensity without distorting colours
Gradient tinted lenses
Ideal for drivers
Lightweight and crack resistant
UV protection coating
3 sun filter
Light transmission 8% – 18%
Original carry case
Cleaning cloth
Price: – €195,00
BRILLE24 – Timberland Woodland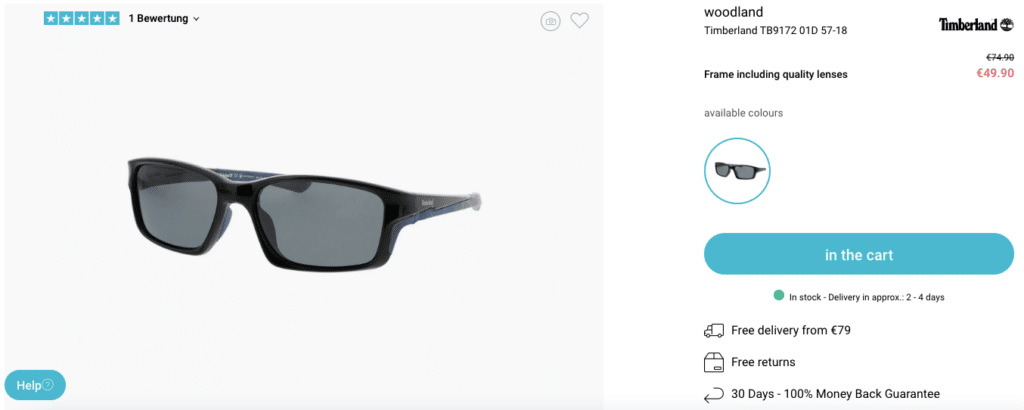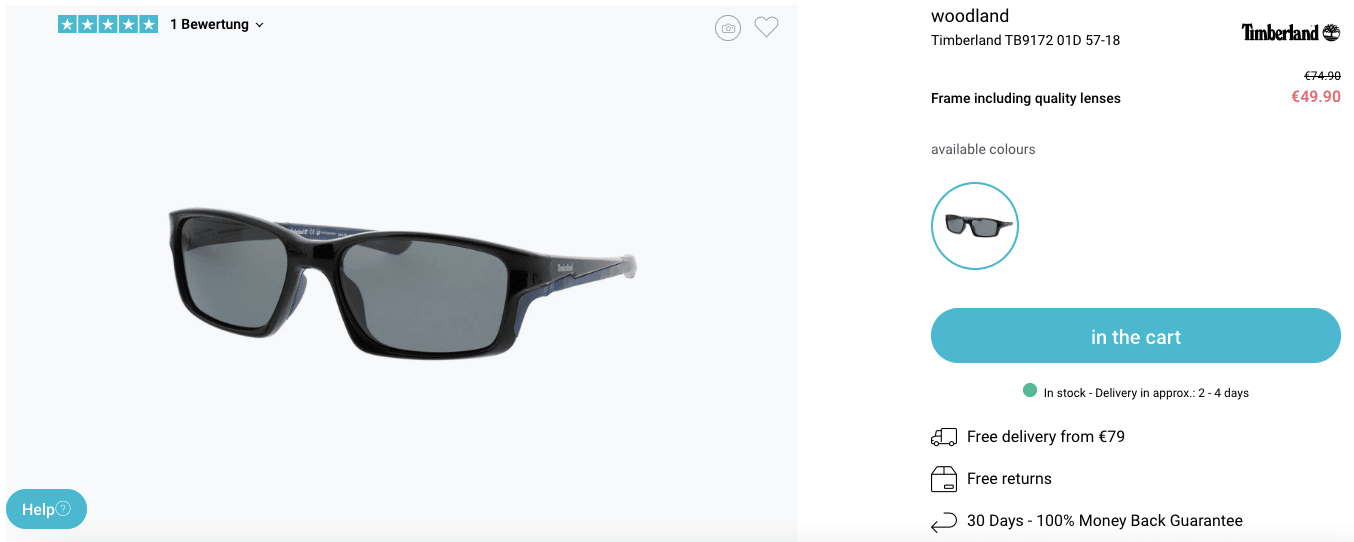 If you're the sporty outdoors type, the Timberland TB9172s protect your eyes during sports, hiking, fishing, or other outdoor activities. The polarised lenses decrease confusing light reflections and give you glare-free high-contrast vision.
Made from high-quality plastic the frames have an impressive modern look and feel and ensure that the glasses retain their shape no matter the conditions.
Stylish outdoor sunglasses
Polarised lenses
Toughened plastic frames
Disrupts light reflections
High-contrast glare-free vision
Price: – €49,90 – Were €74,90
Hawkers – Black Gradient MOMA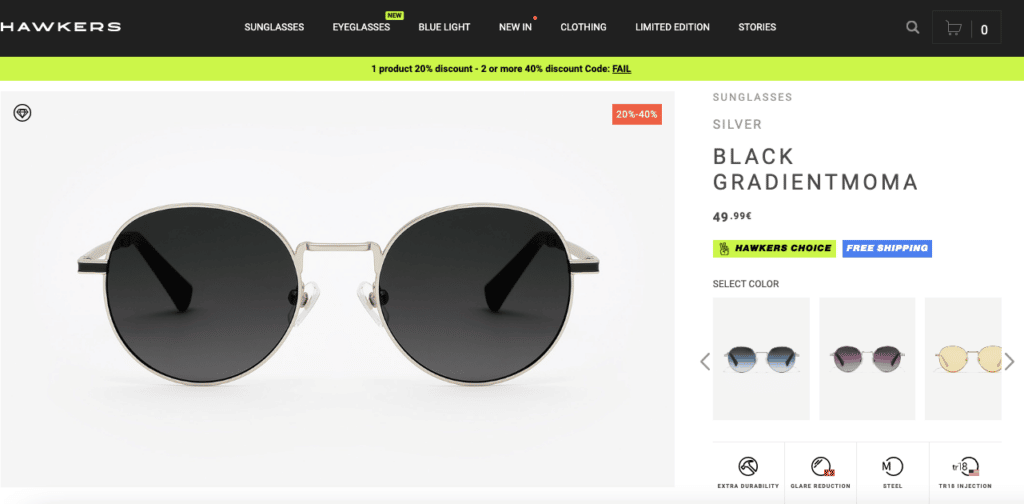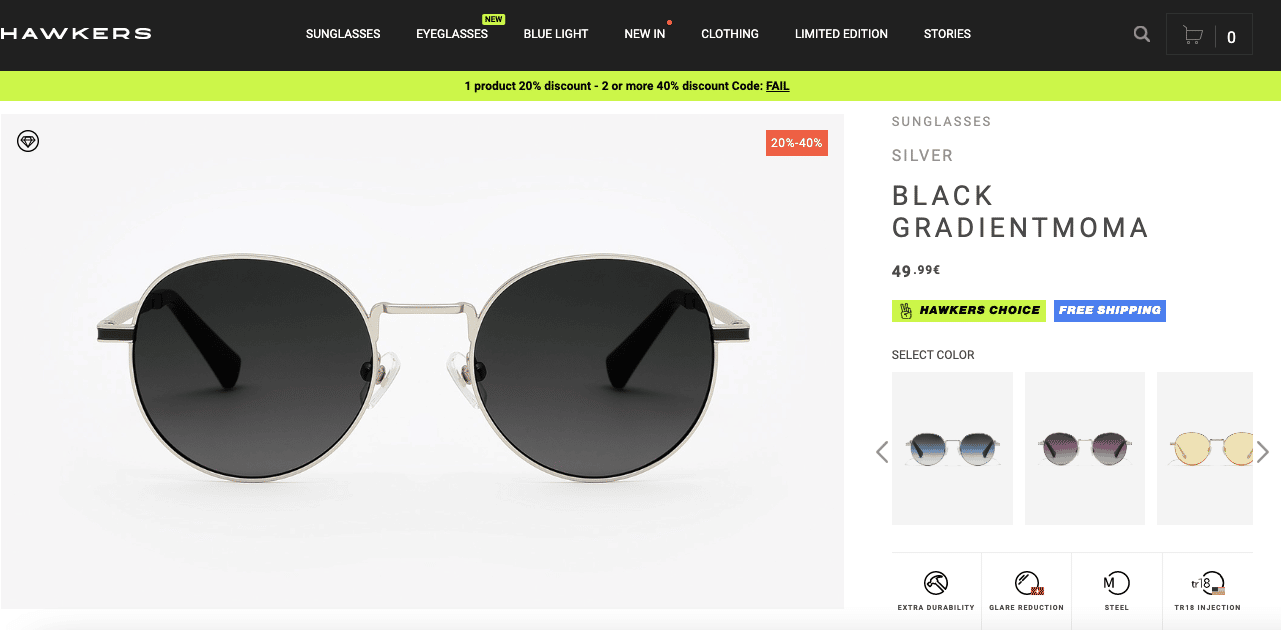 These steel-rimmed round sunglasses are fun, funky, and fashionable and provide style, clarity, and strength. They also come with category 3 lenses and UV400 protection against the sun's glare.
Not only are they perfect for casual wear they also come at a very much reduced-price with added discounts for the purchase of more than one pair. Plus, when you shop with Monetha you'll earn reward points that can be exchanged for gift cards, cryptocurrency, or to make a charity donation.
Metallic frame with black finish tips
Matte gold bridge and black gradient lenses
TR18 lenses
Offer both clarity and strength
Category 3 UV400 protection lenses
Nickel-free stainless steel frame
Free shipping
Corrosion resistant
Non-slip silicone bridge pads
Personalized microfiber cover
Personalized box and set of decorative stickers
Price: – €49,99 – Save 20%
Eyeglasses.com - Maui Jim Punchbowl 219


Maui Jim sunglasses are the preferred brand for surfers, kite surfers, and water babes of all ages. These designer rectangular frames are made from sturdy nylon. Their shape comes in a standard skull fit and can be easily adjusted for greater comfort.
US firm Eyeglasses.com offer the highest quality sunglasses and prescription lenses with a huge range of frames from Maui Jim, Ray Ban, Oakley, Versace, Gucci, and more. All their products come with a 2-year warranty should you need it.
Super stylish beach or sportswear
Polarised sunglasses
Adjustable fit
2-year warranty
Free shipping
Free returns
Price – $262,00
GANT - GA8085 Ellie sunglasses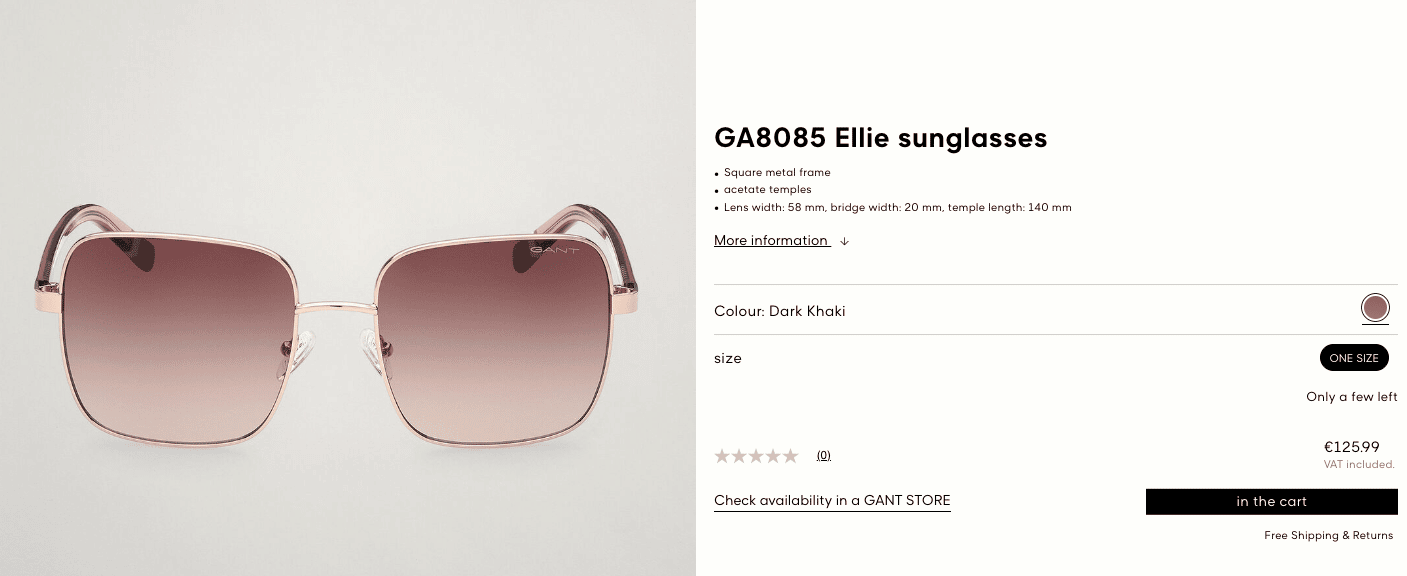 Established in 1949, GANT is globally renowned as a master in high-quality clothing for men, women, and children. But the GANT story doesn't end there. GANT is also praised for the classic styles in accessories like sunglasses that they bring to the market.
This brand of ladies' sunglasses features a sense of retro chic and radiates a timeless homage to glamour and the silver screen. Perfect for everyday wear the square shape was popular in the 1950s and still retains its elegance to this day.
Elegant design and styling
Metal frame with colour-block tips
UV protection
Adjustable nose pads
Protective GANT embossed case
Price: – €125,99
GANT - GA8085 Ellie sunglasses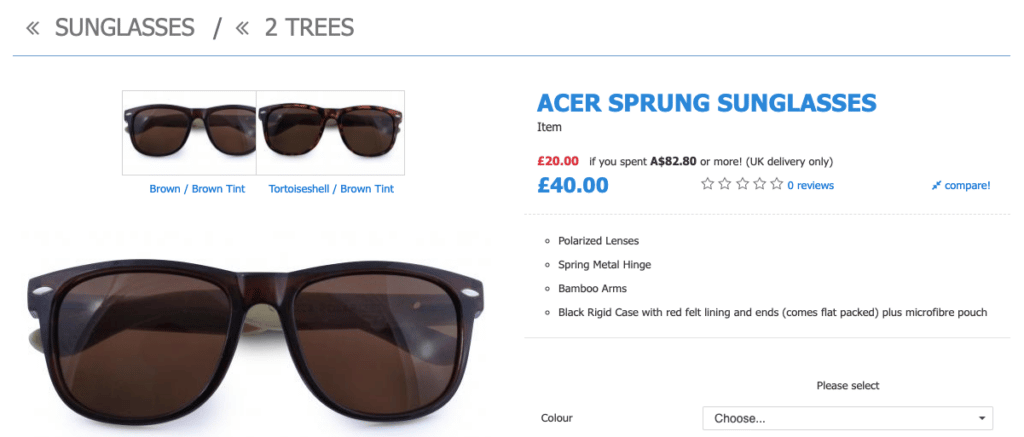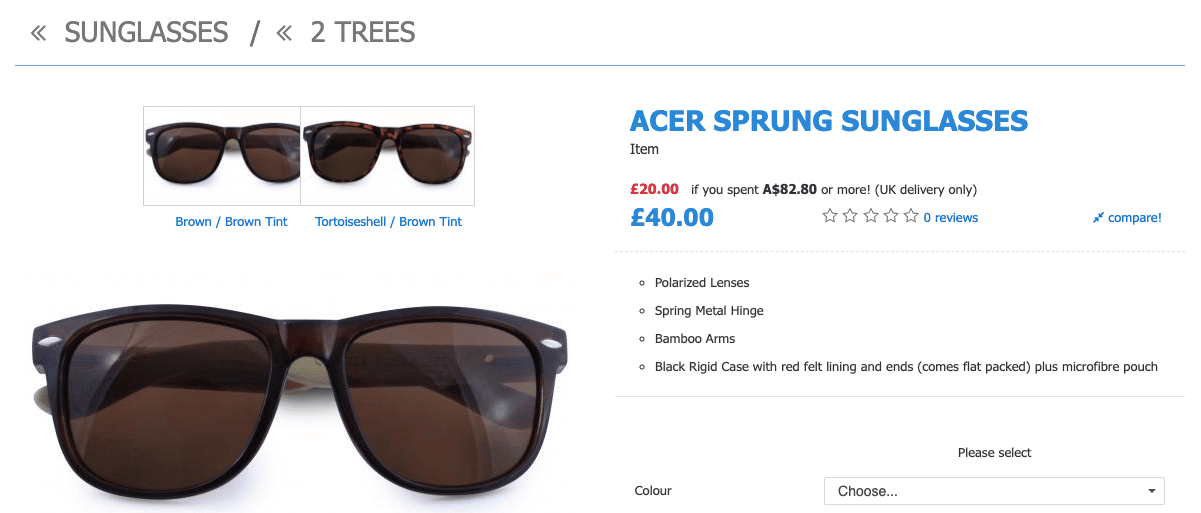 These unisex Acer Sprung Sunglasses are proof that you don't have to spend a fortune to get great eye protection from the sun's harmful rays. These low-cost glasses come with fully polarised lenses and spring metal hinges for greater protection and comfort.
Adding to the chic good looks the matte black frames are complemented by bamboo arms giving a cool but up-market look to the overall effect. The glasses also come with a black rigid case plus a microfiber pouch.
Fully polarised lenses
Spring metal hinge
Bamboo arms
Black rigid case
Price: £40,00
Rewards galore using monetha app
No matter what you buy from any Monetha merchants, you get rewards with every purchase. Redeem your rewards to gift cards, cryptocurrency, or donate to charity!
Where and How to Find Good Deals on Sunglasses
Thousands of online stores are selling all types of sunglasses. And, as we also said, there are lots of online stores that specialize in low-cost and discounted sunglasses.
But apart from that, there's a way to get more for your money. By using a cash back credit card, a loyalty card, coupons, or by joining a rewards program you can get all kinds of great deals.
A rewards programme like Monetha gives you access to a long list of stores offering great value in sunglasses, and much more. When you download the app you start earning points straight away, and every time you make a purchase from one of Monetha's online partners you earn even more points.
You can then exchange your points for gift cards from some of the world's top retailers, cryptocurrency, or even use the points to make a donation to a charity of your choice.
Here's a list of some of Monetha's retail partners specialising in sunglasses that can also get you pretty good deals on sunglasses:
Geekbuying
Visual Click
Contactlenses
Voogueme
321Linsen
Brille24
Hawkers
Eyeglasses.com
Innovative Eyewear
Gant
To get full UV protection from a pair of sunglasses, you should expect to pay anywhere from about €30. You can get fully protected and still manage to look good in your sunnies for that price.
Of course, you can get cheaper glasses, but what's the point? Wearing sunglasses without UV protection is like walking in a rainstorm carrying a closed umbrella.
If you pay more than €100, chances are that you're paying for a brand name or logo. However, if you need prescription sunglasses, you'll have to spend a lot more. On the plus side, many retailers offer 2-for-1deals, when you buy new prescription glasses you get a pair of prescription sunglasses free.
Sunglasses are more than just a way to protect your eyes from harmful UV radiation. They can also be a fashion statement that declares your individual style or adds the finishing touch to an outfit.
Brands like Ray-Ban, Maui Jim, or Prada tend to stand out over others, but purely for style reasons, and perhaps for the quality of the materials used.
Some of the most popular brands on the market:
Ray-Ban

Oakley

Maui Jim

Transitions

Tom Ford

Persol
The simple answer is that designer sunglasses on sale on Amazon are most likely to be genuine, but not always. Unfortunately, there's nothing to stop an unscrupulous company from selling fake glasses online.
So to make sure you're getting the real product, remember that the genuine products usually come in a branded box with a traceable barcode and/or a certificate of authenticity. Also, read reviews from other buyers, which can help you identify fake sunglasses.
Welcome bonus is awaiting you!
When you sign up to the Monetha app, you will receive a welcome bonus of 2000 points which can be accumulated for big rewards in gift cards and cryptocurrency.