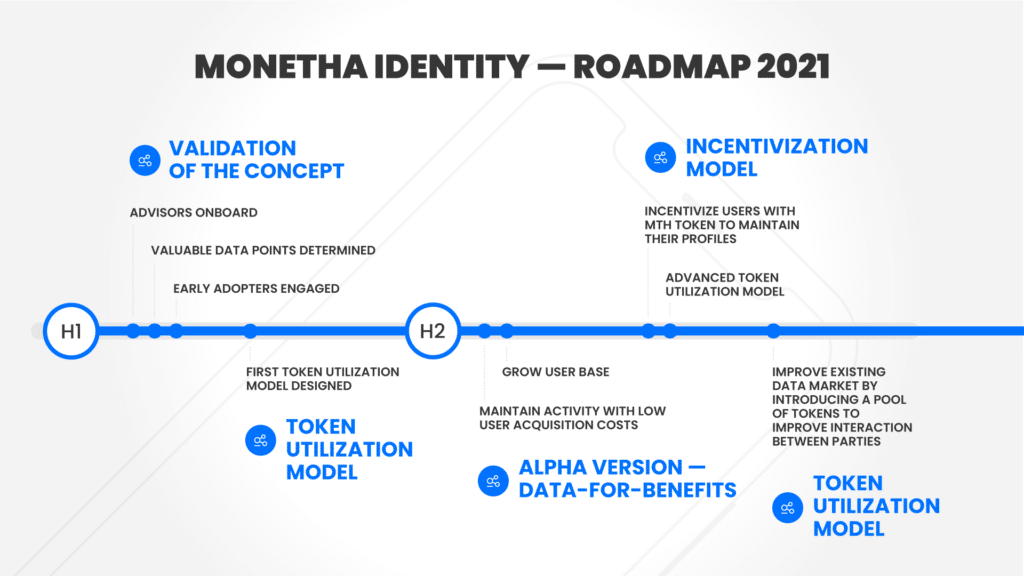 Foreword
With this roadmap, we intend to share Monetha's vision and objectives for the upcoming year. The roadmap sets the direction, so it will not define the exact feature set as changes are likely to emerge throughout the year based on market feedback. We choose not to define an unrealistic fixed architecture or commit to a set of implementation choices in advance. Be sure to read the disclaimer below since the roadmap is subject to change, especially further out on the timeline.
Vision
Monetha's self-sovereign Identity and secure data exchange protocol is the right solution to address the end-user demand for data control and awareness, and the increasing need for qualitative consumer data which online businesses face to vastly improve their offering, such as personalized consumer experience, provide benefits for loyal customers, evaluate the risk of a transaction. Our solution enables direct communication between end-users and online services, eliminating the need to rely on third-party data aggregators or centralized platforms.
Though the terrain towards achieving this vision is unknown, the key objectives of our roadmap are as follows:
consumer-oriented mobile application for gathering their own digital fingerprint in a decentralized and secure way that can be leveraged for their own benefits
acquisition of merchants and partners that see benefits in having deeper insights about their audience through a peer to peer interaction with their users
token utilization model that would not only incentivize customer for collecting more data but solve trust of data acquisition by the business
An important point we would like to emphasize is that the Monetha platform by design is excluding tracking and direct targeting options unless a user gives direct consent to a business to do so.
Timeframe
H1 2021
Change Monetha outreach vector for validating consumer data importance

Intended outcome:

Bring e-commerce, loyalty, and cashback industry advisors on board.
Determine the most valuable data points which consumers are willing to accumulate and manage to achieve the maximum benefits for themselves.
Engage early adopters on a business side from the industries with the highest demand in improving their consumer experience.

Update the token utilization model that will be used in the Monetha Identity mobile app

Intended outcome:

Design the first version utilization model that is partly used for incentivizing both consumers and businesses.
H2 2021
Launch the Alpha version of the platform that covers the top use case for the data-for-benefits exchange

Intended outcome:

Support key e-commerce platforms like Shopify, WordPress+WooCommerce.
Approach and integrate with businesses from the industries that would be able to improve their marketing efforts by acquiring richer customer data.

Build the user incentivization into the mobile app driven by the MTH token

Intended outcome:

Implement a model that will help maintain a level of activity and lower user acquisition costs.
Grow and expand Identity app user base.

Prepare and implement token utilization model that spans all platform users (customer and business)

Intended outcome:

We are not creating a brand new market. Instead, we want to improve the existing data market by building a token into a model that will let make a pool of potential assets to improve the interaction between business and customer.
Disclaimer
Any statement in this roadmap that is not purely historical is considered a forward-looking statement. Forward-looking statements included in this paper are based on information available to Monetha as of the date they are made, and Monetha assumes no obligation to update any forward-looking statements. The forward-looking product roadmap does not represent a commitment, guarantee, obligation, or promise to deliver any product or feature or deliver any product and feature by any particular date and is intended to outline the general development plans. Customers should not rely on this roadmap to make any purchasing decision.