Companies across the world are selling our personal data and making billions by doing so. But what if there was a way to get control back over your data and make money in the process?
Can You Earn Money From Your Data?
Maine recently passed a bill prohibiting internet service companies from selling your data without your permission? This proves that your data is valuable.
You might have probably heard many stories in the press about how search engines and social media sell your data for money.
While there isn't much you can do about it, there are apps that let you sell your data for cash. You won't be able to make a fortune, but you can definitely earn a few dozens of bucks a month to cover some of your purchases – which can be profitable, especially if you buy from stores that give you cash back.
Below, we have listed some of the best apps to help you earn money passively if you don't mind revealing your personal information.
20 Apps That Allow You to Get Paid for Your Data
Want to sell your data for money? Here are the best options we've found – from earning actual cash to getting some free cryptocurrencies.
Let's dive right into it!
Get paid for sharing your interests
Join Monetha, fill in your interests profile, and enjoy increased cashback up to 80% from hundreds of shops!
1. DataCoup – Share Your Social Media Data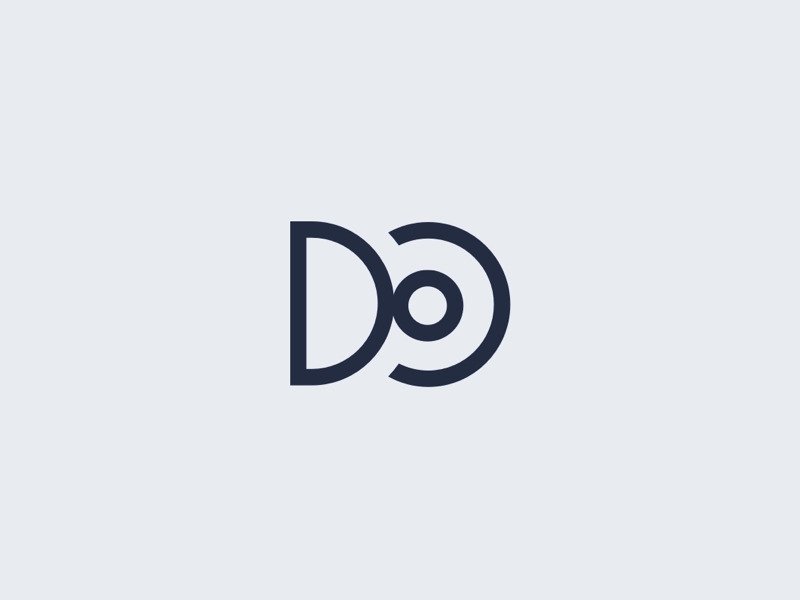 Whether you believe it or not, your social network information is already out there. So, why not get compensated for it?
DataCoup bills itself as the "world's first personal data marketplace" and the "only firm that allows you to sell your data for real, cold hard cash."
It is a service that pays you for access to your social media accounts, including Twitter, Facebook, Tumblr, Instagram, and LinkedIn. While this might sound horrible, it's not as bad. They're not interested in your personal information. Instead, they're interested in the type of content you look at and are interested in. Because this is the kind of information that businesses pay to learn.
You have complete control over the information you share, and the more social media profiles you connect to your Datacoup account, the more money you get to bag every month.
The data sources come with a certain market value attached to them. You'll be compensated a specific amount when that data is bought. Expect to earn around $8 per month. You can withdraw your earnings once you've accumulated a minimum of $5 in earnings.
Because there is no set limit on how much you can earn, this app may be the most generous on the list. You can even choose who gets your information. Now, isn't that a good deal?
2. Monetha – Earn Rewards While Shopping

If you you are tired of waiting for discounts or searching for a deals, then Monetha is the app you need.
With Monetha, you can simply use your interest profile as a global rewards/discount card. It's very simple and you can start getting benefits instantly. You simply download the app and use it while shopping online. Typically, the more money you spend, the more points you earn.
Your profile is valuable. When you share your interests with stores from our partners network they will offer you even bigger and more tailored benefits when you shop with them.
Perhaps, this is the most effective approach to profit from your data on the internet.
In case you are worried about your privacy, Monetha doesn't have access to your information, all data is encrypted and you share your interests only when you decide and with the brands or stores you love.
If you would like to know more about getting rewards in exchange for your data, check out our article about reward sites.
3. UpVoice – Share Your Internet Activity
If you are a social media enthusiast, why not get paid for it?
A tracking app, UpVoice, allows you to earn money without putting in any effort. All you have to do is install the app and start earning points every day. The program monitors your internet usage, particularly your social media feeds, and collects adverts anonymously.
The app is relatively safe to use, and UpVoice claims that it will not affect your device's performance in any way.
By using the UpVoice app, you also get a chance to be an UpVoice panelist, whereby you can assist firms in developing brand strategies and marketing plans. What's more, more benefits and rewards await you when you use participating sites.
UpVoice essentially compensates you for doing what you do every day while making a positive impact. Users get tokens that may be exchanged for e-gift cards. You should collect a minimum of 600 points to exchange them for a $10 gift card from a wide range of stores.
UpVoice also provides a variety of incentives to help you increase your earnings, such as:
A 300-token welcome bonus
Ten tokens per day for accessing your social media platforms
Bonus points on reaching certain token milestones
Additional points for referrals
Together, these incentives will help you earn around $175 every year or more.
4. HoneyGain – Share Your Internet Bandwidth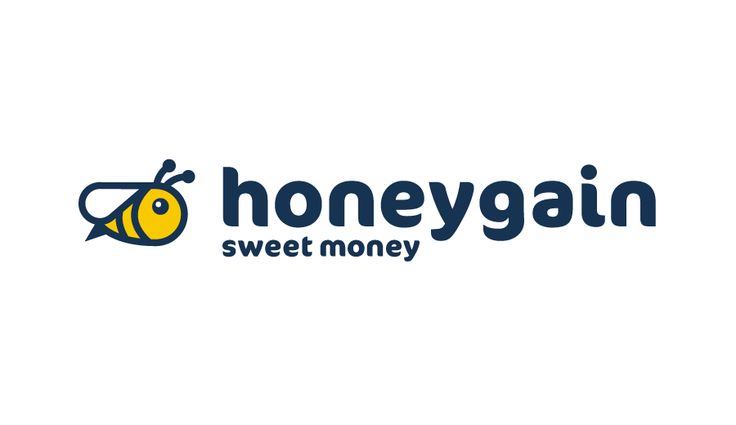 Honeygain is similar to applications that allow you to rent out your unwanted items (or even space in your home). With Honeygain, you rent out your unused internet bandwidth for market research purposes.
Honeygain requires little effort on your part to earn money. Your work is finished after downloading the program and signing up using a valid email address. The Honeygain network will connect to the internet every time your gadget does.
The money you can earn with Honeygain varies. Generally, you can make up to $50 per month if you run it 24 hours a day, 7 days a week. However, you can refer your friends and family to improve your chances of making more money. Use the online calculator on the Honeygain website to figure out your income potential.
5. Paribus – Make Saving Money a Habit

Do you despise learning that an item you just purchased has gone on sale? Perhaps, try Paribus.
An interesting data collection program, its primary goal is to help you get refunds on items by keeping track of your purchases and looking for price drops. If you buy something and it goes on sale a few days later, Paribus works on your behalf to get you a refund.
Paribus syncs with your email to monitor your purchases. But you also have the option to upload your receipts. However, that means you will have to put in the extra effort.
While this appears to be a straightforward service, much like the other apps, Paribus uses the information obtained to determine your shopping habits for marketing purposes. As for what you can earn, it generally varies based on your purchase patterns and the likeliness for prices to fall. It could be an excellent app for you if you frequently notice sales events after you purchase products.
6. PhonePaycheck – Share Your Phone's Processor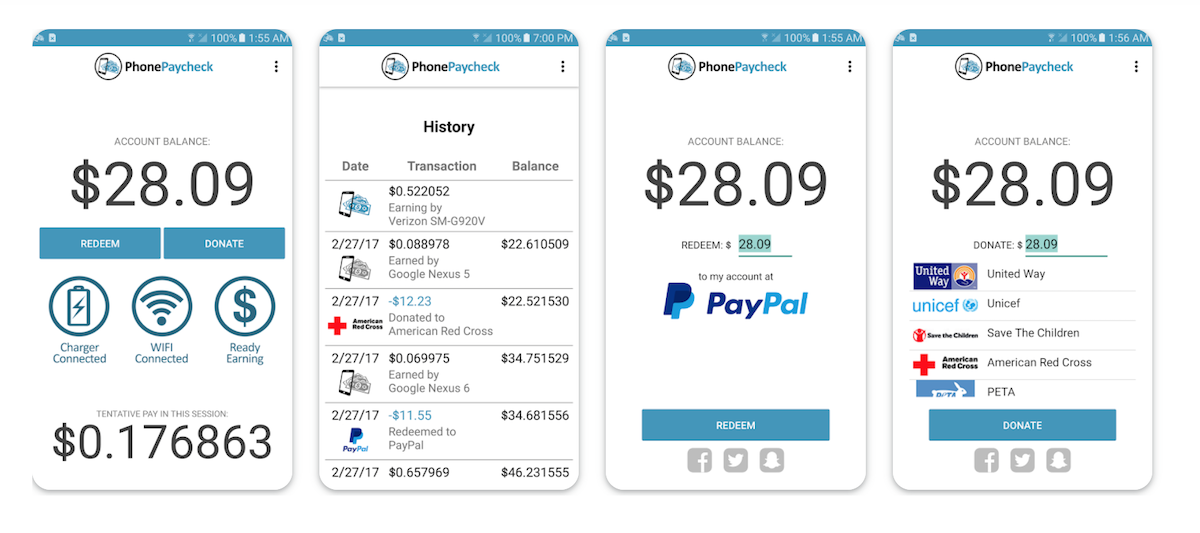 A free app, PhonePaycheck, helps you earn money in exchange for allowing it to use your phone's processor when you are not using it. The app runs when you plug your phone into a charger and leave it connected to Wi-Fi. The best thing is it does not consume any of your data plan or access any of your personal data.
After downloading the app, you sign in using your Google account, keep track of your earnings, and cash out your winnings as a PayPal payout or a gift card once your earnings reach $10.
To increase your earnings with PhonePaycheck, use the same Google account to download the application onto your old phones. On a single account, you can connect up to five devices. You'll earn money as long as the phone is plugged in and connected to WiFi.
7. Nielsen Computer and Mobile Panel – Grab Sweepstakes Entries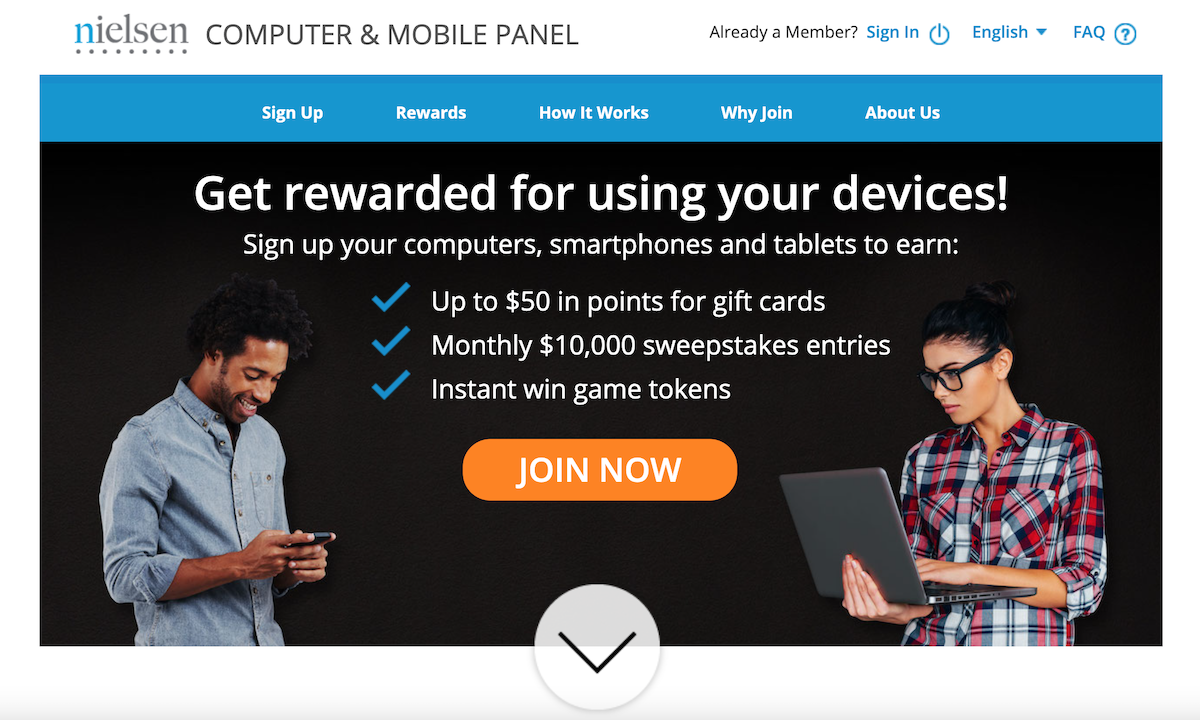 Sharing your mobile data is a great passive income idea to get money. Hence, having sweepstakes entries can help you boost your revenue. A company well-known for tracking the behavior of television viewers, Nielsen pays consumers to download its app so it can track their device and internet usage.
You have almost zero work to do after you download the app on your computer, phone, tablet, e-reader, or any other mobile device. You can sit back and watch your passive income grow and hopefully enter into sweepstakes that you win. The prize pool for Nielsen for sweepstake draws is up to $10,000. But other than that, expect to earn nearly $50 per year with this app for your participation in consumer research.
8. Evidation (previously known as Achievement) – Live a Healthy Life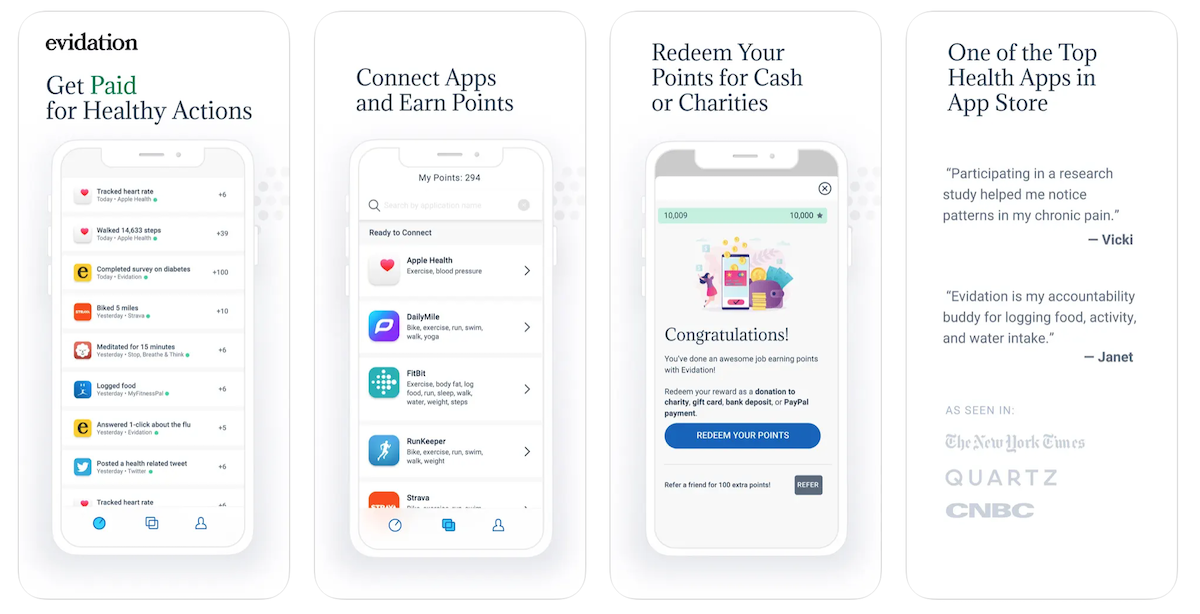 What if you could earn points for taking healthy actions? With Evidation, you can do exactly this.
Use Achievement to measure your progress in walking, meditating, sleeping, and even eating by connecting it with your other health applications. The app also has surveys that allow you to earn up to 200 points by answering simple questions.
The data from the app is used to assist businesses in the health and fitness industry improve their products and services. However, it is also a terrific way to stay motivated and consistently make healthy choices.
Once you have 10,000 points, you can swap your points for a $10 PayPal payout. If that sounds impossible, you should know that you can rapidly start accumulating points because each type of action can earn you up to 80 points every day.
9. Permission Research – Share Your Internet Activity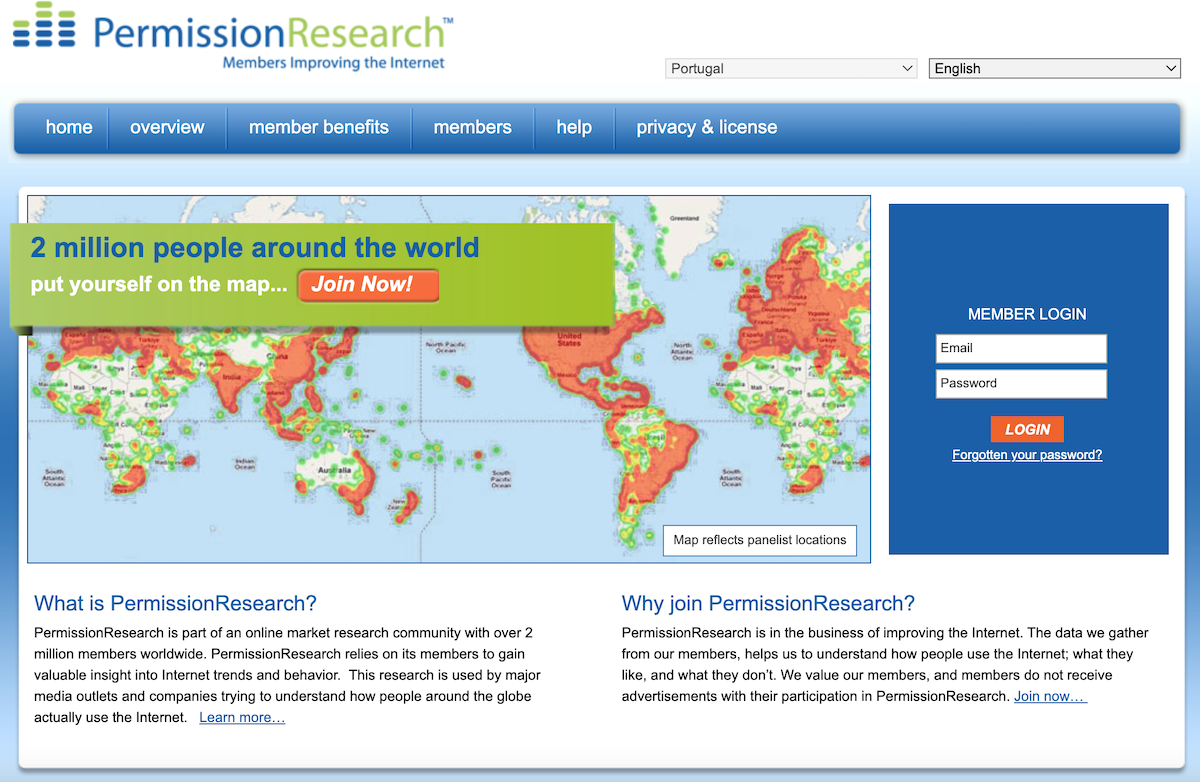 An online market research tool, Permission Research, tries to uncover internet trends and behavior. For this reason, it is considered one of the greatest data collection apps available that pay you for your data.
Unlike most survey companies, Permission Research works by having members download software to their computers. The information is then gathered and sold to organizations interested in learning more about how people use the internet.
While using the app, you might be invited to participate in surveys via email, which will help you earn even more money.
Permission Research takes great care to keep your personal information safe. They do not store sensitive personal data and employ both digital and physical security measures to protect your data.
10. National Consumer Panel – Share Your Purchase Data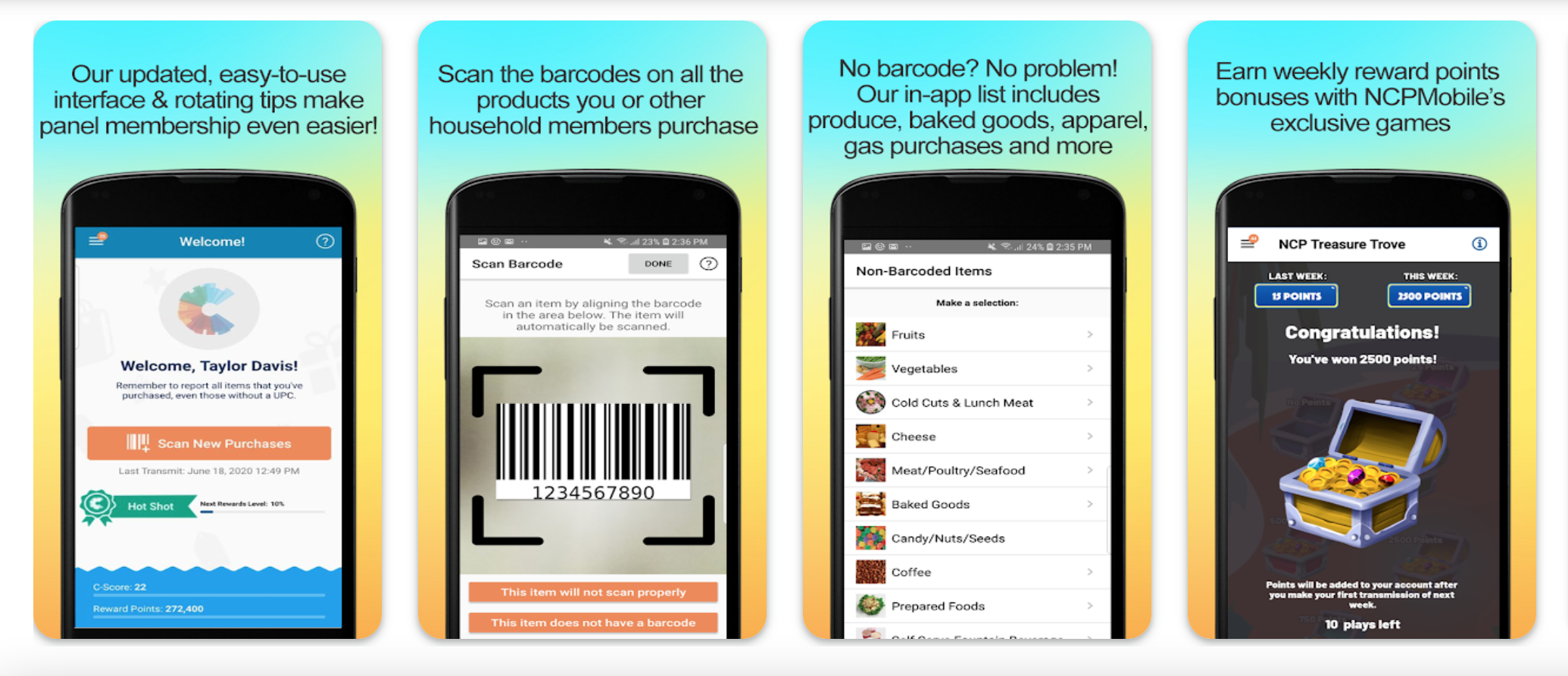 With the National Consumer Panel, you get to earn points for submitting your purchase data. You keep track of what you buy with the National Consumer Panel's mobile app or handheld scanner, which you use to scan barcodes on everything you buy.
You'll get points every time you do so, which you may exchange for prizes or sweepstakes entries worth up to $20,000. You can also boost your profits by participating in specific surveys. NCP is a collaboration between Nielsen and IRi, two research firms.
As you will be paid in points, you can redeem them for prizes listed in the National Consumer Panel catalog.
11. ScreenLift – Get Rewarded for Viewing Ads

ScreenLift displays advertisements on your lock screen and rewards you for watching them, regardless of whether or not you engage with them.
All you have to do is unlock your phone like you usually would to earn rewards. In fact, the site features a mechanism that recognizes if you're attempting to make extra money by using your phone in an unusual way. You will not be rewarded if this happens.
Swiping your phone to unlock it will earn you "lifts"—the app's currency. By clicking the diamond button and completing games, you get to earn extra lifts.
You need around 7,100 lifts to earn $5. You can withdraw the money earned either through PayPal or in the form of an Amazon gift card.
12. Dosh – Get Paid for Shopping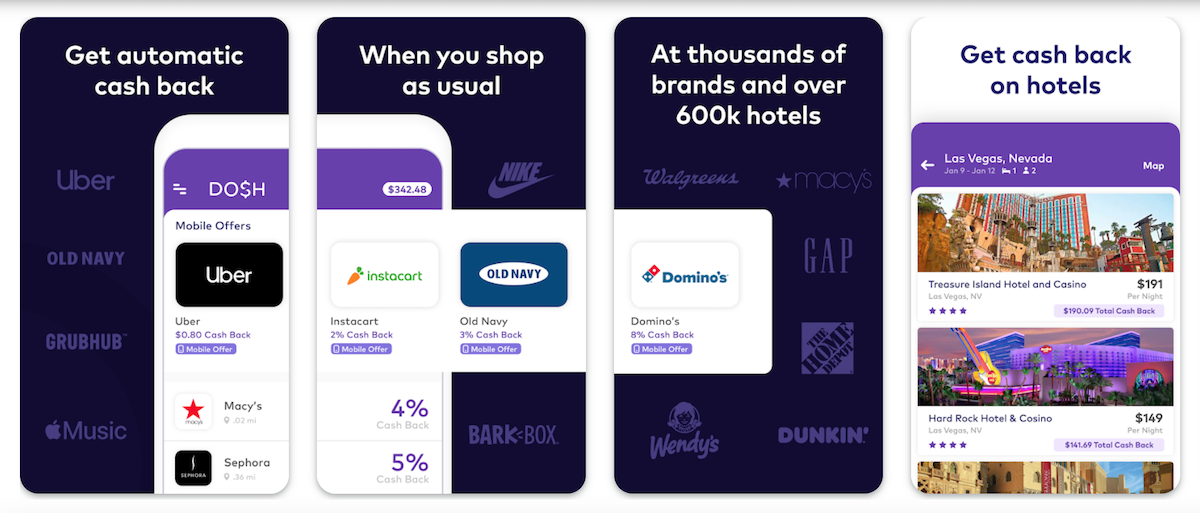 Almost all of us go shopping multiple times a month. So then, why not get paid for it?
Dosh is a data collection app and one of the best cash back apps to get money while shopping. Through the app you can earn cash back on eligible transactions by linking your most-used debit or credit card. It is a great way to make a passive income channel from your everyday purchases.
You will find a list of participating stores and brands on the app. Simply follow these businesses and brands, and you will be able to bag a percentage of your purchase back every time you buy something.
However, there is a catch. You should use a credit card to pay for the purchase to be eligible for your rewards. Nonetheless, this also means you can automatically collect a percentage of your cash back without having to scan receipts.
With more than 1000 participating businesses and restaurants, you can earn up to 10% of your shopping and dining expenditure. You'll be able to cash out your winnings once you have accumulated $25 either through PayPal or direct bank transfer.
13. Killi – Allow Control Over Your Data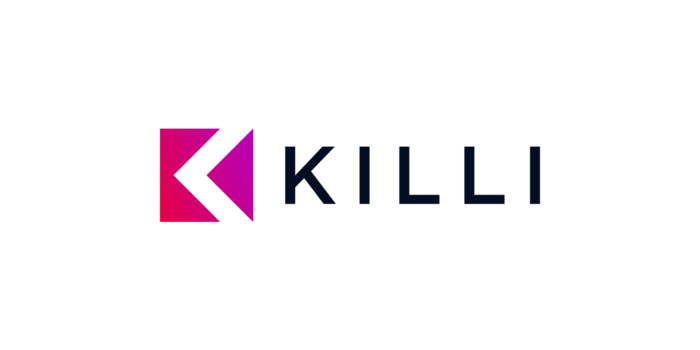 Killi states that companies significantly profit from your everyday data. Hence, they want you to control the data you own and earn money by completing easy tasks within the app.
Killi gives you complete control over who uses your data and compensates you for sharing it. While many businesses completely profit from your data, Killi lets you have a piece of the pie.
Your job is simple. Download the Killi app, complete your profile, specify your criteria, and they will take care of the rest as you earn a passive income. Killi awards point every Friday that can be redeemed for rewards. Expect to earn around $10 a week. However, the more information you share, the more you can earn.
Shopping, location, and profile rewards are the various ways you can make passive cash using this app. If you wish to increase your profits, participate in surveys or refer friends.
You can use Killi worry-free. It promises that all the personal information is protected and only data that has been given permission to be purchased is purchased.
14. Pei – Earn Bitcoin Rewards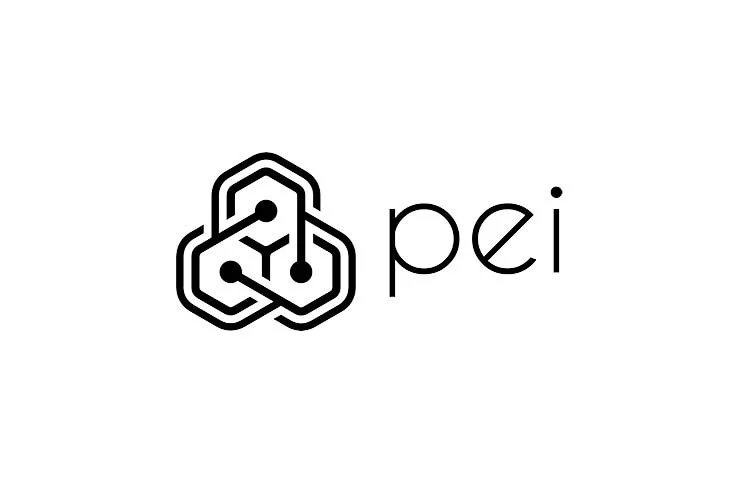 Another app that rewards you for shopping at your favorite stores, what makes Pei stand out is that you may opt to get your incentives in Bitcoin.
Create an account and link it to your credit card to get started. Pei keeps track of your purchases and awards you with points when you buy from partner stores.
You'll need at least $15 worth of points to redeem your profits, which you may cash out through PayPal, gift cards, or Bitcoin. Depending on the retailer you bought from, Pei will reimburse you between 1% and 15% of your purchase.
When it comes to the earning potential, your earnings will vary depending on your buying habits, with shopping from partner retailers paying more.
15. MobileXpression – for the Internet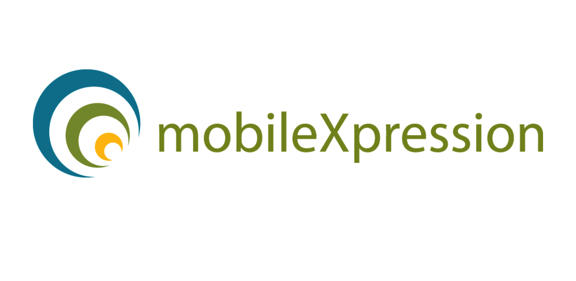 Another option to get paid for data collection is MobileXpression, a market research company that strives to shape the future of the internet. They achieve this by collecting data about your internet usage.
The app is available for both iOS and Android devices. Right after you install the app, it will start collecting data about your online browsing patterns. It gathers information about the pages you visit, the links you access, and your calls' length.
You will be paid credits for every week the application remains active on your device. After the first week, MobileXpression offers its users a $5 gift card. However, expect a $5 gift card once every few weeks afterward.
16. Sweatcoin – Stay Healthy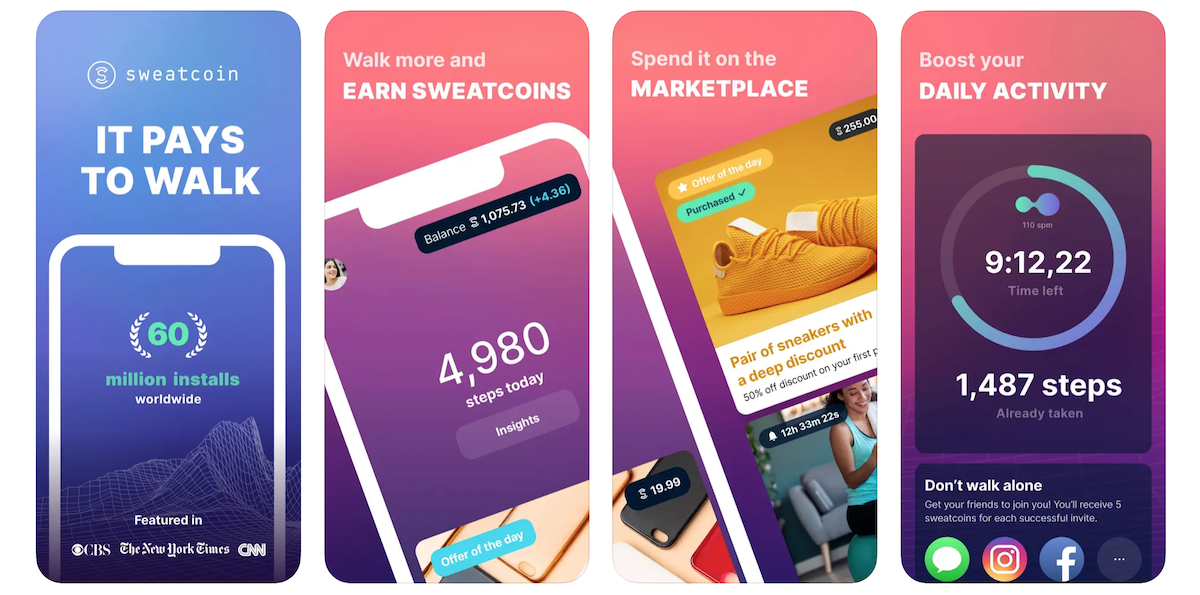 Sweatcoin motivates you to get healthier and pays you for doing so. Available for Android and iOS devices, the app automatically tracks your steps indoors and outdoors. Of course, this means you will have to carry your phone with you always.
For every 1,000 steps, the app pays you 0.95 Sweatcoins. Though you can't necessarily withdraw the coins as cash, you can exchange them for goods and services. For instance, you can get one month of Netflix subscription for 300 Sweatcoins or a $10 gift card in exchange for 100 Sweatcoins.
If you want to learn more about the app, make sure you check out our Sweatcoin review here.
17. SavvyConnect – Get Paid to Use the Internet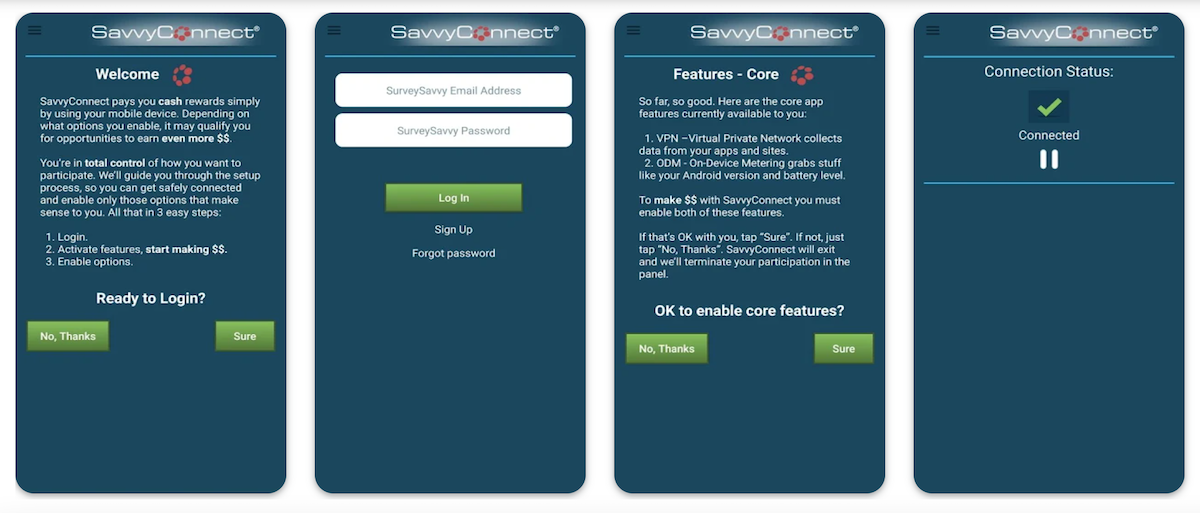 With SavvyConnect, you can earn around $180 per year. You install the company's software on any device and make $5 per device per month. So, the more devices you connect to, the more you can earn.
This is one true passive income channel, as all you need to do is use the internet as usual after installing the software. Furthermore, you also get to access SavvyConnect's sister company, SurveySavvy. You will be invited to take surveys, which will help you further increase your earnings.
The minimum amount you can cash out is as low as $1. You can redeem your earnings through check at any time.
18. UBDI – Exchange Insights for Cash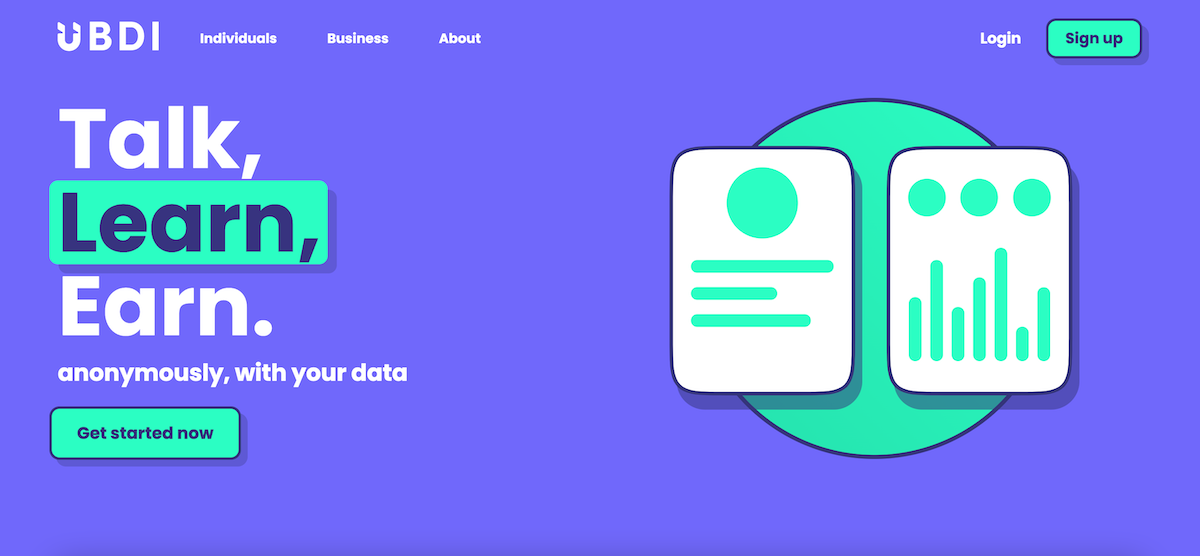 UBDI, the abbreviated form of Universal Basic Data Income, is a service that pays you in exchange for your data and insights. UBDI's primary goal is to help companies enhance their offerings. The data is shared anonymously, so you don't have to worry about your personal information landing in the wrong hands.
When it comes to the earning potential, the rates aren't specified. Nevertheless, UBDI states that users could earn up to $1,000 per year just by sharing their data. You can cash out your earnings via wire transfer.
19. Money SMS – Receive Test Messages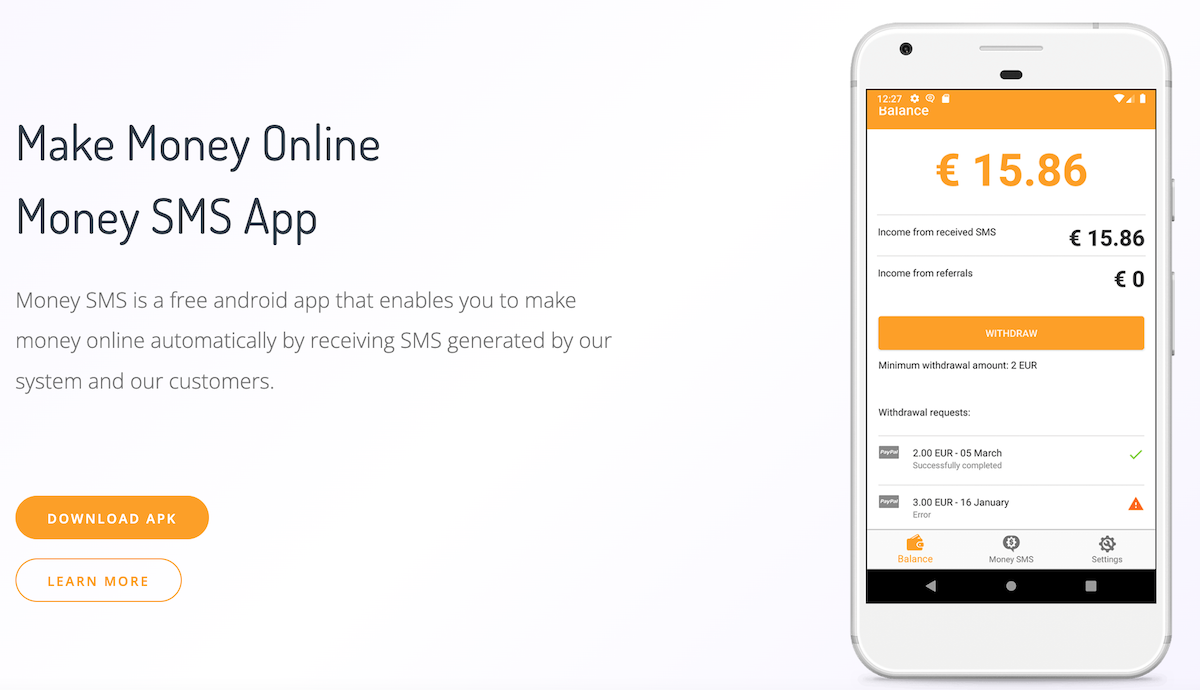 A pretty straightforward app, Money SMS, pays you to receive test text messages. Once you install the app and connect to the internet, the platform starts sending you test SMS messages. There's nothing else you should do.
Money SMS helps mobile network operators and telecom providers ensure the proper delivery of their messages through such test messages. The app pays you $0.20 per test message in the form of Bitcoin, Litecoin, Ethereum, or PayPal.
20. CashMagnet – Browse the Internet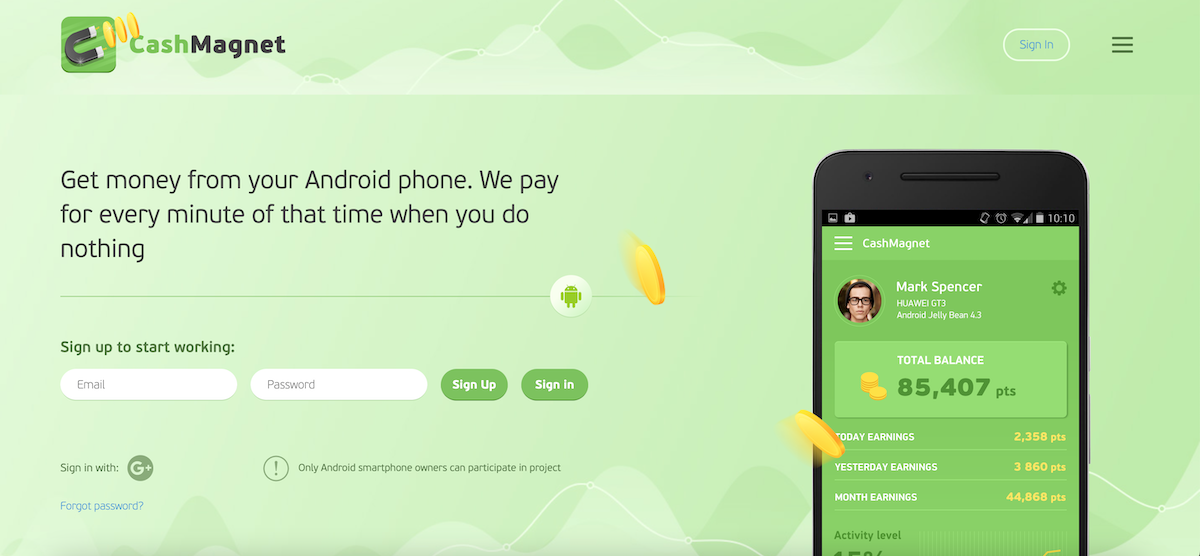 CashMagnet pays you for visiting specific websites. Once you download the app, your phone turns into a traffic network node that helps marketers boost the click numbers and traffic figures.
You are awarded points for your activity. For every 10 points, you get $0.01. CashMagnet has a low minimum redemption of $1, which equals 1,000 points. You can redeem your earnings in the form of Amazon gift cards, PayPal payments, Ethereum, or Bitcoin.
In a Nutshell: Do Apps Really Pay You for Your Data?
Though it is hard to believe, some apps pay you to accomplish seemingly insignificant tasks. You download apps and then give them permission to track your movements online and collect data about you. It may seem absurd, but they require the data and have to pay for the information anyway. Hence, going straight to the consumer saves them money.
Most of the businesses that pay you for your data are still in their infancy. Hence, it's too early to determine whether they'll make any profits. However, experts believe that we will be able to do so one day.
For those prepared to contribute their data, this is a terrific method of reclaiming some power over their data while earning money.  However, it is to be kept in mind that not all data will be treated equally.
Those who have interesting lifestyles are perceived as influencers, have large networks, and whose data is valuable because it may influence others' purchases will earn more than the next person. This means that not everyone's data is equally valuable.
Lastly, before installing an app on your phone or computer, ensure it's legitimate, and you are okay with collecting your data.
PS: if you're interested in earning money from your data, you possibly should read our article about data ownership! You might like it.
Get paid for sharing your interests
Join Monetha, fill in your interests profile, and enjoy increased cashback up to 80% from hundreds of shops!