Ah, the modern-day struggle of login problems.
You've got some time on your hands and you're all set to dive into Survey Junkie, ready to share your opinions and earn a little extra cash for your troubles. And then BAM!
The Survey Junkie login page laughs in your face.
It's like being invited to a party and then discovering that the door is locked. But worry not, dear reader, for you've stumbled upon the locksmith of login issues.
Welcome to a comprehensive guide to solving Survey Junkie login problems. Whether it's a forgotten password or any other problem, we've got the solutions.
In fact, you can consider this article your digital key to the kingdom of Survey Junkie and making money from online surveys.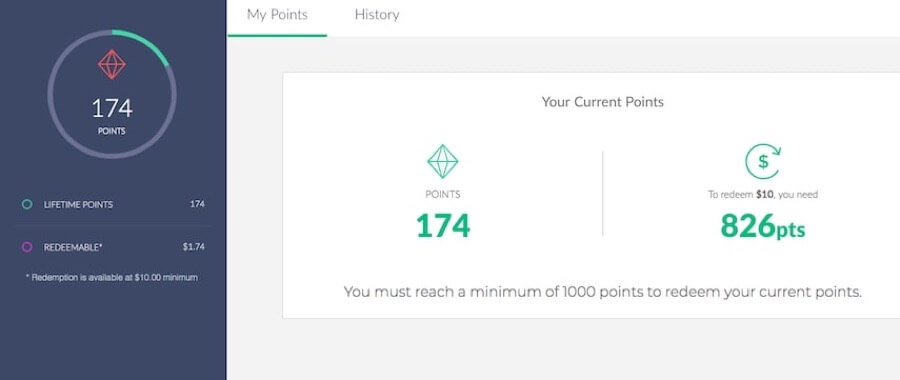 Firstly, what is Survey Junkie?
For those who might be new to the survey-taking scene, let's talk briefly about Survey Junkie.
The Survey Junkie app is an online platform that pays you for taking surveys and sharing your opinions on various products and services.
To put it simply, companies and marketing agencies need information about, and from the people who use their products. And, to get that information, they're willing to help you make money online.
Think of it as your chance to be the critic you were born to be, all while earning some extra cash.
As a favorite with U.S. audiences, the Survey Junkie rewards app has become one of the most popular go-to platforms for those looking to make their voices heard and their wallets a little fatter.
But even the mighty Survey Junkie doesn't come without its problems. If you can't log in, you can't earn cash.
And, if you want to learn how to earn even more money with Survey Junkie, here's a great article to get you started.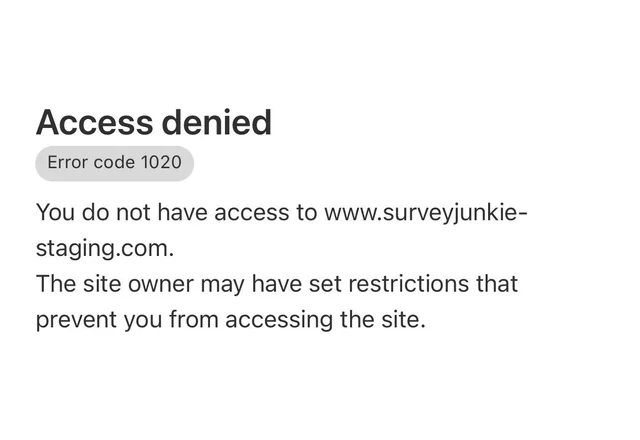 Common Survey Junkie login problems
Login problems are like the mischievous gremlins of the online surveys world, always popping up when you least expect them.
That's why we've compiled a list of common login problems with Survey Junkie along with some handy troubleshooting tips.
Just like all software, the Survey Junkie app can suffer from gremlins from time to time, but that shouldn't stop you from making money online.
It's time to send those gremlins packing and get back to sharing your opinions.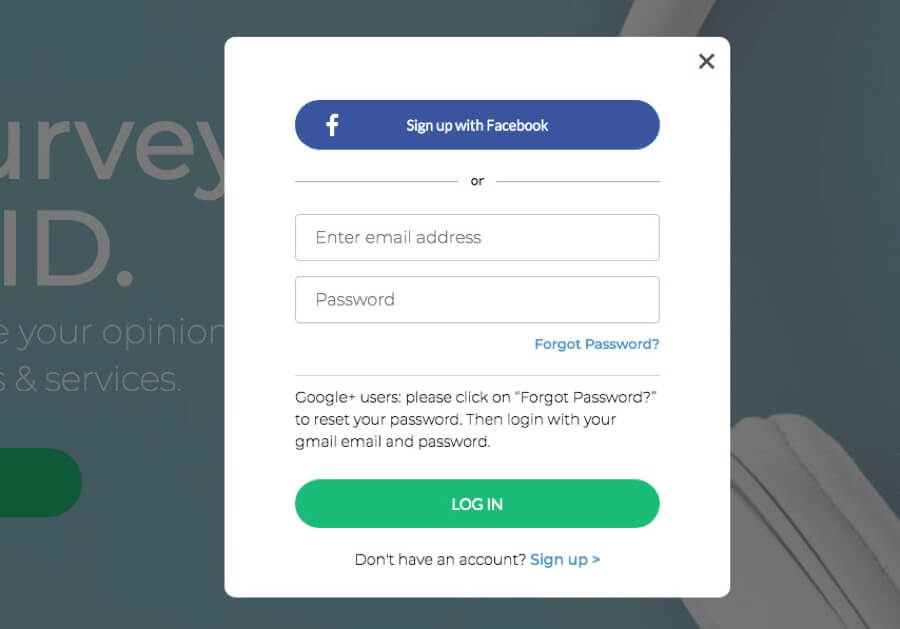 Forgotten Password
Forgetting your Survey Junkie password is a bit like leaving your keys inside the house and locking the door. It's not a major problem, but it can be a real pain in the behind trying to get back in.
Thankfully, forgetting your password is an easy fix (usually). Simply click the Survey Junkie 'Forgot Password' link to reset your password. Check your email for the password reset link, (don't forget to check your spam folder) and follow the instructions to retrieve your Survey Junkie login details.
However, some Survey Junkie users have complained that even after changing their password several times they are still denied access. If this happens, you'll need to contact customer service directly.
What if you could shop as usual or take surveys and get free Amazon gift cards as a bonus? Say no more!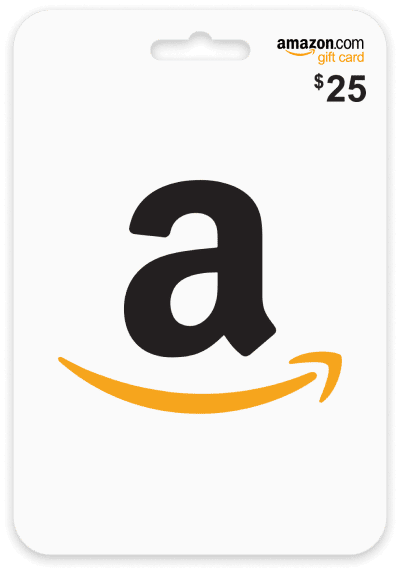 Incorrect Username
Using the wrong username is like calling your friend by the wrong name at a party. It's embarrassing, but it's fixable.
First up, if this happens to you and your Survey Junkie account double-check your username for typos. If you happen to be one of those people who use multiple email addresses for online surveys, make sure you're using the one associated with your Survey Junkie account.
If it's neither of those two common mistakes, follow the same process as in the 'Forgot Password' process to regain access to your Survey Junkie login details.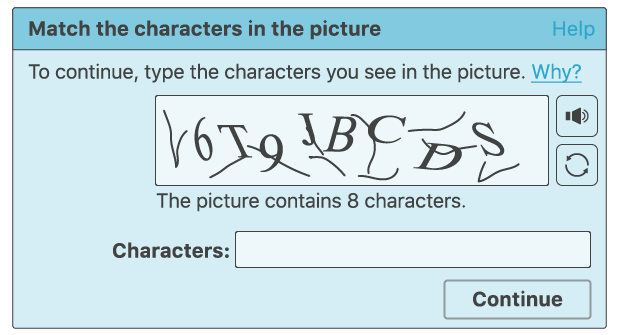 CAPTCHA Problems
Don't you hate those Survey Junkie CAPTCHA puzzles asking you to identify all the buses, bridges, or cars in a collection of images?
Usually, the images are small, grainy, and indistinct, which can make a large dog look like a small car. Hardly ideal for logging into your favorite survey site.
If you're having difficulty seeing the images clearly try refreshing the CAPTCHA using the button at the top. If that doesn't work, try using a different browser.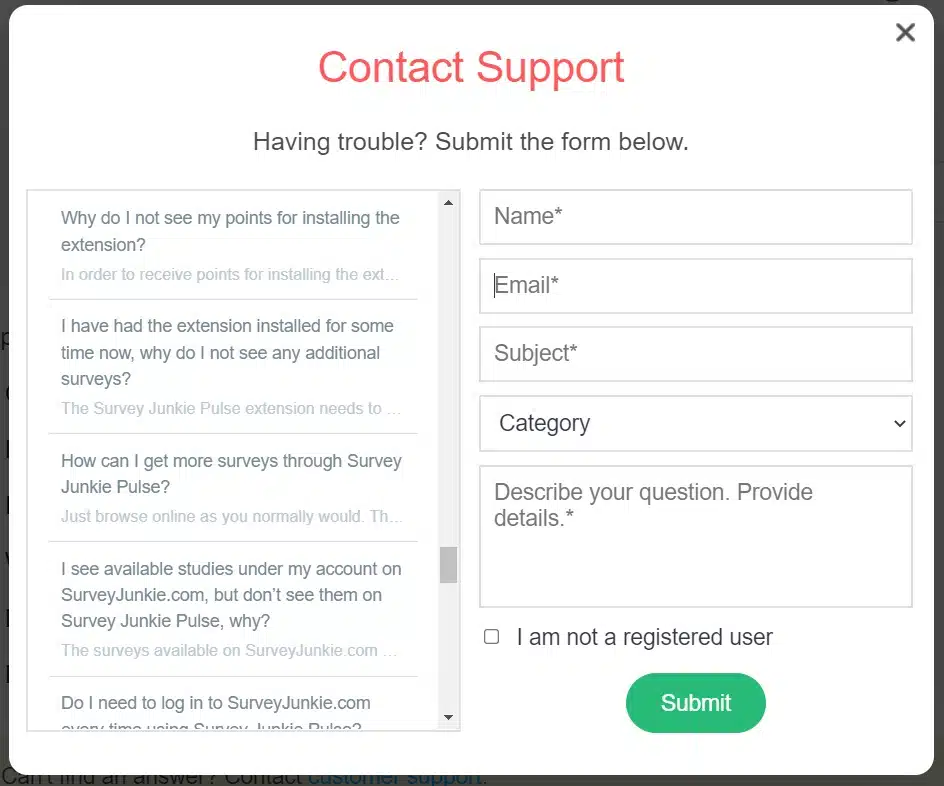 Account Locked
It's a fact of life, accounts get locked, sometimes for no clear reason, or no reason at all. Occasionally, even Survey Junkie users get locked out of their accounts. It's unfair, but it's not the end of the world.
The only way to get around this problem is to contact Survey Junkie's support team directly and ask for their assistance.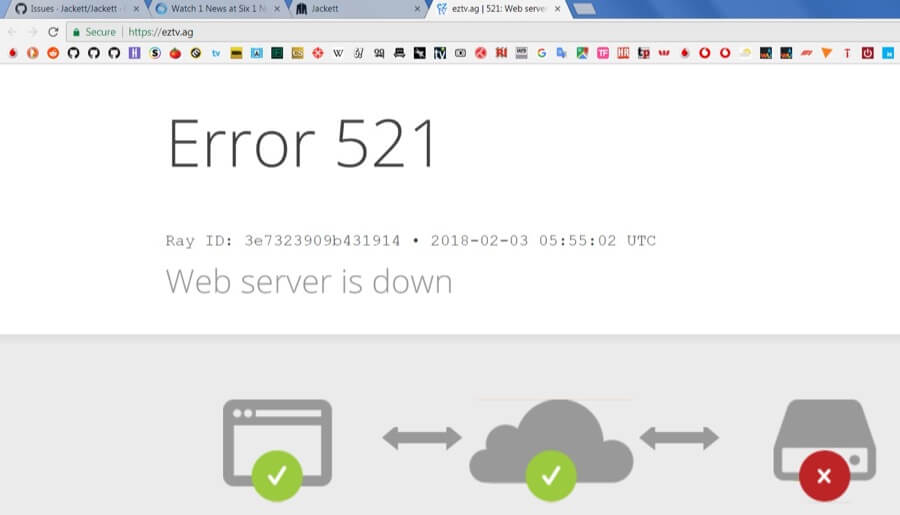 Server Issues
Server issues are like showing up to a party and finding out it's been rescheduled. All the fun (or money-making opportunities) has been postponed, but not canceled.
The first thing to do is not to panic, servers go down all the time, either due to technical problems or for essential maintenance or upgrades.
You can try refreshing the page or logging in later. If the problem persists, it might be on Survey Junkie's end, so keep an eye on their social media for updates.
To know for sure whether your Survey Junkie site is down or not, you can use a detector tool like Downdetector or Site24X7. At least this way, you'll know for sure that it's not your fault.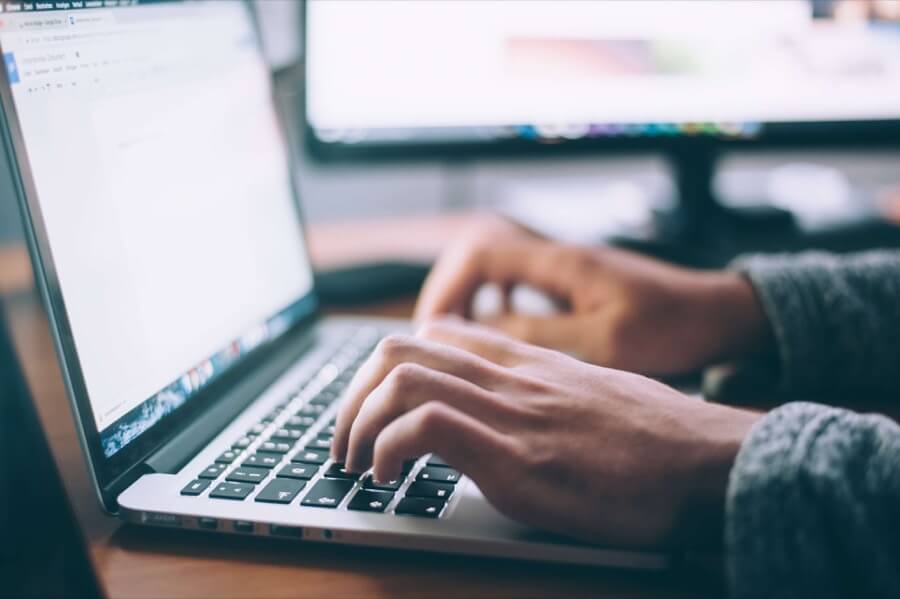 Alternative paid survey platforms
If you've experienced more than your fair share of technical problems with your Survey Junkie, you might be ready to explore new horizons.
The good news is that apart from Survey Junkie there are plenty of other lucrative survey sites out there, that are waiting to pay you to complete surveys.
From well-known big hitters to hidden gems like Monetha, there's a whole universe of opportunities waiting to reward you handsomely for your opinions.
You can also learn more about the highest paying online survey platform here.
Bur first, let's dive into some of these great alternatives.
Swagbucks
Swagbucks is a top choice for taking surveys for money, offering over a thousand online surveys daily. With a FREE $10 signup bonus, you can start earning right away by entering your email or logging in with Facebook.
Swagbucks provides various ways to earn, including taking surveys, watching ads, shopping online, and playing games.
What if you could shop as usual or take surveys and get free Amazon gift cards as a bonus? Say no more!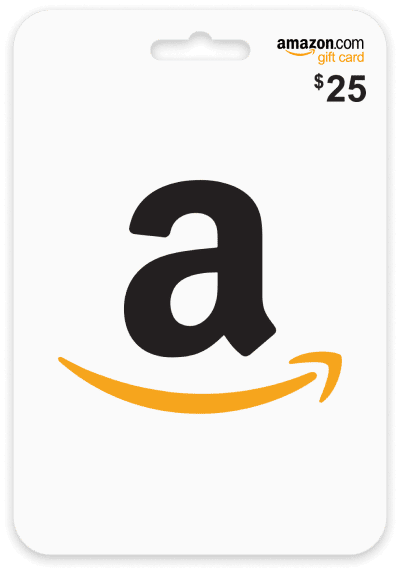 Filling out your profile can lead to more tailored surveys, each taking about 15 minutes. Additional earnings come from the Swagbucks Google extension, watching movies, shopping through Amazon, and using coupons.
Payment is through gift cards like Amazon, Target, Walmart, or PayPal, with a $25 minimum for PayPal and $3 for gift cards. Surveys pay between $0.5 and $2, with 100 Swagbucks equaling a $1.00 payout.
KashKick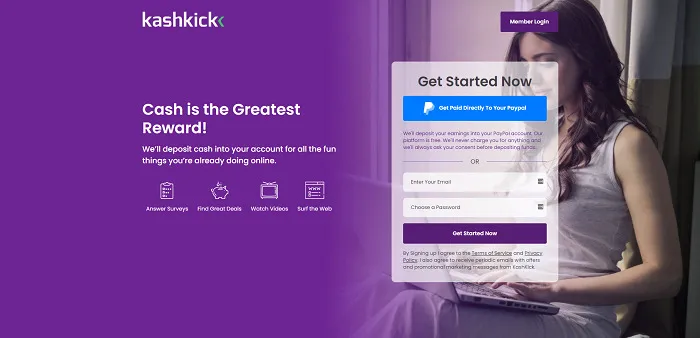 KashKick is like a friendly neighbor who wants to help you make some extra cash and joining is absolutely free.
Interested in taking online surveys? They've got that. Love playing games like Wordscapes and BingoBlitz? They've got that too. You can earn money for reaching new levels and getting high scores. It's like turning fun into funds.
But wait, there's more.
KashKick also gives you cash back for shopping online and offers special rewards deals.
And when you're ready to enjoy your earnings, KashKick makes it easy with a minimum payout of just $10 for a PayPal deposit.
Whether you're a survey fan, a gaming guru, or an online shopping enthusiast, KashKick is here with open arms, ready to help you earn.
American Consumer Opinion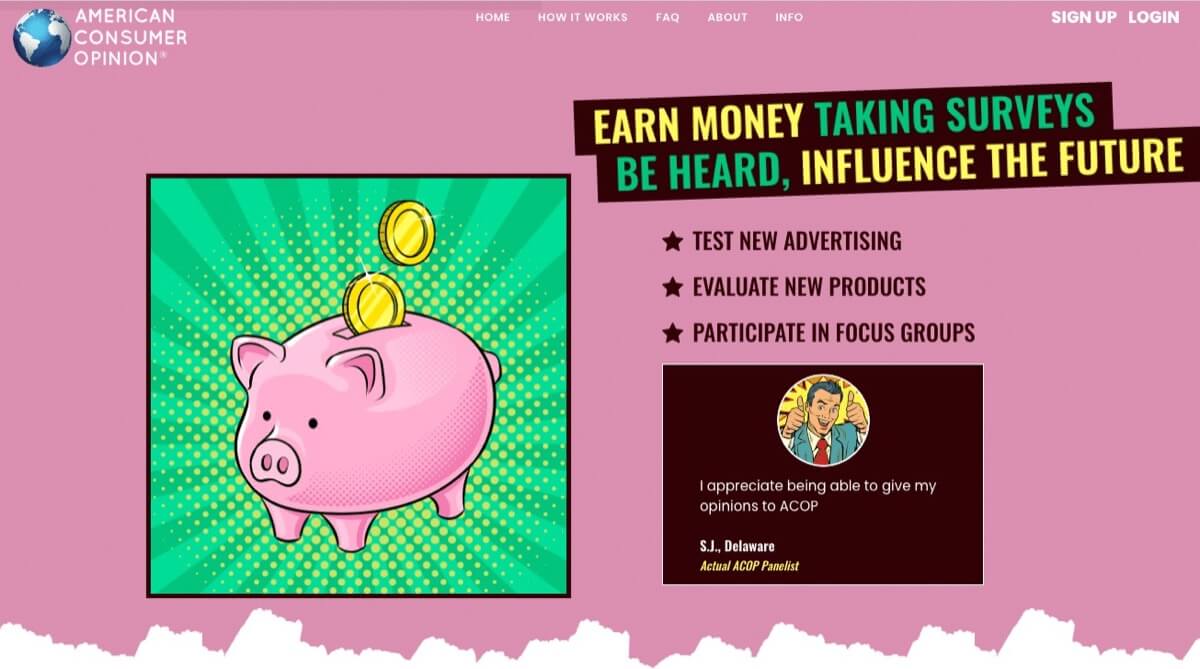 American Consumer Opinion is like a bustling marketplace with over 7 million users. With a wealth of money-making surveys, there's no need to worry about running out of opportunities.
Joining is simple, and it's completely free. Once you're in, you can choose how you'd like to be paid, either through PayPal or by a good old-fashioned check. It's all about what works best for you.
For each one you take, you'll earn points, ranging from 100 to a whopping 5,000 points, depending on the length and complexity of the questions.
With American Consumer Opinion, 1 point equals 1 penny, meaning you can earn anywhere from $1 to $50 per survey. Imagine filling out a survey while sipping your morning coffee and earning enough to pay for your next cup.
When you're ready to cash in your hard-earned points, the process is simple. The minimum cash payout for PayPal is just $10, so you can enjoy your earnings without having to wait too long.
Branded Surveys
Branded Surveys is like a treasure trove of survey opportunities, packed with a wide variety of relevant questions waiting for your answers. The more you dive in, the more money you can cash in.
With Branded Surveys you can scoop up anywhere from 5 to 300 points per survey. And guess what? Every 500 points translate to a sweet $5 to tuck into your wallet.
And when you're ready to cash in, you can exchange your points for cash on PayPal. Or exchange them for a huge range of gift cards for Spotify, Uber, Hulu, and hundreds of others.
With a cash minimum payout of just $5 for PayPal or gift cards, getting started is as easy as pie.
It's good to remember that gift cards come in $5 increments, so, if you're after the big bucks, cash might be your best option. But it's also good to remember that by looking after the pennies (quick surveys) the dollars will look after themselves.
Monetha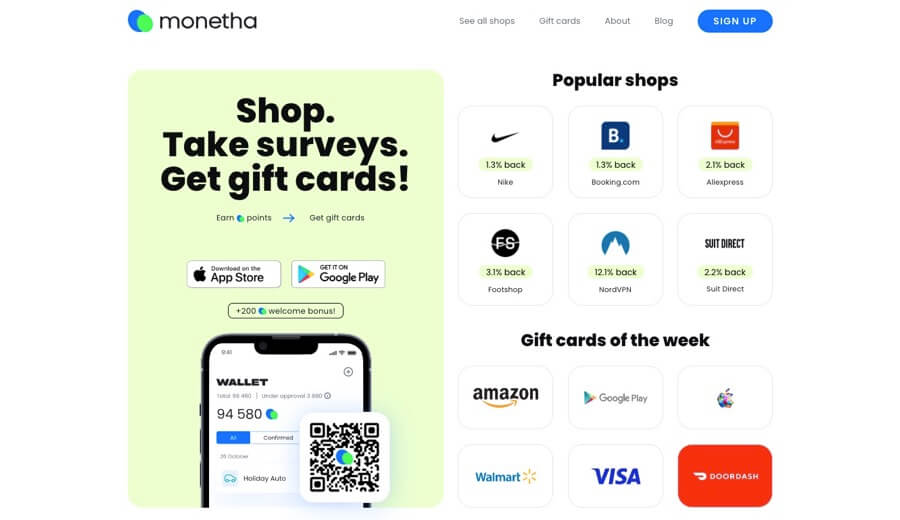 Monetha isn't just another ordinary rewards app, it's like a personal sidekick for users, helping them earn extra cash in their spare time in all sorts of fun ways.
Whether it's shopping, taking surveys, referring friends, or undertaking small daily tasks, the easy to install Monetha app has it all. And for shoppers, with connections to over 1,500 stores, Monetha users never run out of ways to gather valuable points.
When users are ready to cash in, Monetha is there with options galore. Using the easy-to-use app, Monetha users can swap their accumulated points for gift cards from big names like eBay, Amazon, Nike, Disney, Apple, PlayStation, and many more.
If you prefer cash, Monetha users can grab PayPal cards, invest in cryptocurrencies, or even donate to a favorite charity.
With Monetha, the possibilities are endless, and the rewards are as diverse and exciting as the users themselves.
Pinecone Research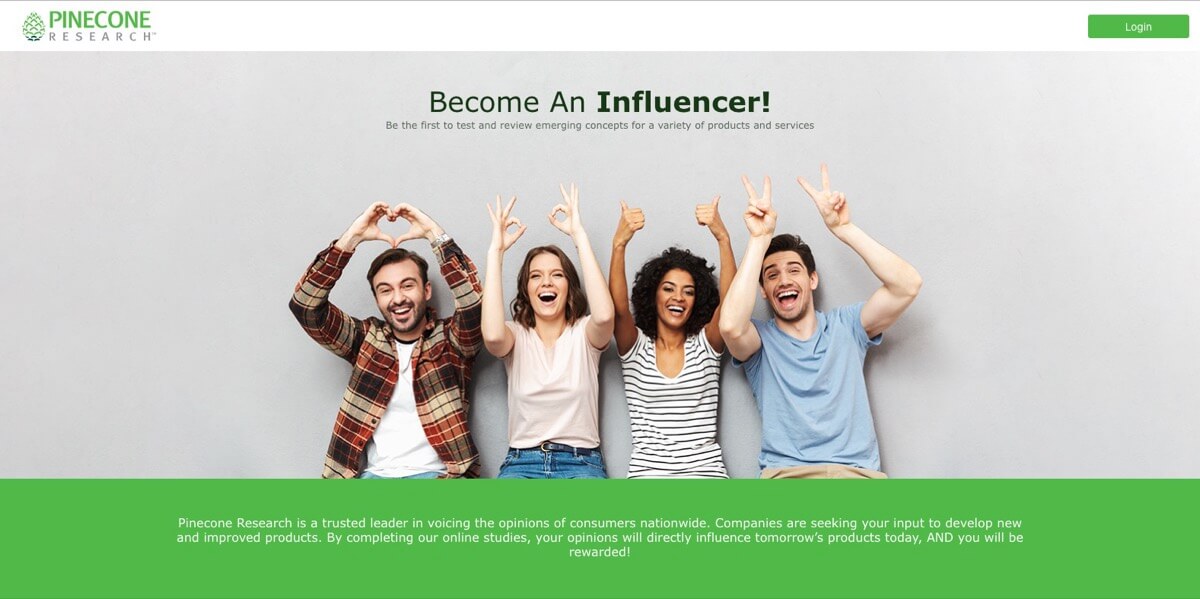 Pinecone Research lets you take a huge range of surveys for money and even review the latest new products before anyone else gets to see them. How cool is that?
If you're the one who does the family shopping, Pinecone Research wants to hear from you and pay you for your valuable opinions.
Once you've gathered enough points, you can trade them in for some awesome prizes or cold, hard cash (via PayPal or check). And here's a bonus, the first 300 points you earn will be turned into a check and sent straight to your doorstep.
You can earn up to $3 per survey, and the best part? You don't have to wait forever to cash out.
The minimum cash out is just $3 which you can exchange for gift cards, checks, or prepaid Visa cards.
So if you want to have some fun and make a little extra cash on the side, Pinecone Research is definitely worth checking out.
Toluna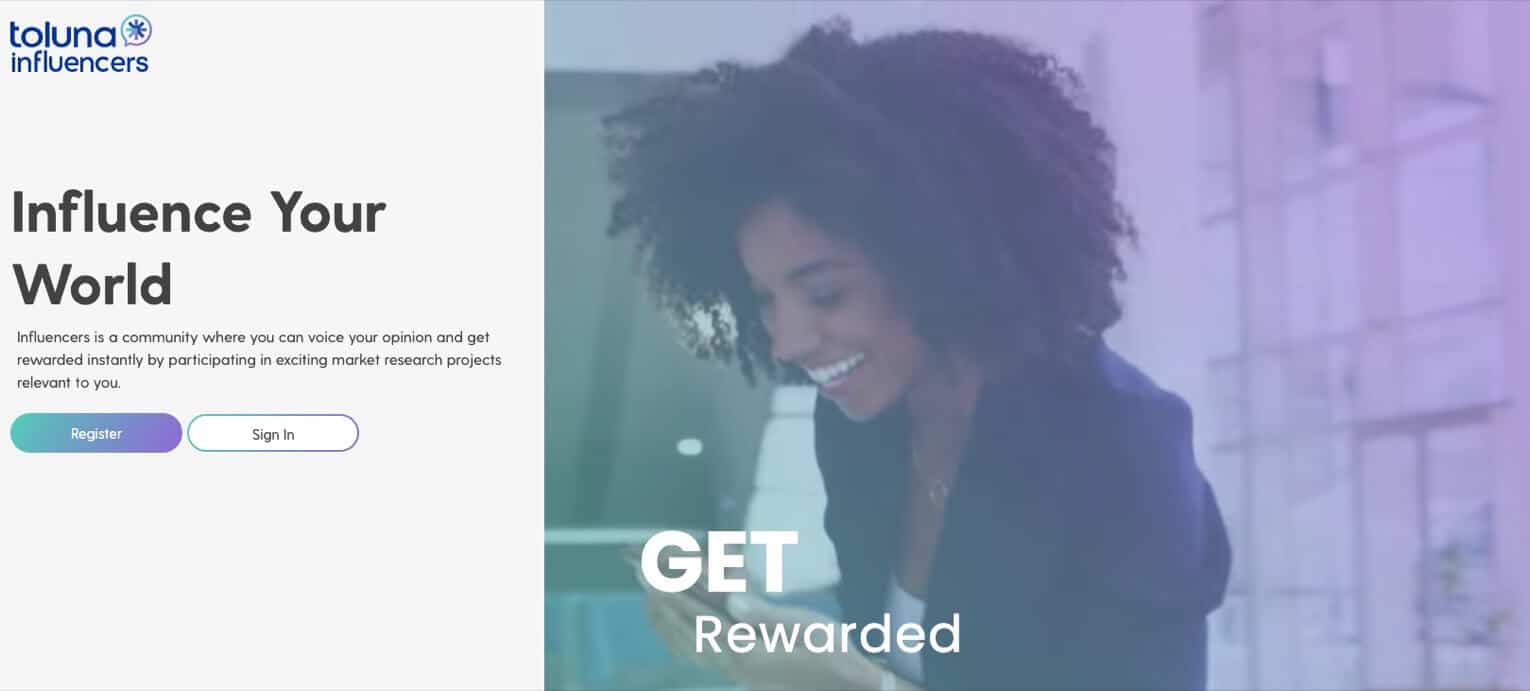 Toluna is a respected online survey site that's packed with choices and offers some sweet rewards for your efforts.
You can expect to make anywhere from $1 to $5 for each survey you take. Plus, you've got several options when it comes to cashing out your collected points.
If you want the money in your PayPal account? You got it! Or if you prefer to stack up those points for gift cards? That works too.
But here's a heads-up, the points you're earning might have an expiration date.
According to Toluna, most points are valid for 12 months, but keeping track of that can be a bit tricky. So make sure to spend those rewards before they vanish – you wouldn't want to let that extra cash go to waste!
You'll need a minimum balance of $10 to redeem your points for PayPal cash or gift cards.
Plus, if you've experienced Toluna log in problems, here's a handy guide to get you unstuck.
LifePoints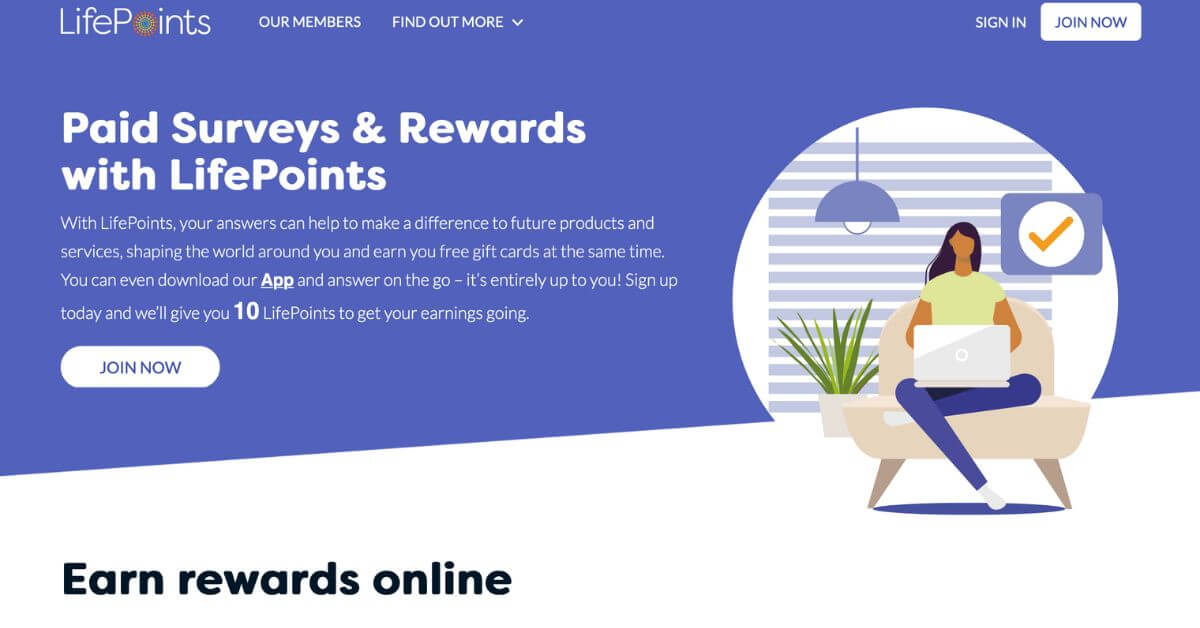 Joining LifePoints is a breeze, and hey, they'll even give you 10 bonus points just for signing up!
Instead of wasting time scrolling through surveys you might not even qualify for, LifePoints sends them straight to your email. How's that for convenience?
LifePoints surveys might be simple questions, while others could ask for your feedback on websites or even send you actual products to try out.
Ever wanted to test baby car seats or new rewards credit cards? LifePoints members have done just that, and it sounds like a dream for savvy folks like us!
Take surveys for gift cards!
Share your valuable opinions and get any of 5,000 gift cards from top brands.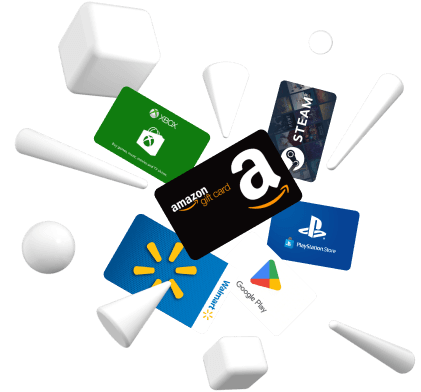 However, it's worth noting that the LifePoints payment per taking surveys might be a little lower than many other online survey sites, ranging from $0.20 to $1.
But don't let that bother you. You can still turn those points into PayPal cash, gift cards (Apple, Starbucks, Amazon, and more), or even donate to charity through their website.
And when you're ready to cash, the LifePoints threshold is reasonably low at $10.
InboxDollars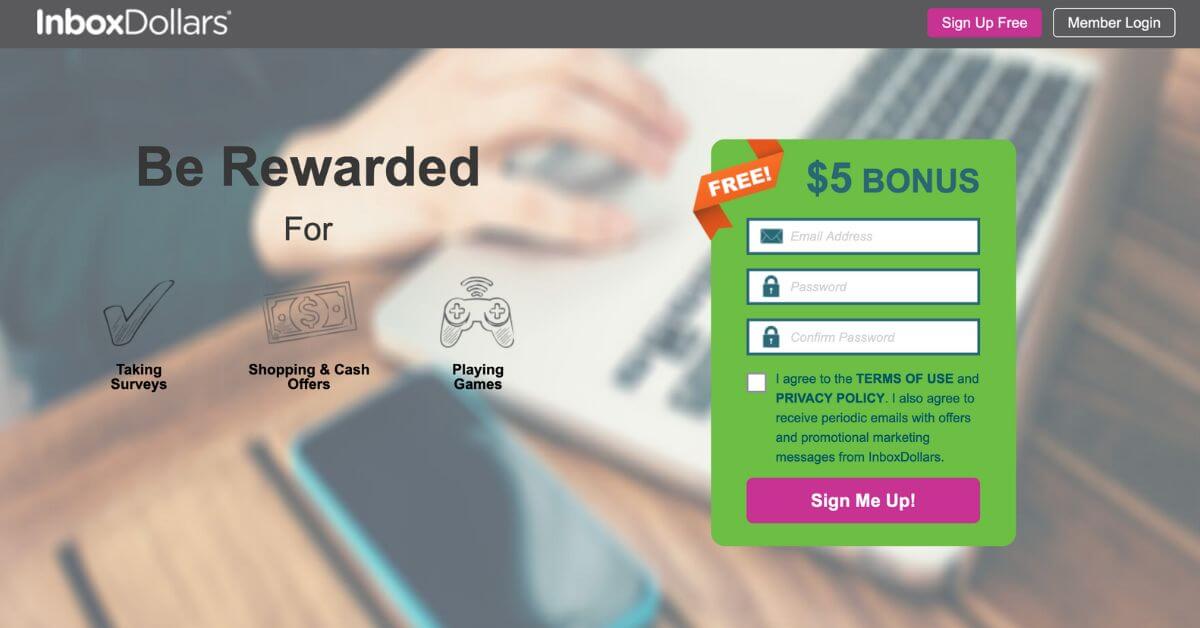 InboxDollars has already paid out over $50 million in surveys, making them a reliable option for those looking to earn extra money.
With InboxDollars, you can participate in a whole range of online activities beyond surveys, such as playing games, watching videos, shopping, and reading emails.
To keep you informed about new opportunities, the platform will send updates to your email, ensuring you don't miss out on any chances to earn.
What if you could shop as usual or take surveys and get free Amazon gift cards as a bonus? Say no more!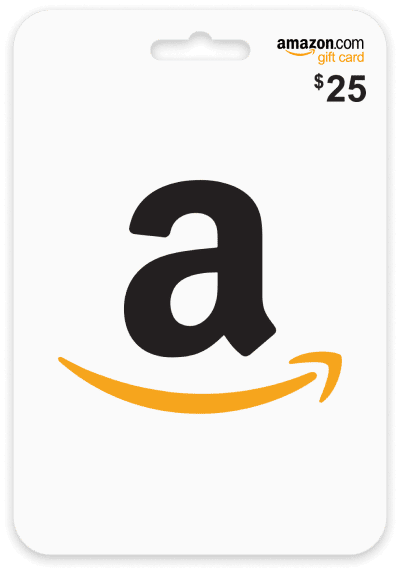 If you enjoy online games and a diverse range of activities to make money, InboxDollars could be a suitable option for you. Surveys typically pay between $0.50 and $5, and there's a referral program to help you earn even more.
When you reach the cash minimum for payout, which is $30, you can choose to receive your earnings in gift cards, checks, or prepaid Visa cards.
Opinion Outpost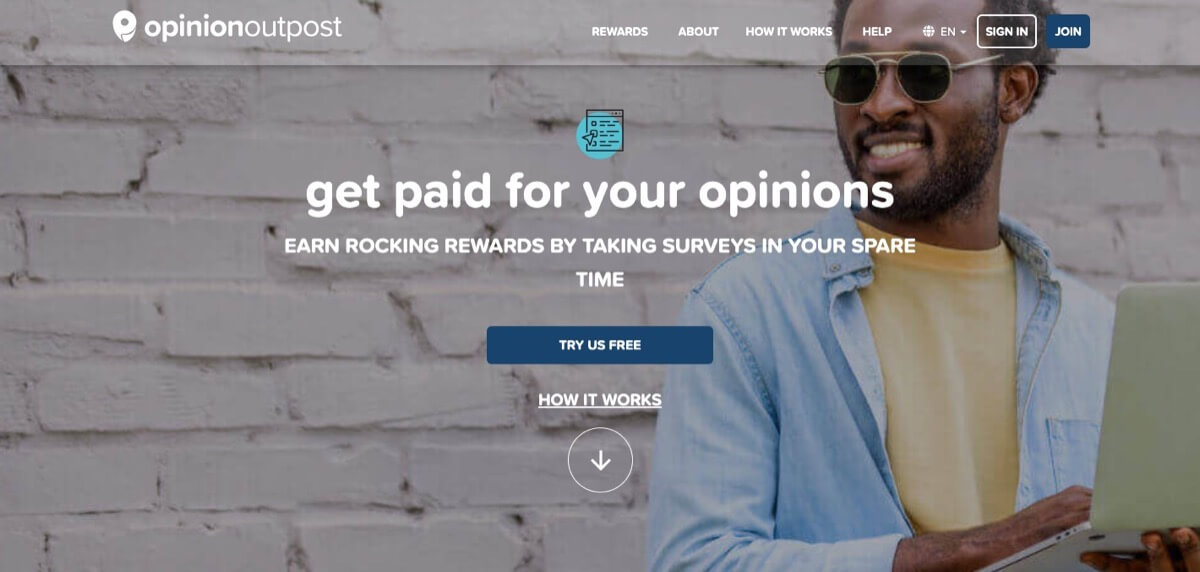 Opinion Outpost is a place where you can earn some extra cash by taking surveys, and some of them might even be enjoyable.
This top online survey site is free to sign up for, and you'll never be asked to pay to join. Once you've completed your sign-up profile, they'll send you emails to notify you of available paid surveys.
Their shorter surveys are fast to complete and typically pay between $0.50 and $1 each, but you can earn up to $5 for the longer surveys.
Earnings of $1 to $2 per hour might not seem like much, but ask yourself, how much do you earn scrolling through social media posts? Plus, after only one day you can probably cash out already.
For every survey you complete, you'll earn points that you can turn into cash or even exchange for popular gift cards like Amazon and others.
One of the nice things about Opinion Outpost is that they process payouts quickly, so you won't be left waiting for your money.
You can cash out once you reach $10 for PayPal or $5 for gift cards.
MyPoints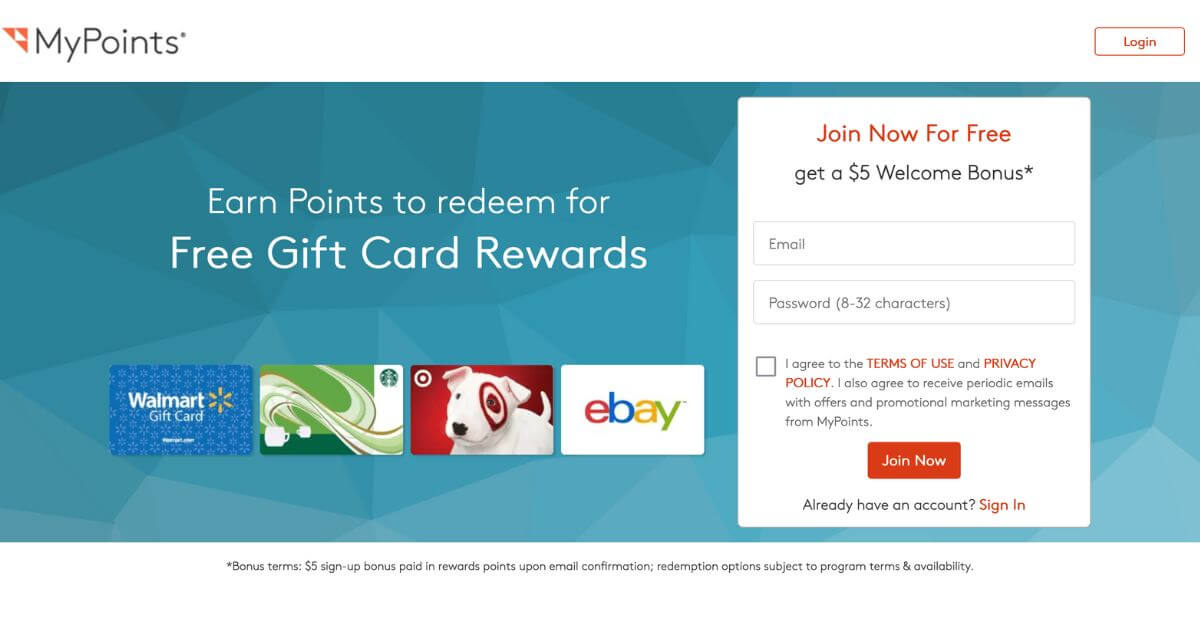 MyPoints has been around longer than most other survey companies, and they've got a ton of surveys you can take to earn money.
They've been in the game since 1996 and have handed out over 236 million dollars in gift cards and PayPal cash. If that's not a good reputation, what is?
MyPoints is mainly known for its gift card rewards, but having cash options is a nice touch too.
With a community of over 10 million members, you can trust that the MyPoints platform is a solid place to earn some extra cash.
Take surveys for gift cards!
Share your valuable opinions and get any of 5,000 gift cards from top brands.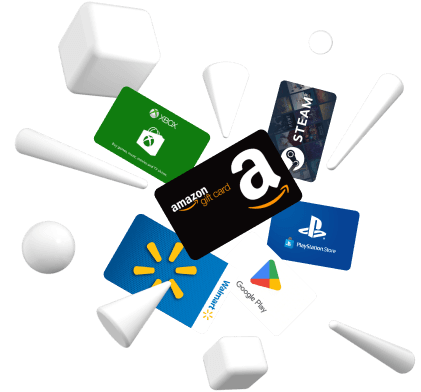 What's really neat about MyPoints rewards is that you can turn your points into gift cards for places like iTunes, Amazon, Starbucks, and a whole lot more.
On average, you'll rack up 50 points for each survey, and those points can accumulate pretty fast. Even if you start a survey and find out you don't qualify, MyPoints will still toss a few points your way for the effort.
Besides surveys, you can also earn points by shopping, referring friends, or playing games. Plus, you can cash out when your balance reaches a mere $5.
YouGov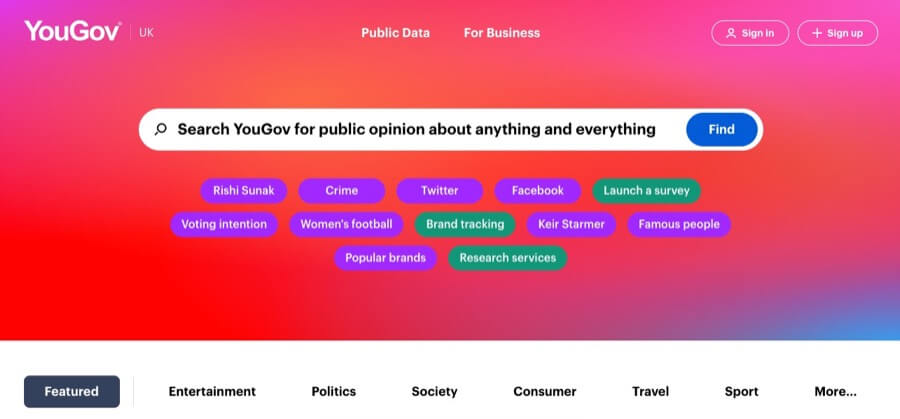 YouGov is all about letting you voice your opinions and even influence the news. If you've got a thing for politics and government, this paid online survey platform could be just the ticket for you.
Once you sign up, YouGov will send you invites to answer questions on all sorts of subjects, either through email or directly on the app.
Every time you complete a survey, you'll rack up points. The more in-depth the survey, the more points you'll pocket, and the more cash you'll be able to make.
The surveys vary in length, ranging from a quick 5 minutes to a full hour. The longer surveys generally pay more per hour. You can also earn extra points for shopping online, or for playing games, watching videos, and generally having fun in your spare time.
When it comes to cashing out, everything depends on the points you've earned and want to convert into cash or gift cards.
PrizeRebel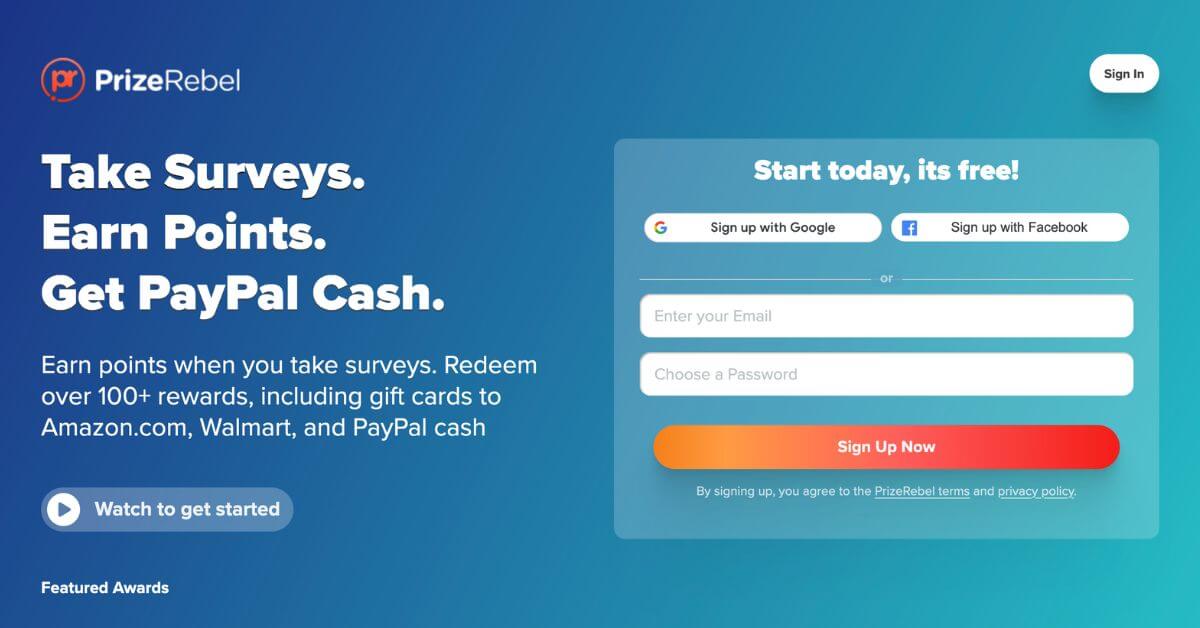 PrizeRebel is a well-known GPT online survey site that offers a wide array of payout options, including gift cards, cash, and even some cool merchandise!
Unlike some survey sites that start off with low rewards, PrizeRebel gives you about $0.60 – $0.85 per survey, translating to 60 – 85 points.
And there's more to do than just surveys; you can watch videos, take part in activities, and even join daily points contests to boost your earnings.
Each survey will take up only about 10 – 15 minutes of your time, which is relatively short compared to some lengthy marketing surveys out there. So, in an hour, you could knock out 3 PrizeRebel surveys and make $3 just for sharing your thoughts!
When it's time to cash out, you only need $5 (or 500 points) for rewards like gift cards and PayPal.
If you're an Amazon shopper, you can get a gift card with just $2 (or 200 points). Not a bad deal for a little bit of your time!
Don't let Survey Junkie login problems ruin your day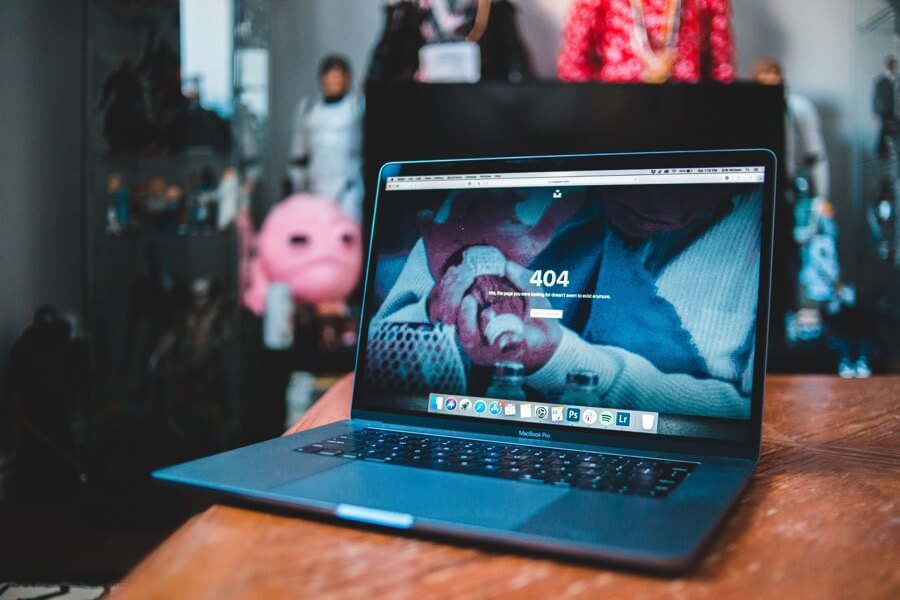 Login problems happen. But they're usually fixable with the help of customer support.
While you're waiting to have the problem sorted, there's no reason it should stop you from earning a little cash on the side.
Together with Survey Junkey, there are lots of top survey sites that need your opinions and are willing to pay for them. We've outlined a few of the best, but there are many more, just be sure to check how legitimate they are before you sign up.
And remember, never pay to join a survey site, or login problems will be the least of your worries.
Happy survey-taking, and here's to earning some extra cash in your spare time.
And one last thing, if you want to know more about the best paid survey platforms in the U.S. this neat guide will tell you everything you need to know.
FAQs
Why can't I log into my Survey Junkie account?
It could be due to incorrect credentials, a temporary server issue, or a problem with your internet connection. Make sure you're using the correct email and password and try refreshing the page or restarting your browser.
I forgot my password for Survey Junkie. How can I reset it?
If you've forgotten your password, simply click on the "Forgot Password" link on the login page. Follow the instructions to reset your password through your registered email address.
Is there a limit to how many times I can attempt to log In?
Some sites may lock you out after a certain number of unsuccessful login attempts to protect your account. If this happens, you may need to wait for a specified time or contact Survey Junkie's support team for assistance.
I'm receiving an error message when trying to log in. What should I do?
Error messages can occur for various reasons. Try clearing your browser's cache and cookies or try using a different browser. If the problem persists, contact Survey Junkie's support team with a screenshot of the error message for further assistance.