How do gift cards work?
In the past, a gift card was simply a card, note, or even a piece of headed paper representing a certain value that could be exchanged for goods or services of lesser or equal value.
Having been paid for in cash – and usually intended to be used as a gift for a wedding, birthday, or another occasion – the gift card was validated by being stamped with the retailer's name, logo, or signature.
The physical gift cards also bore a number that was entered in a ledger so that when the card was redeemed for goods, it could be authenticated by its corresponding number in the ledger.
Usually, gift cards had expiration dates, a pre-determined time by which they should be used or lose their value.
In essence, a gift card was money to be spent in a specific place.
What if you could shop as usual and get free gift cards as a bonus?  Say no more!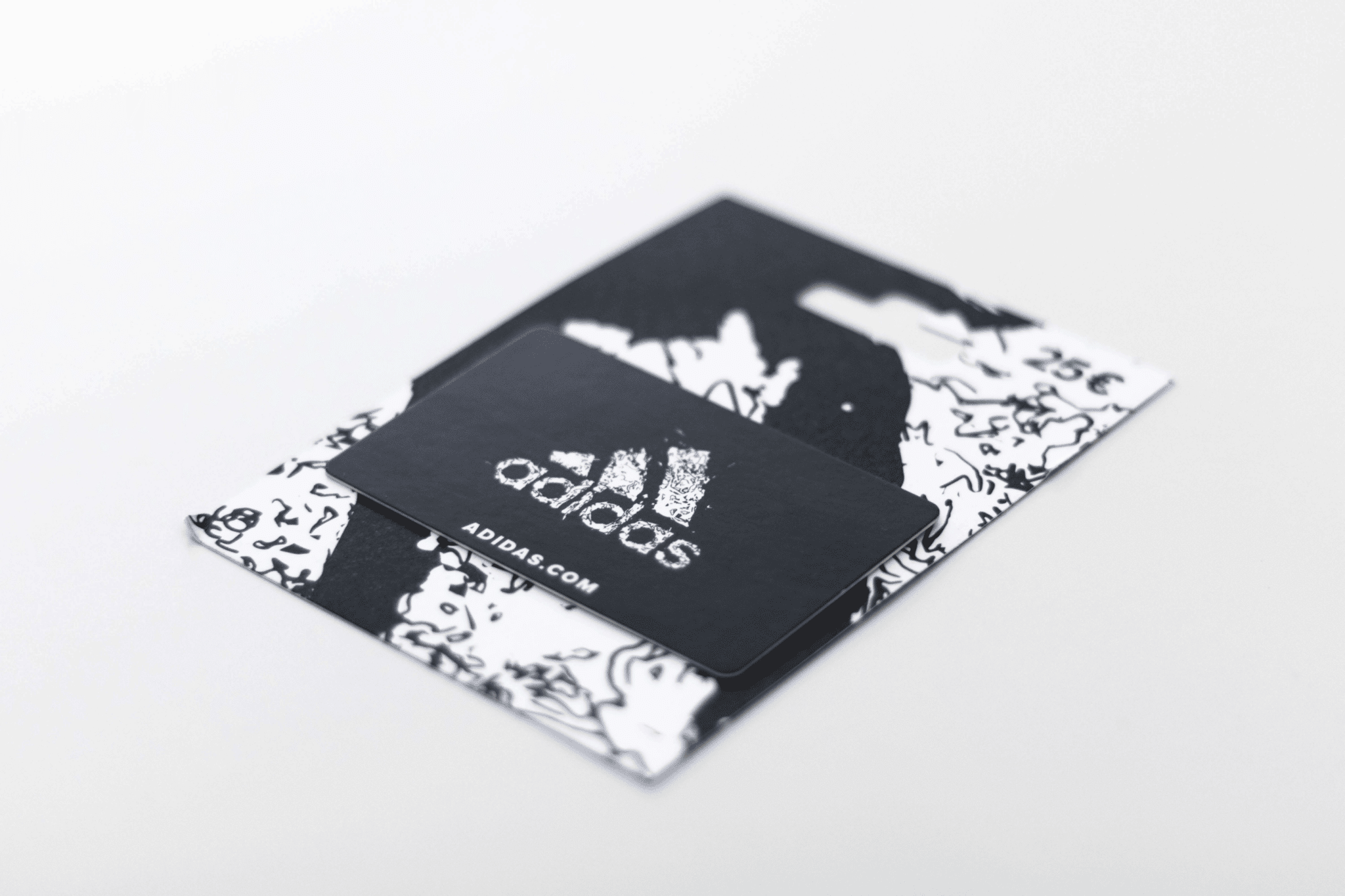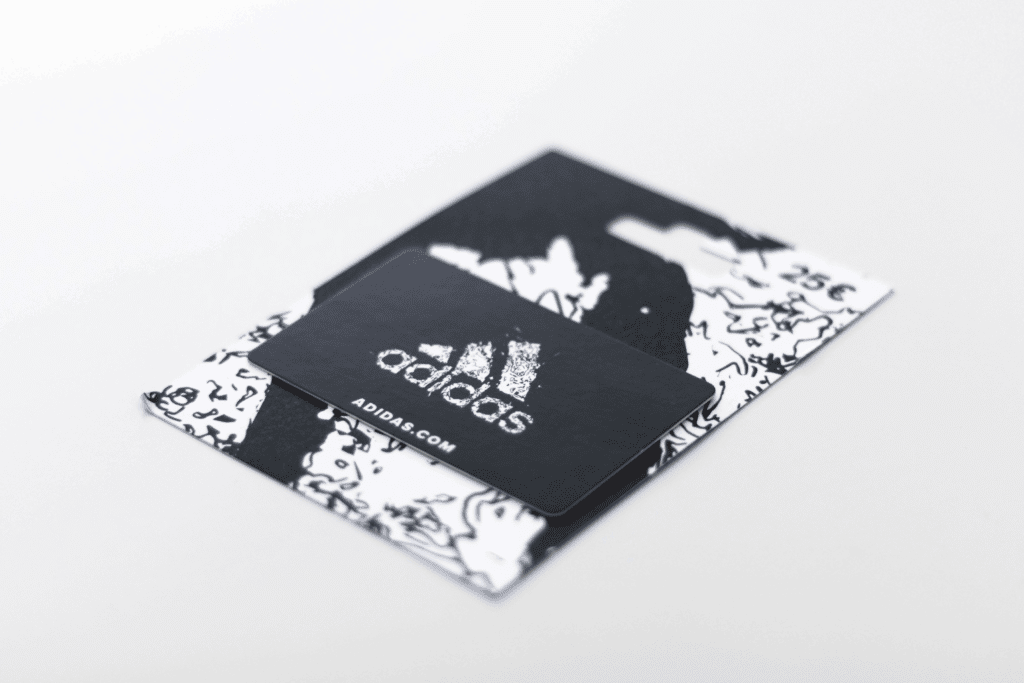 Using a gift card in the past
Example: In the past, for my birthday, I receive a gift card to the value of £100 to be used in the XYZ department store. I can then use my gift card to purchase an item using the gift card as if it was actual cash money. Should the item cost less than the value of the card, a note of the remaining balance will be made on the card and in the corresponding ledger where it was recorded. Should the purchase cost more than the value of the gift card, I should pay the remainder of the value using cash or additional gift cards.
Many gift cards, especially in small shops and boutiques still operate in the same way but perhaps with the addition of security features like holograms, QR codes, printed serial numbers, bar codes, etc.
Some gift cards can be registered online. In case of loss, the card can be tracked and frozen.
Modern gift cards
Modern gift cards come in two types, open loop cards and closed loop gift cards.
Open loop cards – An open loop card, like a Visa gift card, can typically be used anywhere that Visa Cards are accepted. Just like Visa, many of the major credit card operators like American Express, Discover, and MasterCard also offer open loop cards.
Closed loop cards – Closed loop gift cards may only be exchanged with the supplier – store, service provider, etc – where the card was purchased.
When you sign up for the Monetha rewards programme, you can shop at hundreds of online stores and earn points with every purchase. Your Monetha points can then be exchanged for thousands of gift cards from some of the world's top stores.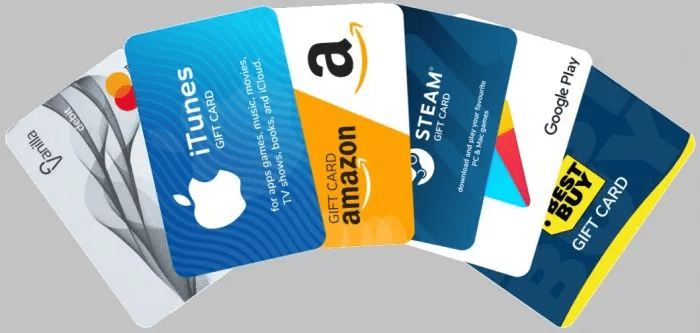 Functions and types of gift cards
So what's the best type of gift card to choose for someone?
The answer to that has to be the gift card that the person will get the most value from. If the person loves travelling then maybe airline or hotel gift cards would work. If they like great cuisine perhaps a gift card from a fancy restaurant would do the trick.
If they like sports, a gift card from their favourite sports team club shop. Or if you really don't know what floats their boat, you could get them a gift card that can be redeemed in a group of stores.
The list goes on and on, but you get my drift.
No matter what the occasion is that the gift card will mark, there's one to suit every taste.
Let's take a look at what they are.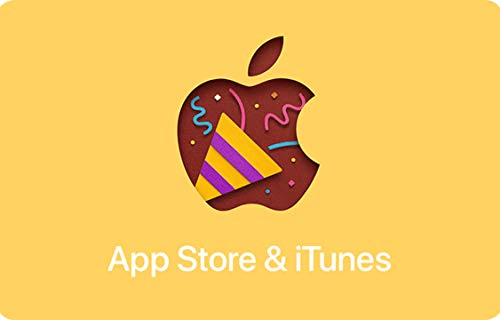 Single store gift cards
Single store gift cards are probably the starting point of all gift cards.
This particular type of card is only redeemable in a single store or chain of stores. This could be a small high street boutique or craft store, or a giant online store like Amazon.
The cards can also be redeemed on the store's website, app, or as mentioned in the physical store, service, or restaurant.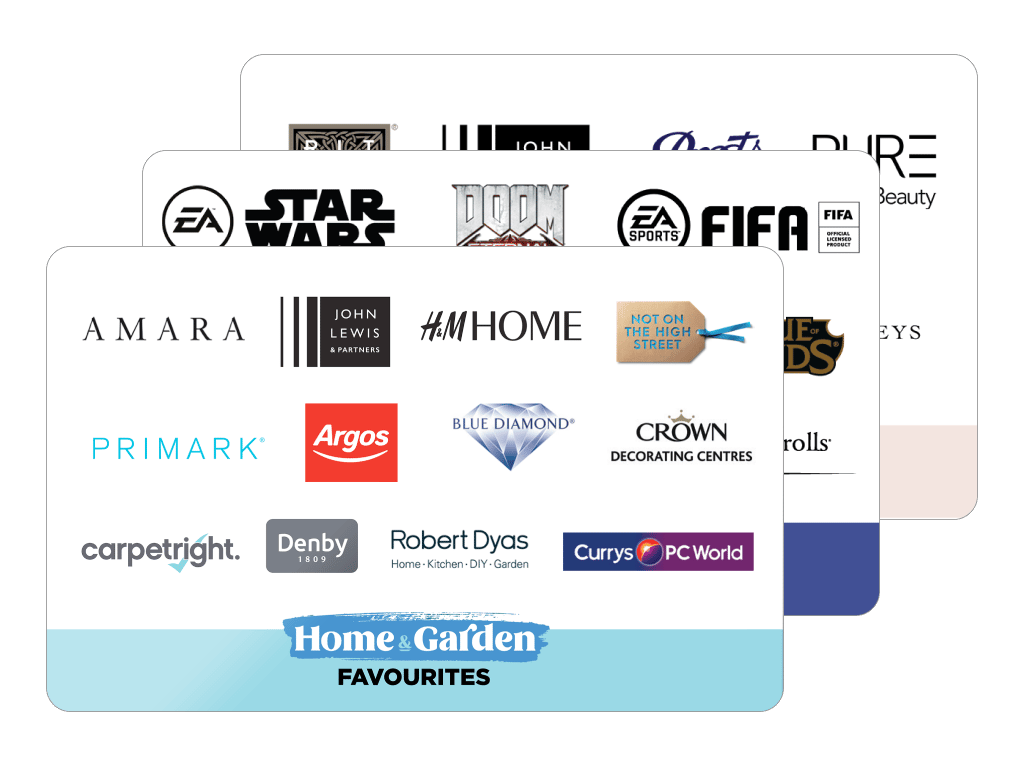 Family of stores gift cards
More flexible than the single store card, this type of card is redeemable at any of a group of retailers within a family of stores. Gift cards like the Gap Options card can be used across a range of stores in the same family group – Banana Republic, Old Navy, Gap, and all of the Gap subsidiaries.
There is also a family of stores gift cards for restaurants across the UK.
Giving such a gift card gives the recipient a greater choice from a wider range of shops. Plus, they rarely come with expiry dates or non-use fees, but it's good practice to check the regulations before purchasing.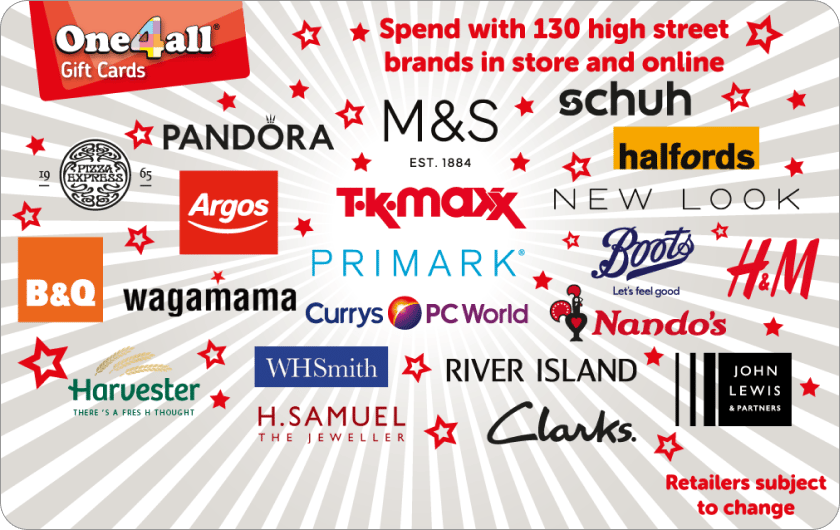 Multi store gift cards
The One4all gift card is probably the most flexible multi-store gift card on the market and is sure to put a smile on the face of even the most hard-to-buy-for person.
The beauty of the One4all card is that it can be used almost anywhere across a huge range of store types. The versatility of the card is perfect for gamers, restaurant lovers, DIY enthusiasts, beauty salon and spa worshipers, cinema buffs, fashionistas, wine lovers, and more.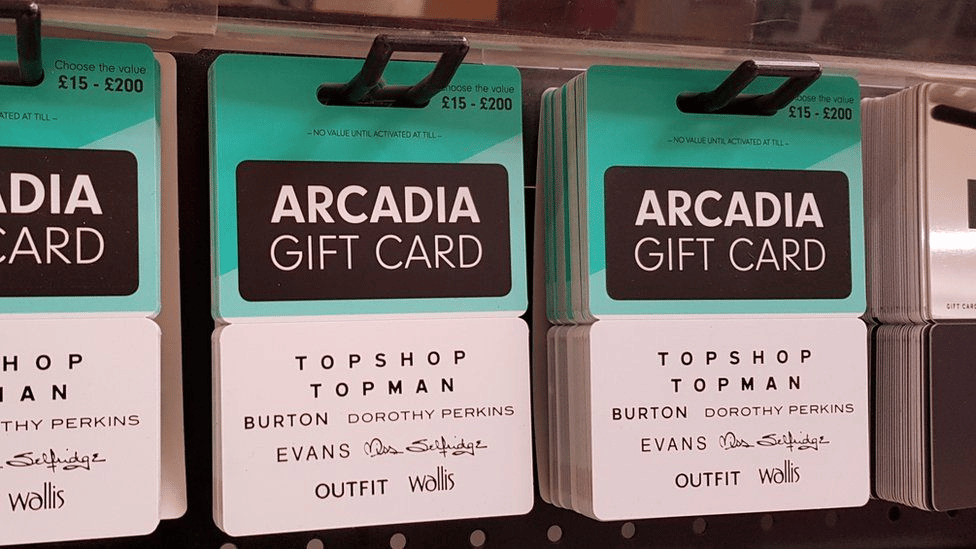 Category of stores gift cards
As the name suggests, this type of super-flexible gift card is redeemable at any store or service in a particular category of business. The categories can range from dining options and fuel stations to cinemas or entertainment attractions.
The one small drawback is that there is usually an activation fee before using this card. However, the gift card allows the recipient to make a particular type of purchase or indulge in a particular experience without limiting the choice.

Any store Visa or Mastercard gift card
These are probably the most flexible of all gift cards and can be used anywhere Visa and Mastercard are accepted.
They can be used to buy groceries, clothes, airline tickets, pay for petrol or a car service, and pay for a hotel stay. However, they do have a couple of small drawbacks.
Activation fees (€2-€5), non-use fees (approx €5 if the card is not used once every 13 months), and expiry dates (the expiry date can be extended for a fee) are applied for Visa and Mastercard gift cards.
They come as both a physical plastic card and an e-Card. The physical gift cards can be used in-store or online, while the e-Cards can only be used online as a voucher or coupon.
Despite the additional costs associated with Visa and Mastercard gift cards, the real value of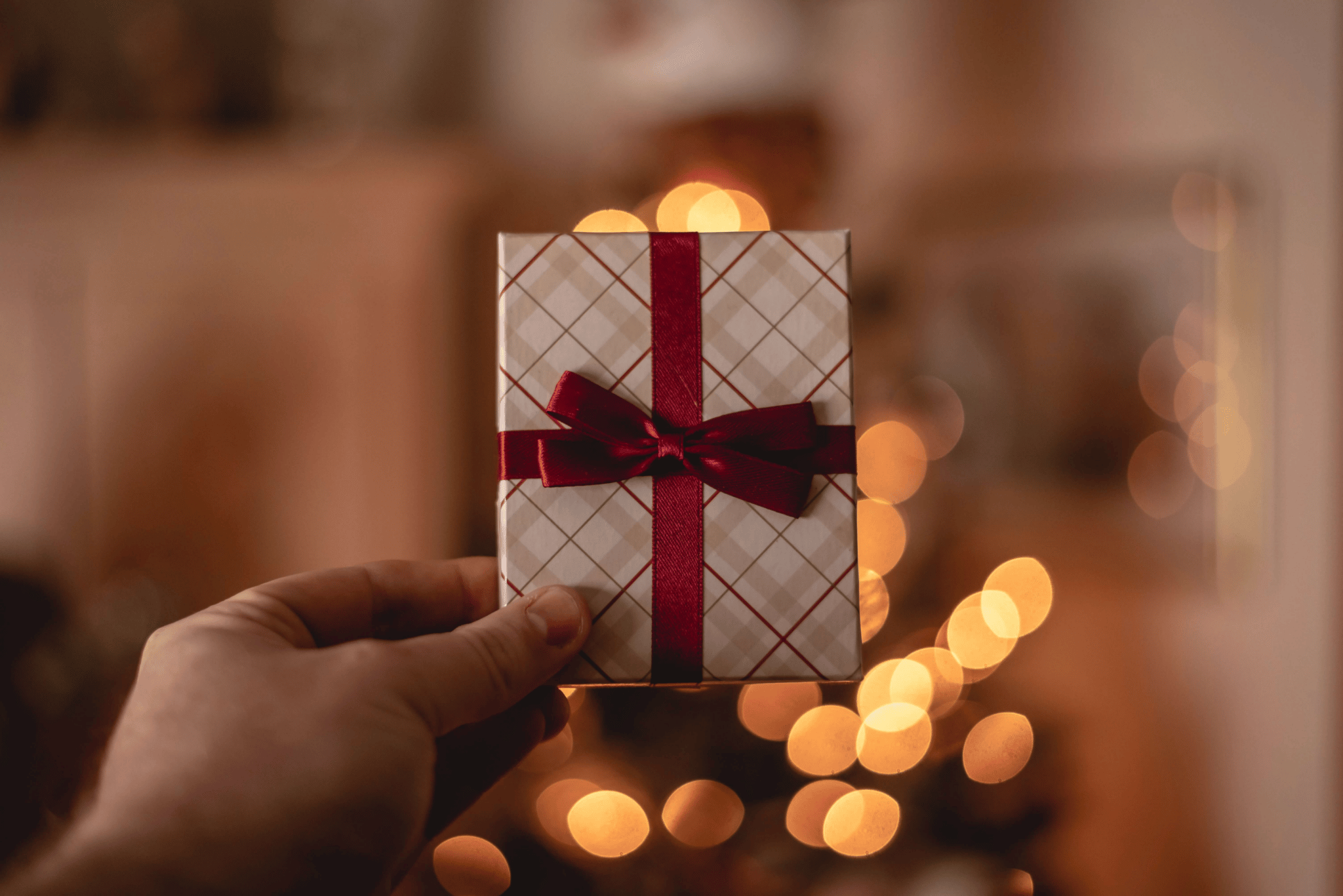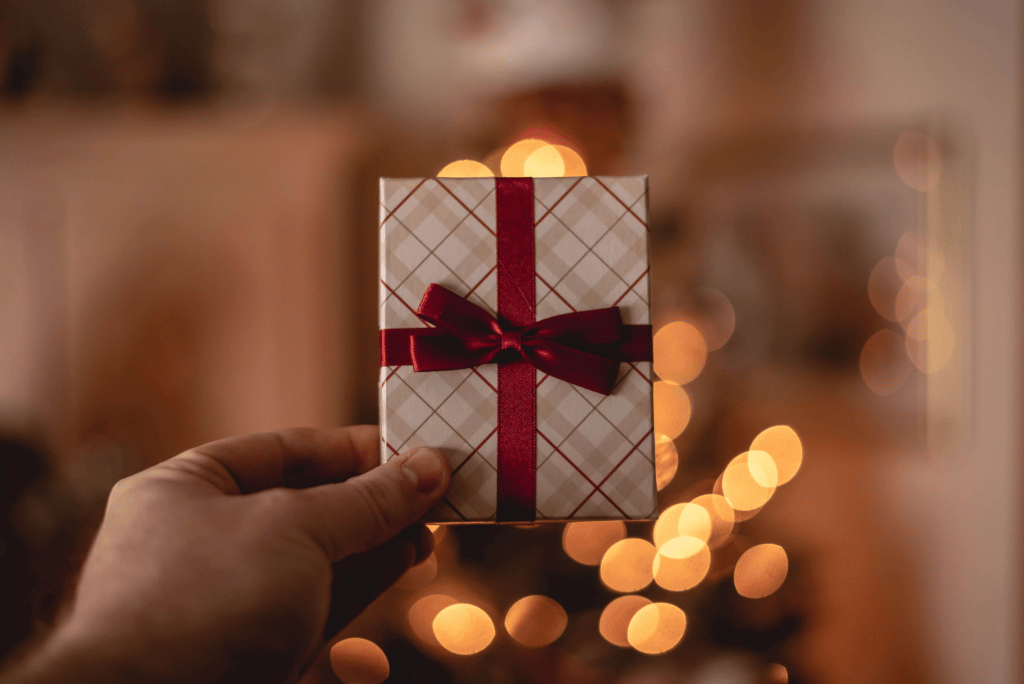 Physical vs digital gift cards
In the same way that airline boarding cards can be physical (printed) or digital (downloaded to your phone), gift cards can be either physical or digital (e gift cards).
Physical gift cards come in the form of plastic cards, printed cards, coupons, and vouchers. But what is an e gift card?
E gift cards, or digital gift cards, are delivered online to your PC, your smartphone, or your tablet. They are uniquely assigned a gift card number that can be used to redeem goods or services at a specific outlet, or categories of outlets.
The same but different
Despite their different characteristics, both physical and digital gift cards perform the same duty but in slightly different ways.
Physical gift cards must be presented in-store to exchange them for goods or services.
Digital gift cards, because they are delivered electronically, and instantly, are the perfect gift for last-minute occasions, as gifts for employees, and as gifts for people who are far away and where sending physical cards by post may take days or weeks for delivery.
One additional positive of digital cards is that the recipient can store their gift in a mobile wallet like Google Pay, Apple Pay, or PayPal.
Pros of gift cards
There can be no denying the advantages of giving a gift card over a physical gift.
If you don't know what to buy for someone a gift card leaves the decision up to the recipient
Gift cards are a great way for employers to reward a large number of employees without giving a boring generic gift
Great gifts for special occasions and the holiday season
Almost every store offers a gift card or coupon service
Convenient to use
Might have no expiration date
Are available as rewards with online rewards programmes like Monetha
When you give a gift card you're giving the gift of versatility and flexibility. Sure be sure you know whether you're buying an open-loop card or a closed-loop card.
Best place to receive gift cards
Thousands of free gift cards are available in the Monetha app!
Cons of gift cards
If you look hard enough you'll find disadvantages to almost everything, including gift cards.
Thankfully, there are not many disadvantages.
Closed loop gift cards are limited to a restricted number of outlets
If you lose a non-registered gift card, say goodbye to your money
An activation or inactivity fee may apply
If you use less than the full value of the card on a purchase the remainder may be simply forgotten and expire
Gift cards can be used instead of giving a physical gift for any occasion such as weddings, birthdays, or anniversaries, or as a gift for a group of employees or a complete workforce.
Digital gift cards are a great solution for making a last-minute gift purchase, or for instantly gifting someone living far away.
E-gift cards are delivered directly via email, digital messaging, or other digital portals. They are assigned a digital gift card number that can be used to make purchases online without the need for a physical presence.
Physical gift cards come in the form of plastic cards, coupons, or vouchers and must be presented physically in-store to make a purchase.
Yes, gift cards can, and do expire. However, to protect the recipient, several legal representations are in place to protect the consumer's rights.
According to the UK Consumer Protection Act 2019, gift vouchers and gift cards sold after 2 December 2019 are governed by the following regulations:
Gift vouchers must have no expiry date or be valid for at least 5 years
Traders can not specify that a gift voucher is spent in one transaction
Traders can not charge a fee to change a name on a gift voucher
If the balance remaining on a gift voucher is more than €1 after you buy something with it, a trader must reimburse the balance to you. They can give you cash, make an electronic transfer, or give you another gift voucher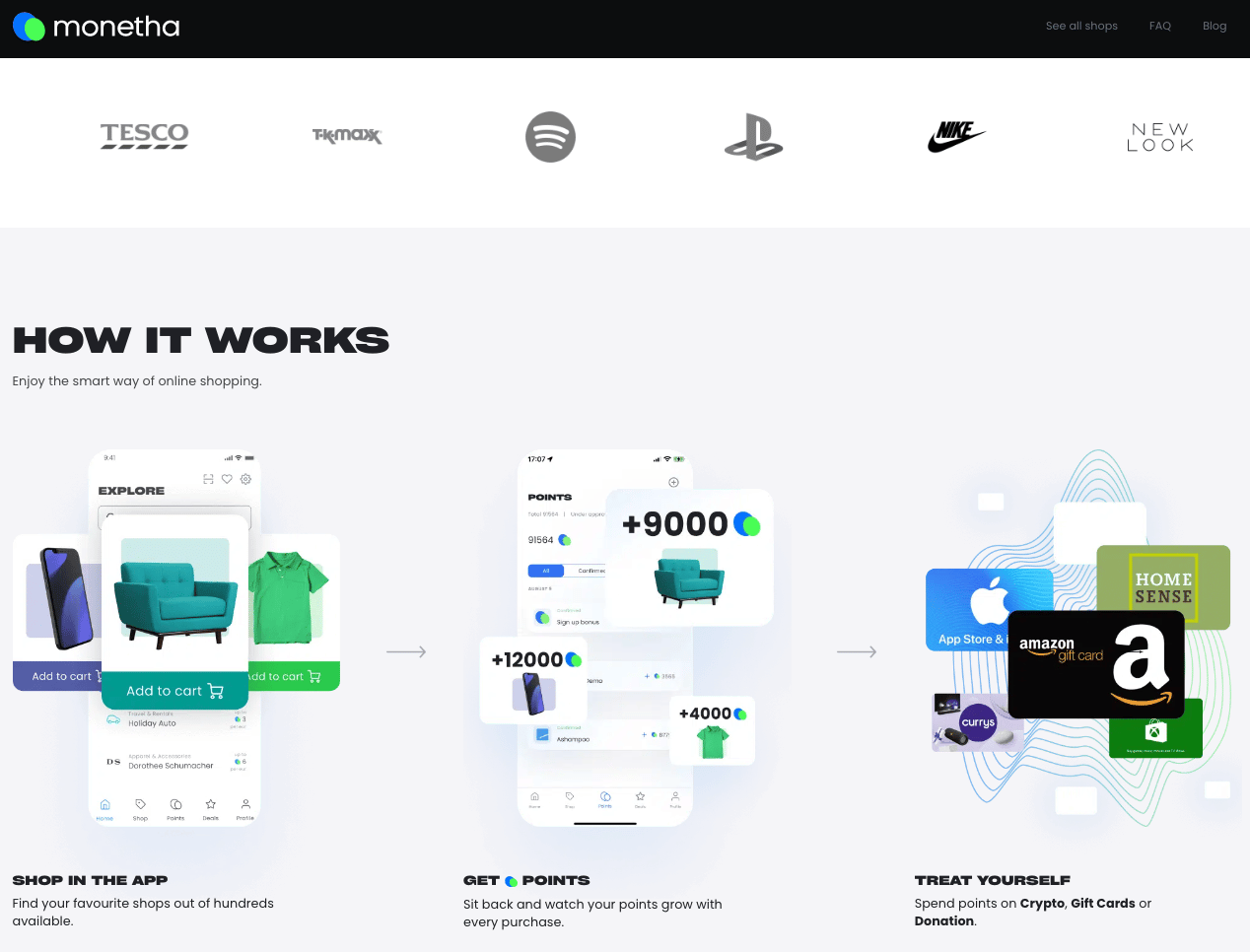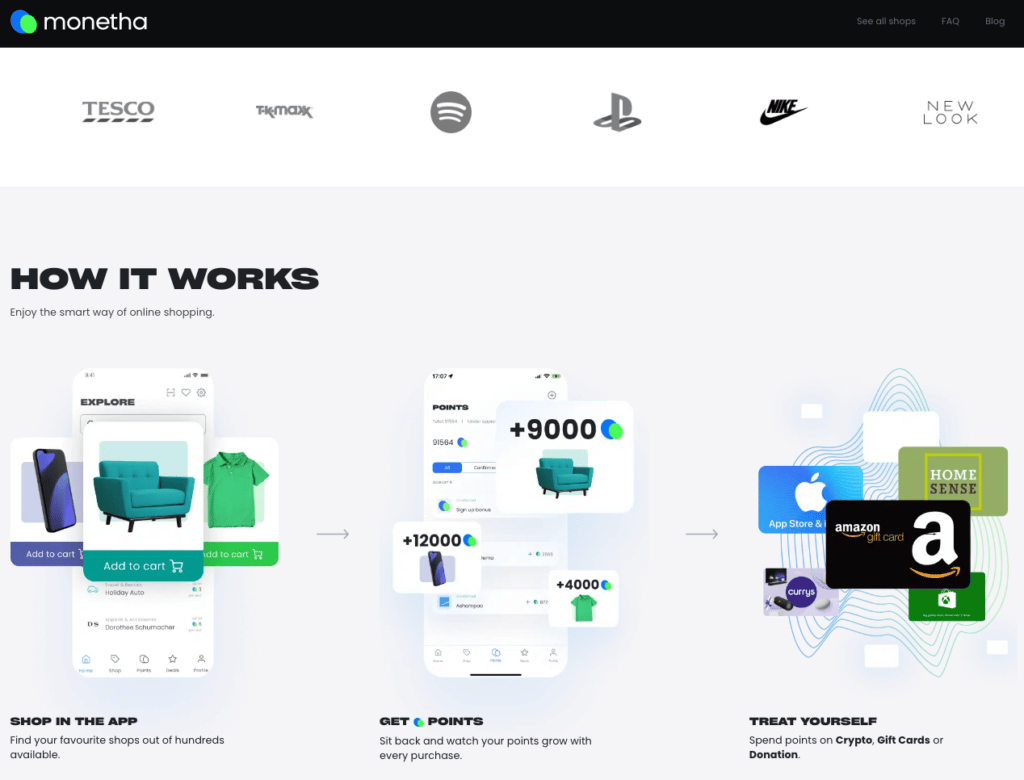 How to get free gift cards with Monetha
It doesn't have to be your birthday to be rewarded with a gift card, every day can be your lucky day with the Monetha rewards platform.
When you download the Monetha app, you have access to a selection of over 600 online shops. Shopping with Monetha's online partners, not only will you find great deals and offers, but you will accumulate Monetha points.
Your Monetha points can then be swapped for a selection of over 4,000 gift cards from some of the world's most well-known brands and labels.
Where else will you find FREE gift cards just for making a purchase?
Oh, and if you don't want free gift cards (for whatever reason?), you also have the option of swapping your points to invest in cryptocurrency, or to make a donation to a worthy charity.
Start treating yourself with free gift cards and download the Monetha app today.
Get 2000

points by signing up!
Kickstart your earnings journey with a welcome bonus waiting for you in Monetha's app.